Kimzey's success shows bull riding is a young man's game
December 5, 2014 - 11:38 pm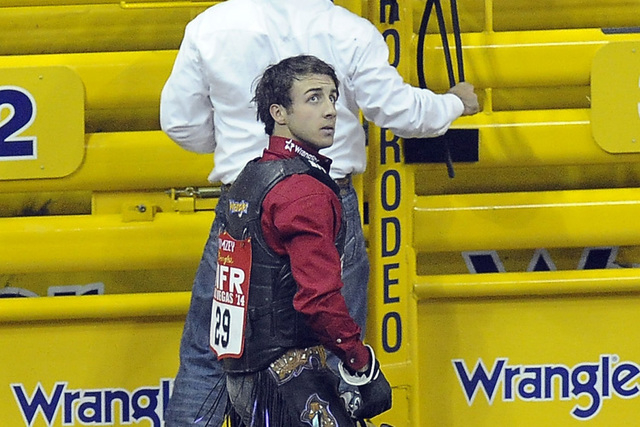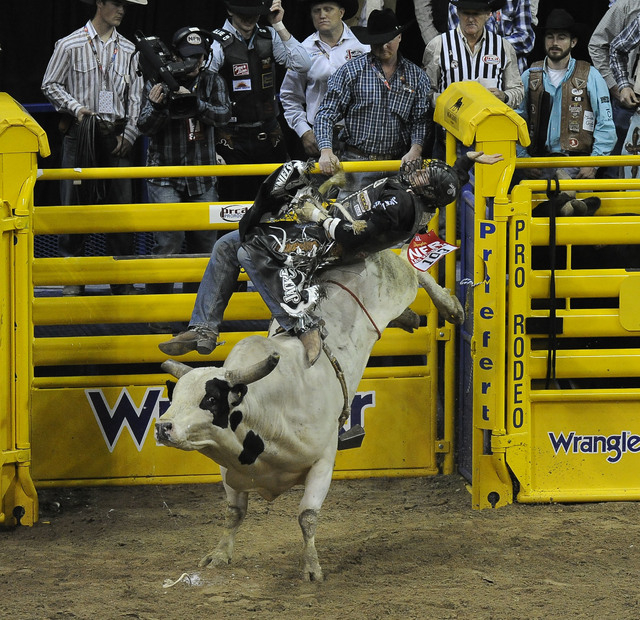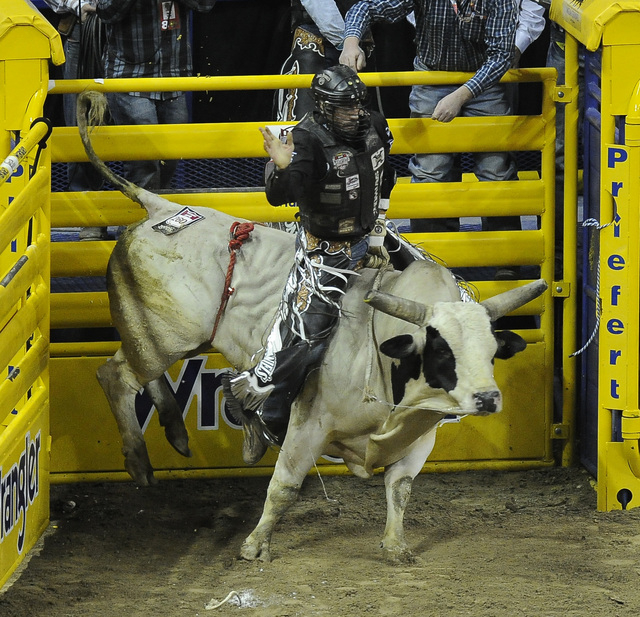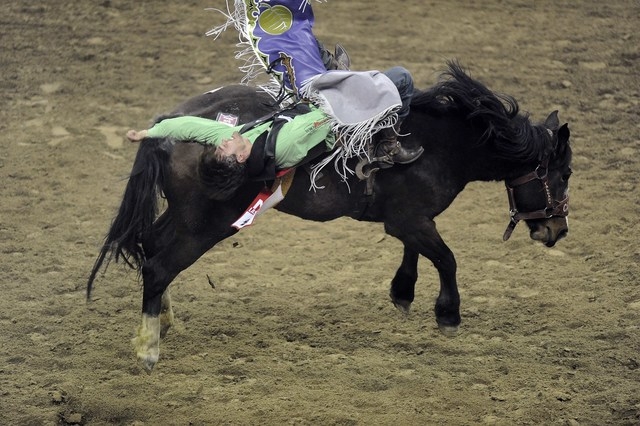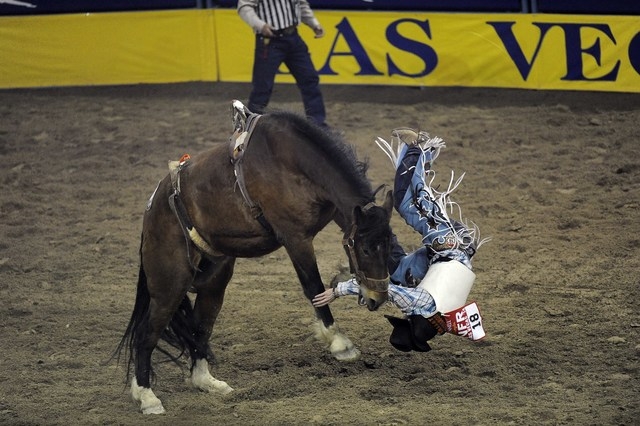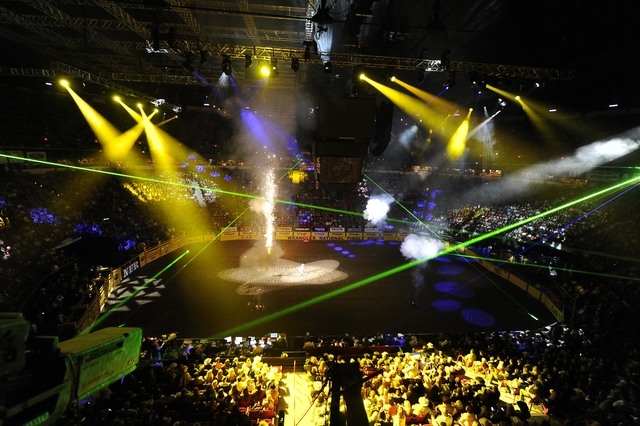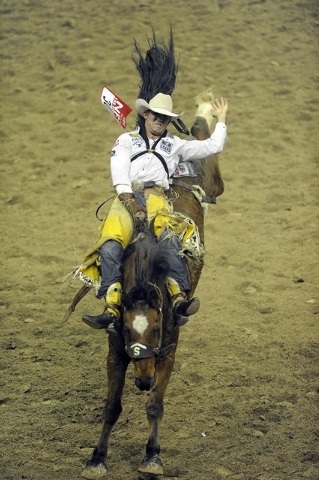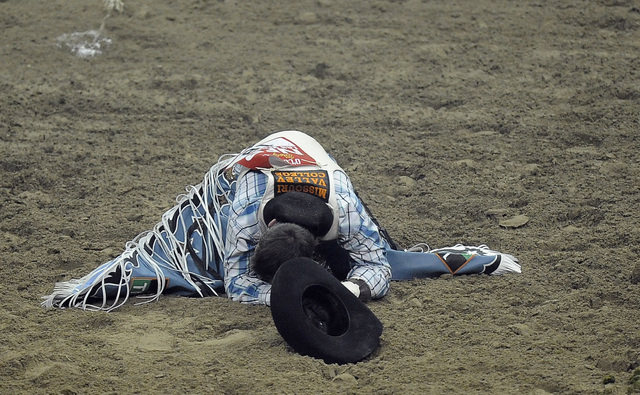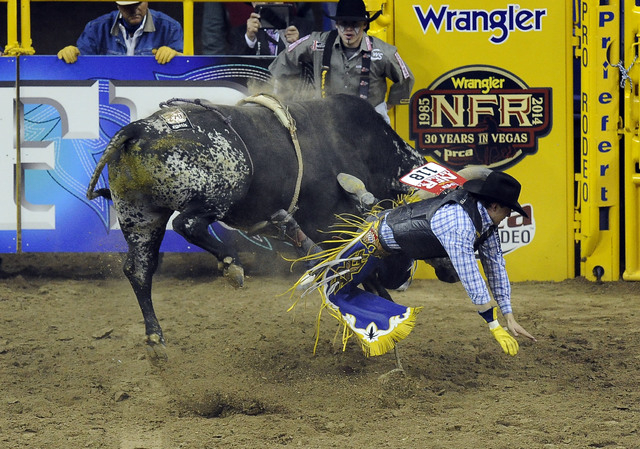 When bull rider Sage Kimzey won the All American ProRodeo Finals in Waco, Texas, in October, he was denied one of the prizes — a bottle of Pendleton Whisky — because he wasn't old enough to drink it legally.
It was probably for the best, as the last thing the 20-year-old needed was a hangover following countless headaches at hotels and rental car counters in his first full season in the Professional Rodeo Cowboys Association.
"There are some hotels that don't rent to anybody that's under 21, and rental car (companies) don't rent at all to anybody that's under 21," Kimzey said. "At one point, we had to rent a U-Haul van because we were in such dire straits to get to a rodeo.
"Those are the hardest parts of not being 21 on the road."
Fortunately for Kimzey, riding bulls hasn't been a problem.
He set the PRCA regular-season earnings record for a rookie — in any event — with $143,165 and entered his first National Finals Rodeo at the Thomas &Mack Center poised to become only the second rookie to win a bull riding world title.
Bill Kornell accomplished the feat in 1963 and is one of only five rookies in modern PRCA history (since 1956) to win a world title. The last to do so was Joe Beaver, who won the tie-down roping title in 1985, the year the NFR arrived in Las Vegas.
"To have my name alongside those guys, it'd be something else," Kimzey said. "Just making the NFR is so prestigious. Vegas has always been near and dear to my heart.
"It's just an awesome experience to finally be competing here, especially in my rookie year."
Kimzey was bucked off Cross the Wyoming Line, the PRCA Bull of the Year, in Thursday's first round. But he bounced back strong Friday night with an 80.50-point ride on Gin and Juice that was good for third place and a check for $11,340.
Kimzey has been coming to the NFR since he was 4 years old with his father, Ted Kimzey, who took part in the NFR as a barrel man in 1980 and 1987 and was an alternate in 1986.
Sage Kimzey's father, mother, brother and sister made the trip to Las Vegas from his aptly named hometown of Strong City, Okla., — population 49.
"We always joke that our street signs are literally on the same post, so if you blink, you actually do miss it," Kimzey said.
"It's a great rodeo community. Being from where I'm from has definitely helped my career, no doubt."
Kimzey is one of eight first-time NFR bull riding qualifiers, including Brennon Eldred, Kimzey's close friend from Sulphur, Okla., who entered in eighth place with almost $78,000.
"We grew up riding sheep and calves and steers together," Kimzey said of his fellow 20-year-old.
"We've known each other since Day One of our career. For both of us to make the Finals in the same year, that's probably one of the coolest parts, honestly."
Of the NFR's seven events, bull riding features the youngest group of qualifiers, with nine of the 15 competitors 23 or younger — including three of the four 20-year-olds at the NFR.
At 35, Beau Hill is the oldest bull rider in Las Vegas.
"Your body starts getting sore from a lot of miles of getting beat around a lot. It's tough on your body, like a pro football player," he said of riding bulls at his age. "It's definitely a young man's game. In your late 20s is definitely when you're feeling the best, in your prime."
Hill still appeared on top of his game in the first round, when he scored 82.5 points on Hot Wire to place third in his first NFR since 2004.
His $11,340 payday propelled him from 13th place to seventh in the standings with $78,497.
Hill dropped to eighth place following Friday's second round, when he was bucked off Poker Face.
A three-time NFR qualifier who has competed for the Professional Bull Riders in recent years, Hill decided to make another run at rodeo's Super Bowl so that his three children — 12-year-old Lakia, 9-year-old Jace and 6-year-old Jory — could join him on the PRCA trail.
"I wanted my kids to be able to travel with me and go to some rodeos," he said. "They had a lot of fun."
Hill is enjoying his role in Las Vegas as bull riding's elder statesman.
"It's kind of cool being here with all the kids," he said. "They were asking me a lot of questions and rooting for me, I guess."
Kimzey is certainly a fan.
"He's a legend in his own right. He's a great bull rider and a great guy. He's always helping us," Kimzey said. "Being 35 years old, to still have the drive to go on the road to all those rodeos and being able to compete in such a young man's game like bull riding, it's pretty miraculous what he did this year."
If Kimzey keeps talking like that, Hill just might rent a car for him.
Contact reporter Todd Dewey at tdewey@reviewjournal.com or 702-383-0354. Follow him on Twitter: @tdewey33.