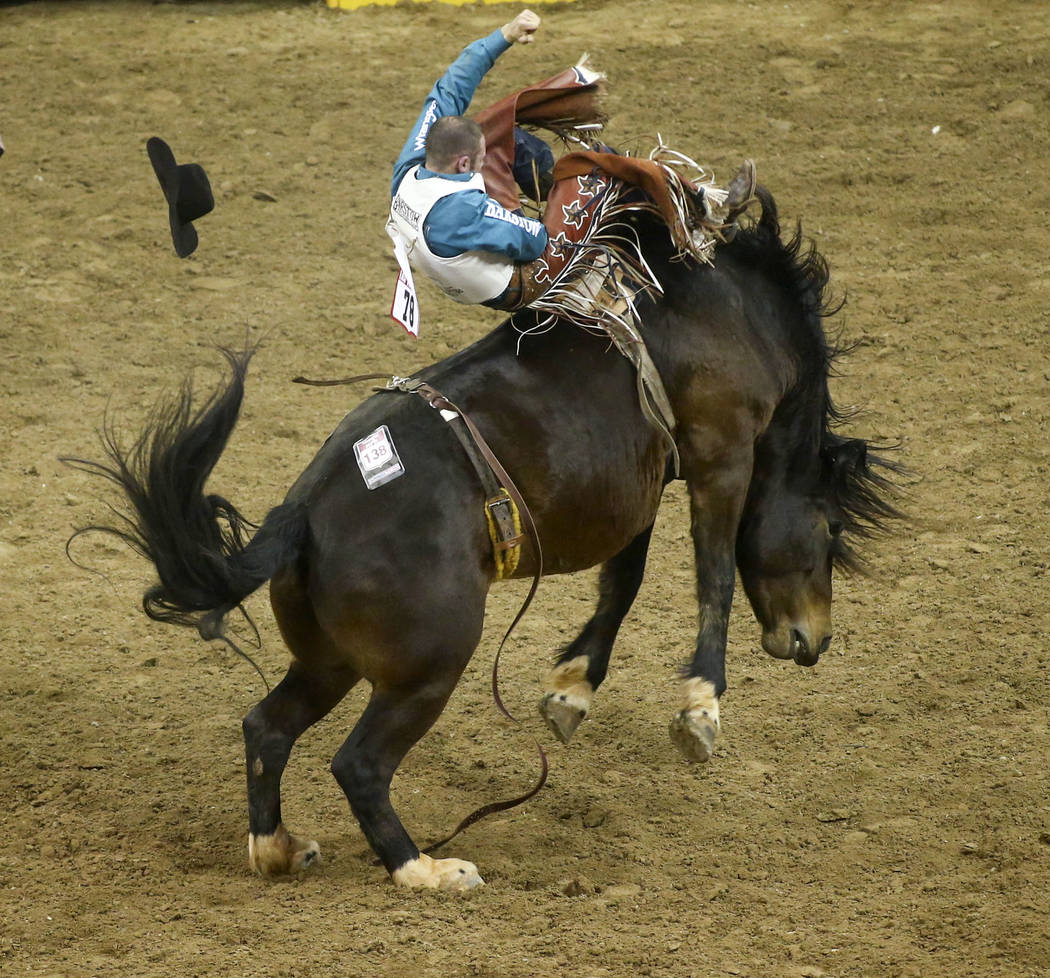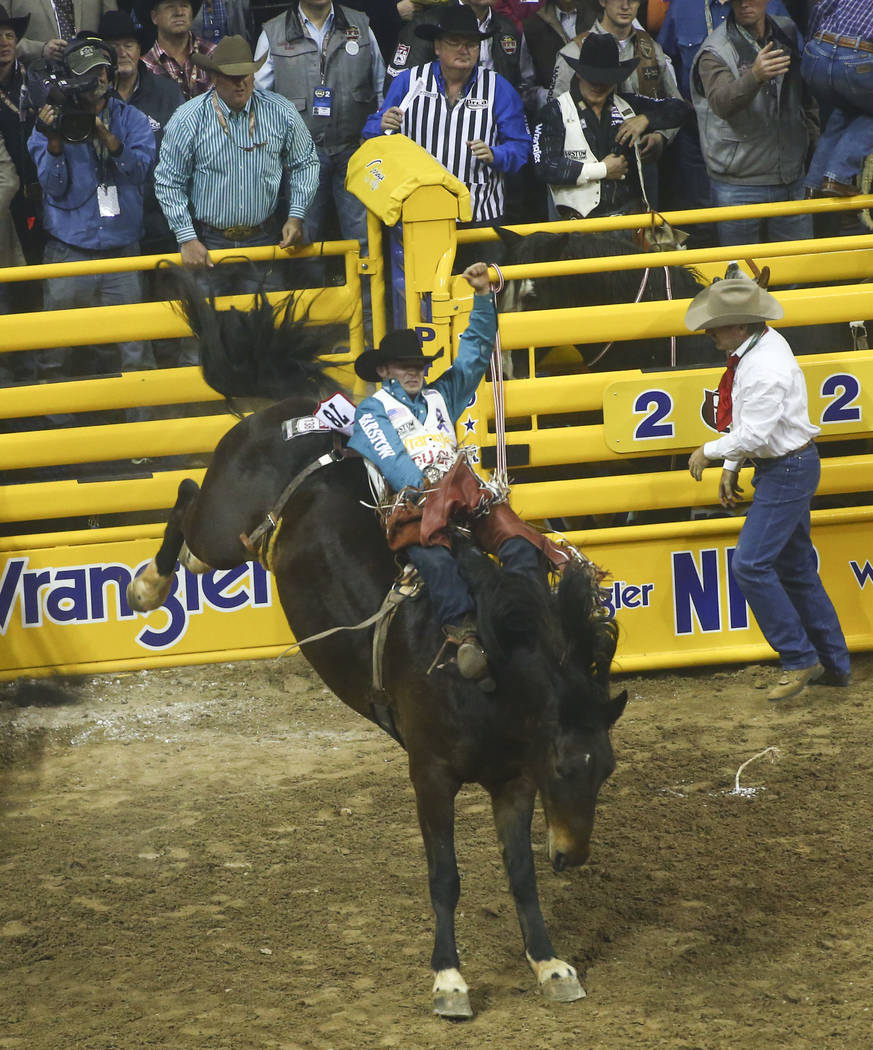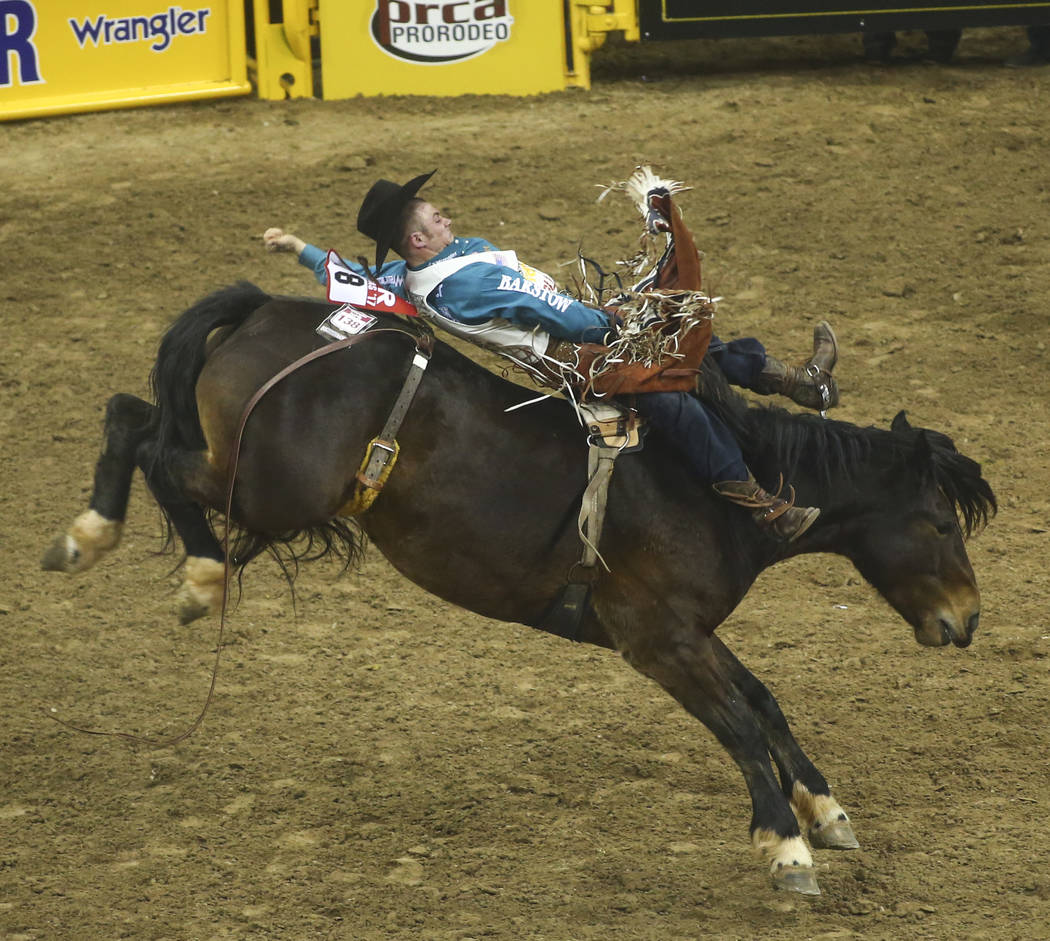 The horse wanted to be a jumping horse — not a bucking horse, he said.
Mid jump, the horse caught a hoof in the top rail and launched into a front flip.
It landed on Mason Clements, breaking two of his ribs and shattering about eight or nine more.
"Something like that, first of all, you don't walk away from it. Second, it should have paralyzed you, and third, you're lucky to be alive," Clements said Thursday before the first go-round of the National Finals Rodeo at the Thomas & Mack Center. "(I'm) just super thankful and blessed that I'm still here today and to be competing in December."
That was in Utah earlier this season. Now, fully healthy, the Las Vegas-born Clements, who lives in Utah, is competing in his first NFR after finishing 15th in the bareback riding standings.
The injuries he suffered usually take about three months to heal, Clements said. But that timeline was too long for him. Instead, he returned to riding three weeks later, prolonging the healing process.
It could have been worse, though, so Clements pushed through the pain and kept getting on horses, eventually edging Justin Miller for the final spot in the standings.
"(I was) excited nonetheless, but I know that it's a steppingstone to my goals and what I'm wanting in my accomplishments," Clements said. "I know I still have to go do my job for 10 days."
Clements tied for third in the first go-round with 85 points. He won $13,326.92 and moved into 11th place in the standings.
It was a quick rise up the ranks for the 25-year-old, who didn't start bareback riding until 2013.
Clements started his career as a bull rider. Before that, he was into motocross, baseball and football.
But after watching bareback riding at rodeos, he decided to give it a try despite many objections.
"Everybody (said), 'Don't get on bareback horses. Don't ride bareback horses. Bulls are safer. Don't get on a bareback horse. You're already doing bulls,'" Clements said.
He didn't listen, entering a rodeo in bareback riding and then heading over to a friend's house to grab a bareback rigging.
The first time he tried it, he got on two horses and didn't stay on either. But he was hooked.
"That adrenaline rush that I got from that was indescribable," Clements said.
Clements started bareback riding more and more, and went to a bareback riding school in Idaho for three days.
At the end of the school, cowboys competed for a buckle in a "rodeo simulator," Clements said.
"I won that buckle out of the eight (people), and it just seemed like it couldn't get better — how fast I was picking up on it and enjoying it and learning more and more about it as I got on," he said.
He's been riding bareback since and now has the chance to do so on the sport's biggest stage in front of family members, including some who still live in Las Vegas.
"At one point or another, they'll be over here to the rodeo, which will be awesome," Clements said. "It makes it feel a little more humbling and at home."
Contact Betsy Helfand at bhelfand@reviewjournal.com. Follow @BetsyHelfand on Twitter.
NFR
What: National Finals Rodeo
When: 6:45-9 p.m., nightly through Dec. 16
Where: Thomas & Mack Center
Tickets: UNLVtickets.com or 702-739-3267
TV: CBSSN