McLeod overcomes far more than barrels
December 9, 2014 - 6:44 pm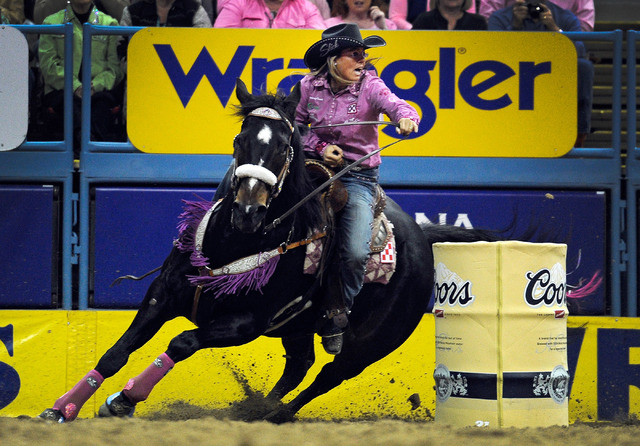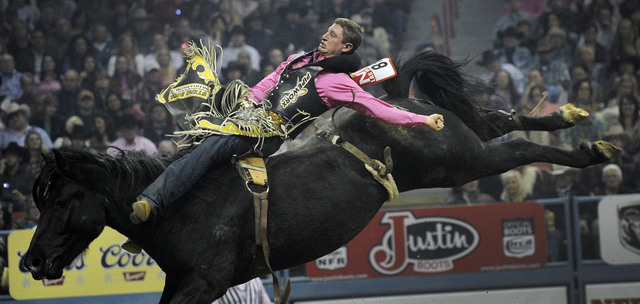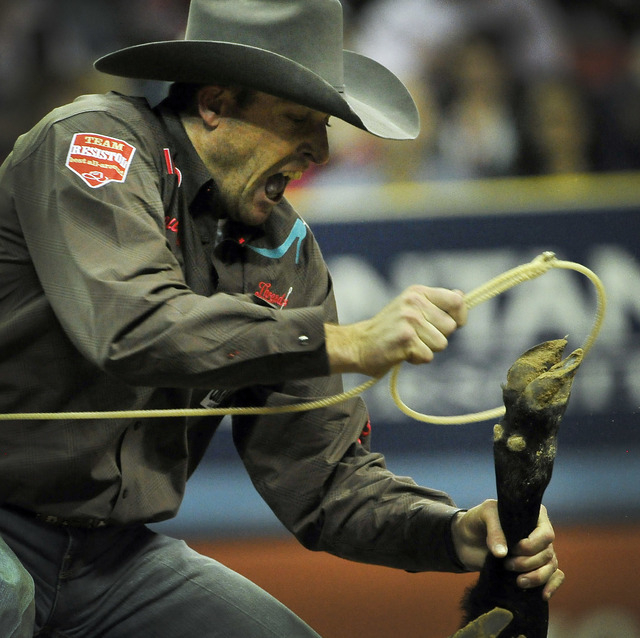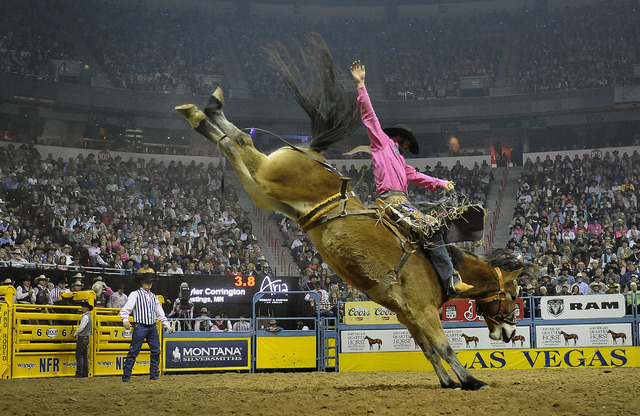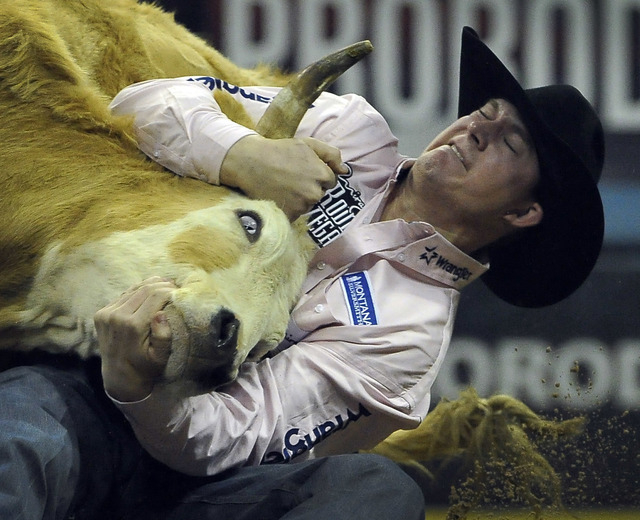 Barrel racer Michele McLeod overcame a distinct disadvantage this season en route to qualifying for the National Finals Rodeo for the second straight year.
While the other Women's Pro Rodeo Association athletes had to complete a clover-leaf pattern around three barrels on each run, McLeod essentially had to race around six barrels all season long.
That's because the 44-year-old mother of three from Whitesboro, Texas, has suffered from double vision since having surgery in January to repair multiple fractures in her face.
McLeod didn't let her impaired vision slow her down Monday night, when she recorded the fastest run of the NFR — 13.66 seconds on her horse, Skye — to win the fifth round before a sellout crowd of 17,613 at the Thomas &Mack Center.
McLeod was involved in a serious accident with Skye on Dec. 28, when she suffered a broken jaw and broken orbital bone while loading the horse on a trailer.
"It took me a year to finally get comfortable on her again," McLeod said after earning $19,002 to climb to fourth place in the world standings ($134,052).
Found after the accident by her 22-year-old daughter Katelyn, McLeod still doesn't know what happened.
"I don't think I got kicked. That would've been a lot worse," she said. "I think I got smashed into the side of the divider."
After waiting for the swelling to subside, McLeod had surgery in which four plates were inserted in her cheekbone and around her left eye. Almost a year later, her vision still is impaired and might stay that way.
"I was seeing double after the surgery. That's common with this injury. A lot of things were blurry," she said. "It was hard to move around. It kind of makes you have a reality check for life in general. You're very thankful you can do some things on your own. When things are taken away, it makes you appreciate the little things."
Anxious to hit the big winter rodeos for the first time, McLeod returned to action on her primary horse, Slick, a little more than a month after surgery at the San Antonio Stock Show and Rodeo.
"I started back a little too early, but I didn't want to miss San Antonio," she said. "Slick took care of me there. I couldn't see one barrel. It was all blurry with all the lights and everything. I let him do his job, and we placed in every round. Slowly, I got better and stronger."
McLeod didn't start driving again until May and, per doctor's orders, she didn't get prescription eyeglasses until two weeks ago.
"My surgeons wanted me to wait a minimum of six months. They were hoping my brain would adjust," she said. "I was always seeing blurry. They said it was double vision.
"I still see double without the glasses. I wanted to take care of it before the NFR, and they've made a big difference. The glasses are helping a lot."
While McLeod managed to excel this season despite her ordeal, the road to the NFR has been anything but smooth.
In July, while driving through the night in an attempt to get from Greeley, Colo., to Livingston, Mont., in time for a rodeo, McLeod's truck hit a deer — or the other way around — totaling the front end.
After somehow getting the truck repaired on Fourth of July weekend, McLeod managed to make it to the Calgary Stampede, where she won two rounds before Slick — her 7-year-old black stallion — became sick with a respiratory virus.
Enter Skye, the 7-year-old mare that McLeod's 18-year-old daughter, Lindsey, teamed with to win the 2014 National High School Rodeo Association barrel racing title.
Slick is expected to make a full recovery but couldn't make it back in time for the NFR.
"I came back and ran him in September, but he still had some lung issues," said McLeod, who won the fifth round wearing a hat bearing the horse's name. "In the middle of October, I began mentally preparing myself that Slick was not going to be able to come, so I got on Skye and made some good runs on her."
In addition to the health issues affecting McLeod and Slick, McLeod's driver, 70-year-old Jon Suttle, had his gallbladder removed in August during an emergency surgery that took place during the Lewiston (Idaho) Roundup.
"I took a cab from the arena to the surgery," McLeod said.
After traveling to four or five more rodeos, Suttle still wasn't feeling well, due to complications from the surgery, and had to return to the hospital. At that point, McLeod cut the WPRA trail short, ending a tumultous season.
"It's been a rough year," she said. "With your vision being gone, I was just riding differently. I'm finally feeling that I have a little bit of confidence."
With Suttle and her family in attendance here, McLeod has been quick to flash a warm smile. She said her teeth are still numb from the accident, but her face bears no visible scars and she's grateful she didn't suffer a head injury.
"It could've been so much worse," she said. "I'm very lucky."
Contact reporter Todd Dewey at tdewey@reviewjournal.com or 702-383-0354. Follow him on Twitter: @tdewey33.