December 6, 2008 - 10:00 pm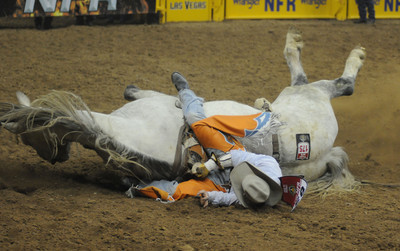 National Finals Rodeo veterans know how important it is to get hot early, and none are hotter than team ropers Garrett Tonozzi and Kinney Harrell.
It's only their second NFR qualifications, and they've learned the lesson quickly.
Tonozzi of Fruita, Colo., and heeler Harrell of San Angelo, Texas, won their second consecutive go-round Friday at the Thomas & Mack Center.
In two nights they each have won $33,533. That's more than half of what they won all season — $62,733 — which qualified them in the 15th and final spot in the Finals.
"Luckily we finished (well) right at the end of the season and slipped in right at the bottom of the pack," Harrell said. "It's been a pretty up-and-down year, but we're just excited to be here and get this kind of start."
The duo has moved up to fifth in the world standings and is within about $9,000 of the lead.
Meanwhile, Logandale heeler Randon Adams and partner Matt Sherwood of Pima, Ariz., failed to earn a check for the second straight night. Adams is second among heelers, but Sherwood has dropped from first to third among headers.
BAREBACK RIDING
Bobby Mote of Culver, Ore., knows a good horse when he draws one.
For the second straight year, Mote was paired with Dusty Dan of Harry Vold Rodeo. And, for the second NFR, he rode him to a go-round win. Last year he tied for first in the eighth round.
"That's a horse that always has a good day," the reigning bareback world champion said. "You're always happy to see a horse like that next to your name."
Regular-season money leader Steven Dent of Mullen, Neb., tied for third and is the top event money winner in the Finals with $21,769. He leads Mote by $31,000 for the season.
STEER WRESTLING
Gabe Ledoux of Kaplan, La., won the go-round with a time of 3.5 seconds to earn $16,766, but two of the top five in season standings and two others failed to register a time.
SADDLE BRONC RIDING
Billy Etbauer placed fourth, but it was enough for the 45-year-old champion to take over the money lead from Utah's Cody Wright, who finished out of the money for the second night.
The go-round winner was Dusty Hausauer of Dickinson, N.D. The 26-year-old NFR rookie was scored for 88.5 points on Elvis of Harry Vold Rodeo, which also won in bareback.
"It's unbelievable. Ever since I was little I have watched NFR tapes. I always hoped some day I would be here," said Hausauer, who has moved from eighth to fifth in season earnings with $92,464 but trails Etbauer by $68,000.
CALF ROPING
Tyson Durfey of Colbert, Wash., roped his calf in 7.2 seconds to win the go-round after placing second on opening night.
"I knew the run pattern of that calf, and I knew kind of where he was going to go," he said. "I just tried to be as close to the barrier as I could. I just hustled to him, tied him down and tried not to make any mistakes."
BARREL RACING
Finals rookie Cassie Moseley of Farwell, Texas, completed the course in 13.85 seconds on Mitey Man to win the round after placing second the night before.
She qualified for the Finals in the 14th position in her second year with the Women's Professional Rodeo Association.
"When I was on the bubble for even making it to this rodeo, I really felt the pressure," she said. "Now that I'm here, I have nothing to lose. I just plan to go for it every night."
She is seventh in season earnings.
BULL RIDING
Steve Woolsey of Payson, Utah, was scored for 87 points on Frontier Rodeo's Silencer to win the round.
"The goal has been to win a round, so it feels awesome to finally get that done," said Woolsey, who won his first Finals go-round in his third trip to the Finals.
Colin McTaggart of Las Vegas placed third to win $10,006.
INJURIES
Jesse Davis of Payson, Utah, dislocated his left shoulder and is questionable for tonight's bareback performance.
EARLIER START
Performances tonight and Sunday begin at 5:45 p.m., an hour earlier than weekday rounds.
JEFF WOLF/LAS VEGAS REVIEW-JOURNAL