NFR keeps expanding outside of rodeo ring
December 6, 2018 - 3:14 pm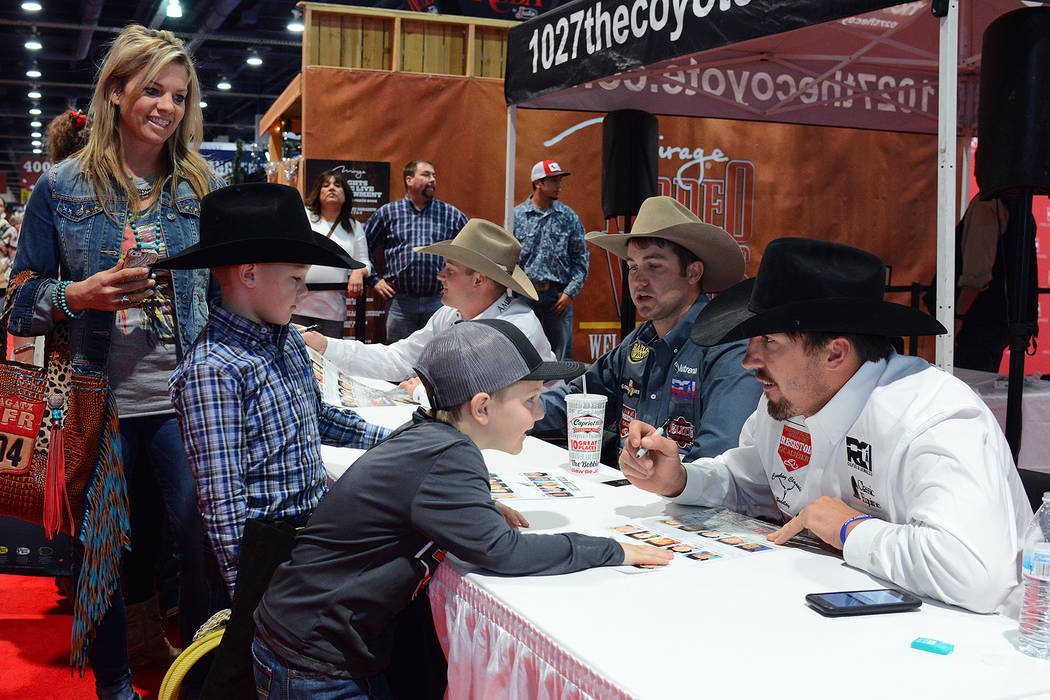 If there's one thing that's held true throughout the 34 years the Wrangler National Finals Rodeo has called Las Vegas home, it's this: Despite selling out all 10 nights every year since 1987, there's been no resting on laurels among all those with any involvement in the Wrangler NFR.
Whether it's the experience at the Thomas & Mack Center each night or at all the ancillary events around town — viewing parties, concerts, charitable events, shopping expos and more — the Wrangler NFR is growing every year.
One area where that will be evident this year is at Cowboy Christmas, the massive shopping and entertainment expo housed inside the Las Vegas Convention Center's South Halls.
Everything rodeo fans have come to expect of Cowboy Christmas will, of course, still be there. Thousands of exhibitors featuring anything you can think of that's related to rodeo/Western lifestyle. Plenty of great entertainers throughout the day at RFD TV's Rodeo Live. And, of course, the adjacent RMEF Hunter & Outdoor Expo.
As those late-night TV commercials say, though: But wait, there's more!
This year, within the Hunter & Outdoor Expo, there are three new features, including NFR Extra, a studio providing another way for fans to interact with rodeo and country music standouts.
"Cowboy Christmas has become the nucleus of the daytime entertainment shift in Las Vegas during the Wrangler NFR," said Pat Christenson, president of Las Vegas Events, which operates the rodeo in conjunction with the Professional Rodeo Cowboys Association. "The key to Cowboy Christmas' growth has been the interactive pieces, and NFR Extra is another piece of that. It gives fans a chance to see up-close interviews of rodeo and country music industry icons.
"In addition, all of what's recorded there will be used to treat NFR fans year round, via a twice-monthly podcast. We're creating the studio and recording all these interviews for the podcast, as well as using them for social media."
Also new is Junior NFR BLVD, featuring 16 interactive exhibits of events at the Junior NFR, which takes place at the Wrangler Rodeo Arena within the Hunter & Outdoor Expo.
"The Junior NFR continues to grow, with more than 7,000 kids competing throughout the year, and 700 participants qualifying to be here in Las Vegas," Christenson said. "Junior NFR BLVD is an interactive area leading right into the Junior NFR space, dedicated to our Junior NFR fans."
Finally, there's the Speed Zone, where attendees can learn the ropes of roping from rodeo legend Speed Williams. Each day, Williams will hold two free practice sessions, a one-hour seminar and afternoon competitions in which attendees can test their skills.
"It's another really interesting interactive element," Christenson said. "We were fortunate to find a spot where we can create the space Speed needs to provide another unique activity for the fans."