NFR's sibling rivalry continues in barrel racing event
December 10, 2018 - 3:25 pm
Updated December 10, 2018 - 4:01 pm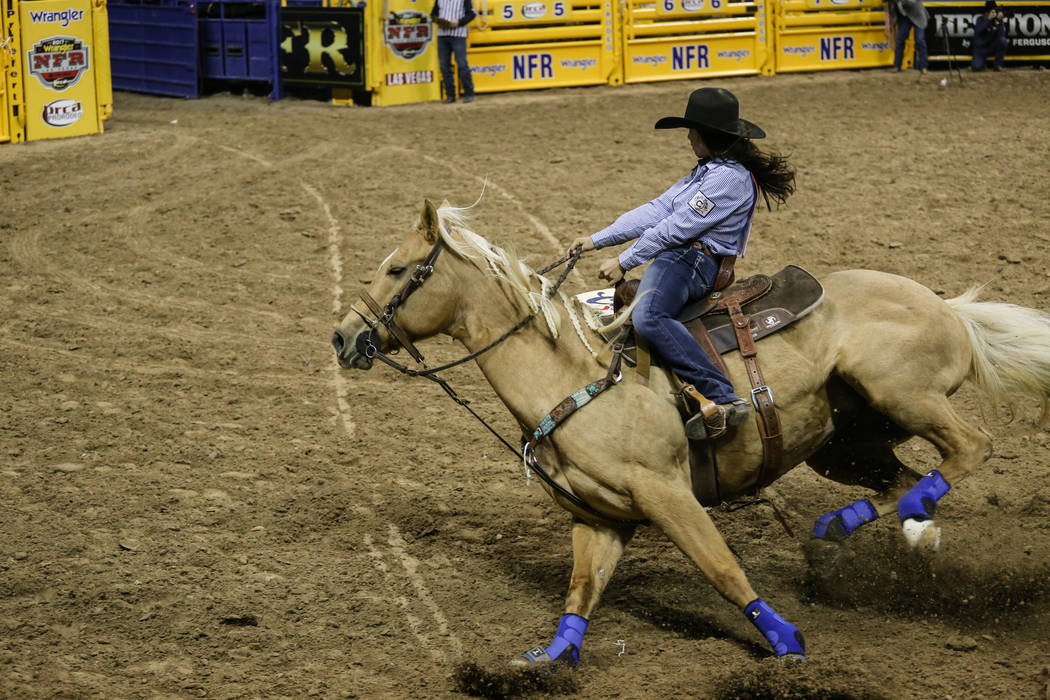 Last year, the Wrangler National Finals Rodeo became a Sister Act in barrel racing. Steady Nellie Miller claimed the season-long world championship, holding off a red-hot Wrangler NFR run by Hailey Kinsel.
This year, the two barrel racers continued that act, coming into the Wrangler NFR at Nos. 1 and 2 in the world, with Kinsel first and Miller second in the battle for the gold buckle.
So what, exactly, is this Sister Act? Well, in a quirky coincidence, Miller and Kinsel both ride on horses named Sister.
"My horse is the half-sister to the first horse I made the NFR on, so when she was a colt, we just started calling her Sister," Miller said, noting her horse's more official name is Blue Duck. "She's pretty much the only horse I have going right now, at that caliber anyway."
That's how Kinsel came up with the moniker for her horse, too.
"Mine is the half-sibling to another horse I had," Kinsel said, while noting that she and Miller only got to know each other at last year's Wrangler NFR. "That's when we first met. We went to different rodeos throughout the year. But it was really cool to meet up. I really respect her for all she's doing – barrel racing career, a mom traveling with two small kids. I respect how well she handles everything."
Miller, who stood third in the 2018 world standings after Sunday's fourth go-round at the Wrangler NFR, holds Kinsel in a similar light.
"I didn't get to know her until the end of last year, so it was funny to find out her horse had the same name as mine," Miller said, adding she now counts Kinsel as a friend. "It's just the best way to do things, to get along. I don't see it as a rivalry. We just compete. All you can really focus on is you and your horse."
And arguably no one has done that better over the past two seasons than Miller and Kinsel. Miller, from Cottonwood, California, finished the 2017 season with a whopping $308,498 to win her first world barrel racing crown, with Kinsel, from Cotulla, Texas, only about $20,000 behind her. Miller kept it going this season, entering the Wrangler NFR with $146,825, second only to Kinsel's hefty $192,834.
"We had some pretty big wins during the season," Miller said. "The biggest was Houston, and that comes pretty early in the season, so from then on, we felt comfortable about making it back to the NFR, with a good chunk of money already won."
Miller added a July win at the Cheyenne Frontier Days in Wyoming, further allowing her to scale back the schedule and focus on her two daughters, ages 6 and 3.
"We had a pretty smooth year, so I got to spend a lot of time at home," Miller said. "It can get kind of hectic on the road."
After a superb showing in the 2017 Wrangler NFR – she was seventh among the 15 contestants at the beginning, yet almost won the gold buckle – Kinsel hit the dirt running in 2018.
"My winter was exceptional. I went to the six major winter rodeos, and I finished top three in five of those," Kinsel said. "Doing that with all the money up there, I knew by the end of Houston that the NFR was out there. So I could plan out the rest of the year. I was able to pick and choose, and not travel as much. We won checks pretty much wherever we went. It was nice to have a really efficient back half of the year."
That allowed Kinsel and Miller – and more important, the two horses named Sister – to stay fresh for the big 10-day run at the Thomas & Mack Center. Kinsel has had the better of it so far, remaining at No. 1 through four go-rounds by winning nearly $50,000, pushing her season total to $242,392. Miller has $21,000 in Wrangler NFR winnings so far and is third in the world standings at $167,826.
If it goes anything like last year, it'll be a sisterly battle to the end – a very friendly one, at that – aboard the horses with the same name.
"I think the names are a fun thing, a fun coincidence. Nellie and I both laughed about," Kinsel said. "For us, it just shows how much we love our horses and how much we love competing."
More NFR: Follow at reviewjournal.com/nfr and @RJ_Sports on Twitter.