Ohl adds to tie-down record at NFR
December 2, 2011 - 2:09 am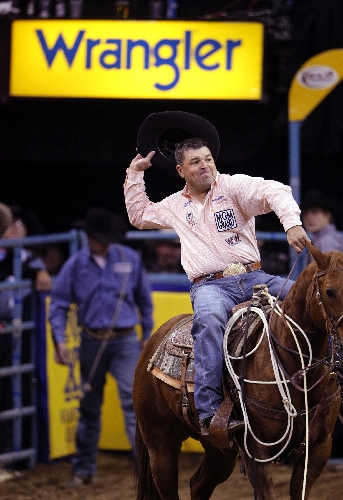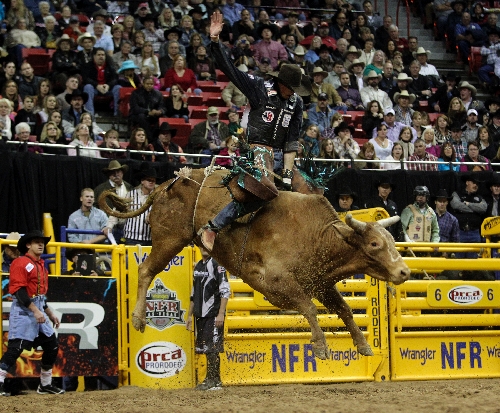 When the National Finals Rodeo comes to Las Vegas, some things are predictable.
Western hats and boots will be prominently worn on the Strip, for instance.
And Cody Ohl will win a go-round.
The five-time Professional Rodeo Cowboys Association tie-down roping world champion extended his record for wins in the category Thursday at the Thomas & Mack Center when he tied his calf in 7.5 seconds to earn his 41st go-round victory in his 17th NFR.
It was the seventh time in his career that he won an opening round.
"It's important," he said. "Everybody's wanting to win first. If you'll just ride out and try not to do anything stupid, there's pretty much $17,000 on the line. That's the philosophy I've had since I've gotten here."
The 38-year-old roper from Hico, Texas, moved from sixth to third in the world standings but trails leader Tuf Cooper, who tied for fifth, by $50,836.
■ BAREBACK — Kaycee Feild (Payson, Utah) extended his world championship lead by winning the opening go-round with a score of 89 on Bar T Rodeo's Bitter Robin.
■ STEER WRESTLING — Jason Miller (Lance Creek, Wyo.) and Trevor Knowles (Mount Vernon, Ore.) tied for first with times of 3.9 seconds. They each made $16,009, and it allowed Miller to move from fourth to second, $800 behind leader Dean Gorsuch (Gering, Neb.), who placed out of the money.
■ TEAM ROPING — Matt Sherwood (Pima, Ariz.) and Cory Petska (Marana, Ariz.) caught their steer in 4.1 seconds to win the go-round.
Clay Tryan (Billings, Mont.) and Travis Graves (Jay, Okla.) placed second and took the top spot in the season standings from Derrick Begay (Seba Dalkai, Ariz.) and Cesar de la Cruz (Tucson, Ariz.) after they finished out of the money.
■ SADDLE BRONC RIDING — Wade Sundell (Boxholm, Iowa) won with a score of 85.5 on Stace Smith Pro Rodeos' Goin South. Sundell ranks third in the season standings behind leader Taos Muncy (Corona, N.M.).
Sundell would be the second Iowan to win a PRCA world championship. Paul Mayo won the bareback riding world championship in 1966.
■ BARREL RACING — Canadian Lindsay Sears and Brittany Pozzi (Victoria, Texas) tied for first, with each winning $16,009.
Sears was the penultimate rider and completed the cloverleaf circuit in 14.03 seconds. Pozzi followed and matched Sears' time.
Pozzi leads Sears by $10,000 in the world standings.
"My horse rared up out of the gate and nearly took my head off," Pozzi said. "I just wanted to take my first run clean and just get the first one by me. I didn't expect what happened to happen."
Sears said: "This was a big run for us. To come out and split the round with Brittany that was more than I expected. I just wanted to be clean and solid."
■ BULL RIDING — Seth Glause (Cheyenne, Wyo.) rode Five Star Rodeo's Gangster for 86.5 points to win the round. He was one of five riders in the 15-man field to complete eight-second rides.
Season money leader Shane Proctor (Grand Coulee, Wash.) placed second and extended his world championship lead to $54,000 over three-time reigning champ J.W. Harris (Mullin, Texas).
Jeff Wolf is a freelance reporter. He can be reached at nitrorodeo@gmail.com or 702-406-8165.