Pierce posts barrel racing record
December 6, 2011 - 2:01 am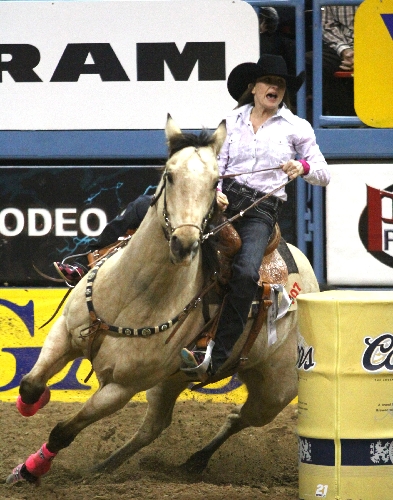 Carlee Pierce recorded the fastest barrel racing time in the 27 years the National Finals Rodeo has been held at the Thomas & Mack Center when she completed the course in 13.46 seconds aboard Dillion during Monday's fifth go-round.
"It wasn't in my goals to come out here and set an arena record at all, but I'll take it … every night if I can," said Pierce, of Woodward, Okla., who is competing in her first Finals.
Pierce, 21, bought the 12-year-old buckskin gelding in April from Annesa Self, who qualified for the 2008 NFR with the horse.
"Annesa trained him. She told me exactly how to run him — wide open," Pierce said. "He's got heart to want to do it. I think 95 percent of our team is his heart."
■ BAREBACK RIDING — Ryan Gray (Cheney, Wash.) scored 90 points on Carr Pro Rodeo's MGM Deuces Night to win his first go-round of this year's NFR.
Kaycee Feild, who placed out of the money on Sunday after winning the first three rounds, was second. Feild pushed his season earnings to $208,447 and extended his lead to about $63,000 over Will Lowe, who did not earn a check Monday.
Steven Peebles (Redmond, Ore.) scored 86.5 points to finish second in the go-round, but broke his right leg and tore ankle ligaments on his dismount. He will require surgery and miss the rest of the Finals.
■ STEER WRESTLING — Luke Branquino (Los Alamos, Calif.) won his first go-round of the Finals, after placing in the top three in each of the first four rounds. The two-time world champion and current money leader with $153,653 turfed his steer in 3.5 seconds.
■ TEAM ROPING — Turtle Powell (Stephenville, Texas) and Jhett Johnson (Casper, Wyo.) won the round, after tying for first once and second twice in the first three rounds. They caught their steer in 3.8 seconds.
Powell and Johnson moved up to third in the world standings and trail leaders Clay Tryan (Billings, Mont.) and Travis Graves (Jay, Okla.) by about $2,000. Tryan and Graves placed second in the round.
■ TIE-DOWN ROPING — Matt Shiozawa (Chubbock, Idaho) tied his calf in 7.4 seconds to win his second straight go-round and push his NFR earnings to $55,673, tops in the category.
"Confidence is an amazing thing," said Shiozawa, who graduated from Moapa Valley High.
He said he spent more time this year on conditioning, rather than practicing by roping calves.
"I did a little more outside the arena exercising, and there's the mental aspect of believing that when I walk in there, I can win," Shiozawa said.
■ BULL RIDING — Three-time reigning world champion J.W. Harris (Mullin, Texas) didn't let an injured foot stop him from riding Burch Rodeo's Zombie Zoo for 90.5 points to win the go-round.