Quick NFR start just the tonic for Texas cowboy Cure
Updated December 4, 2022 - 7:03 am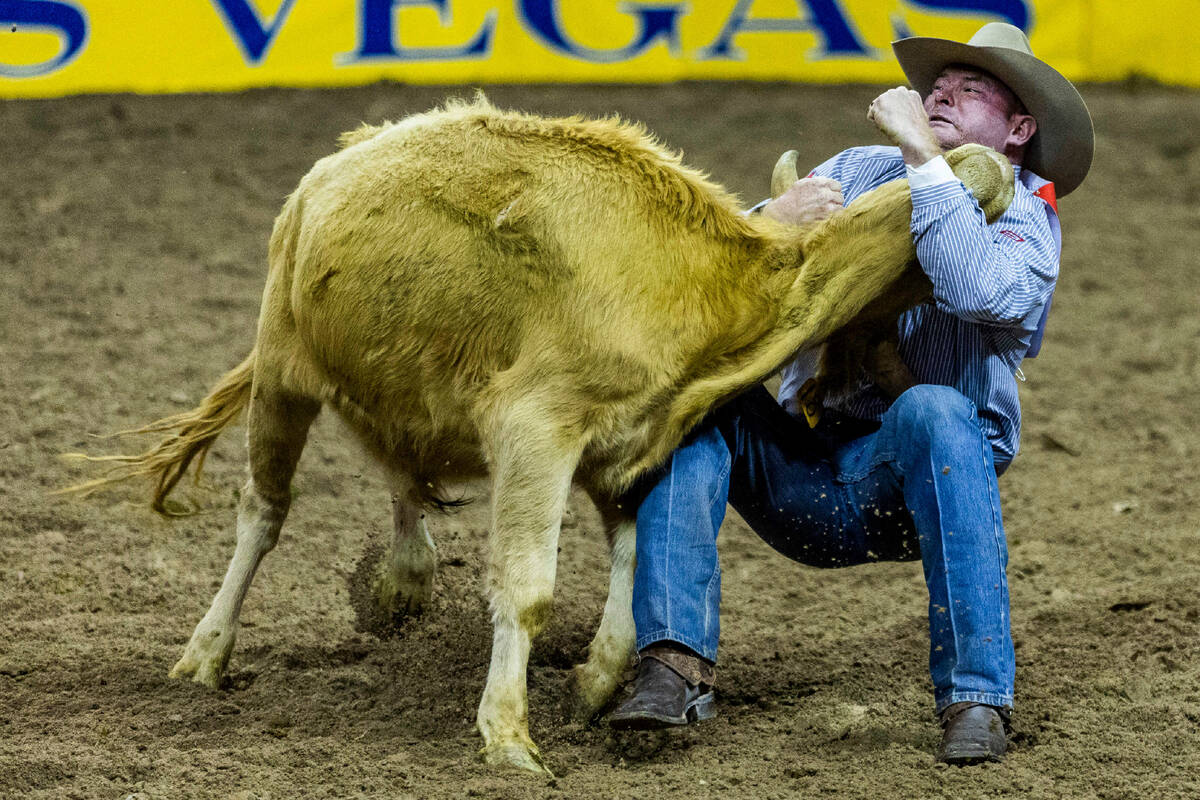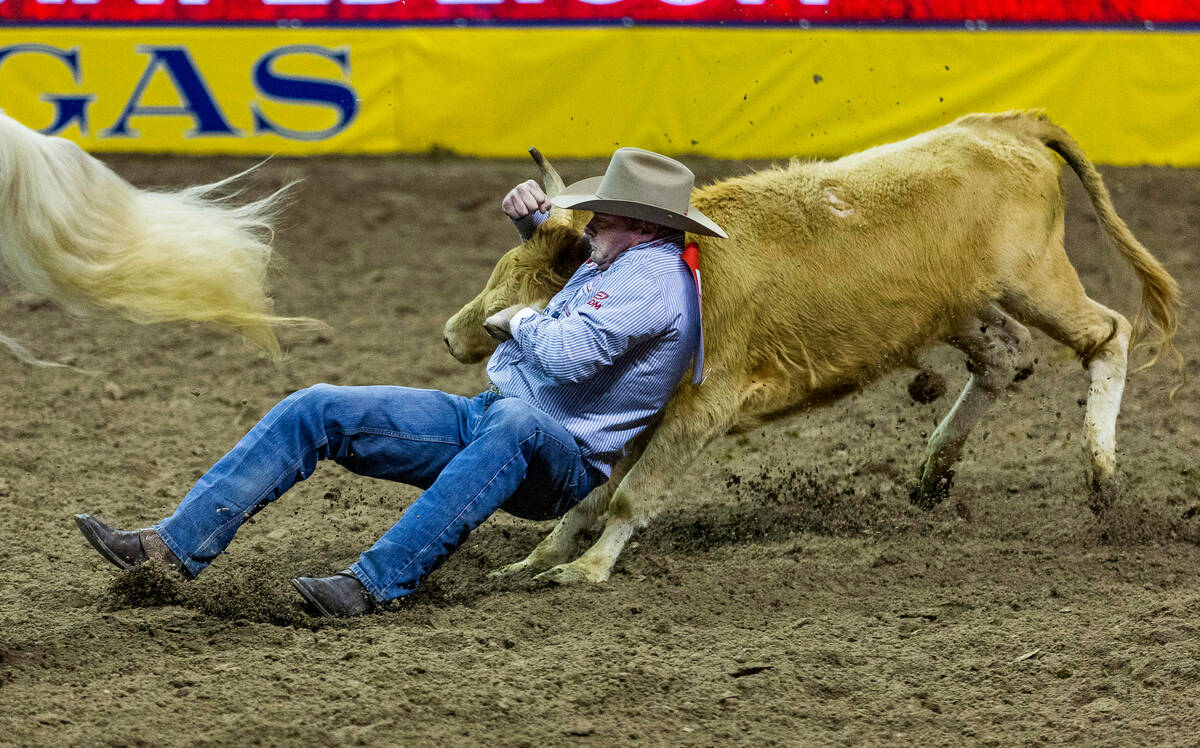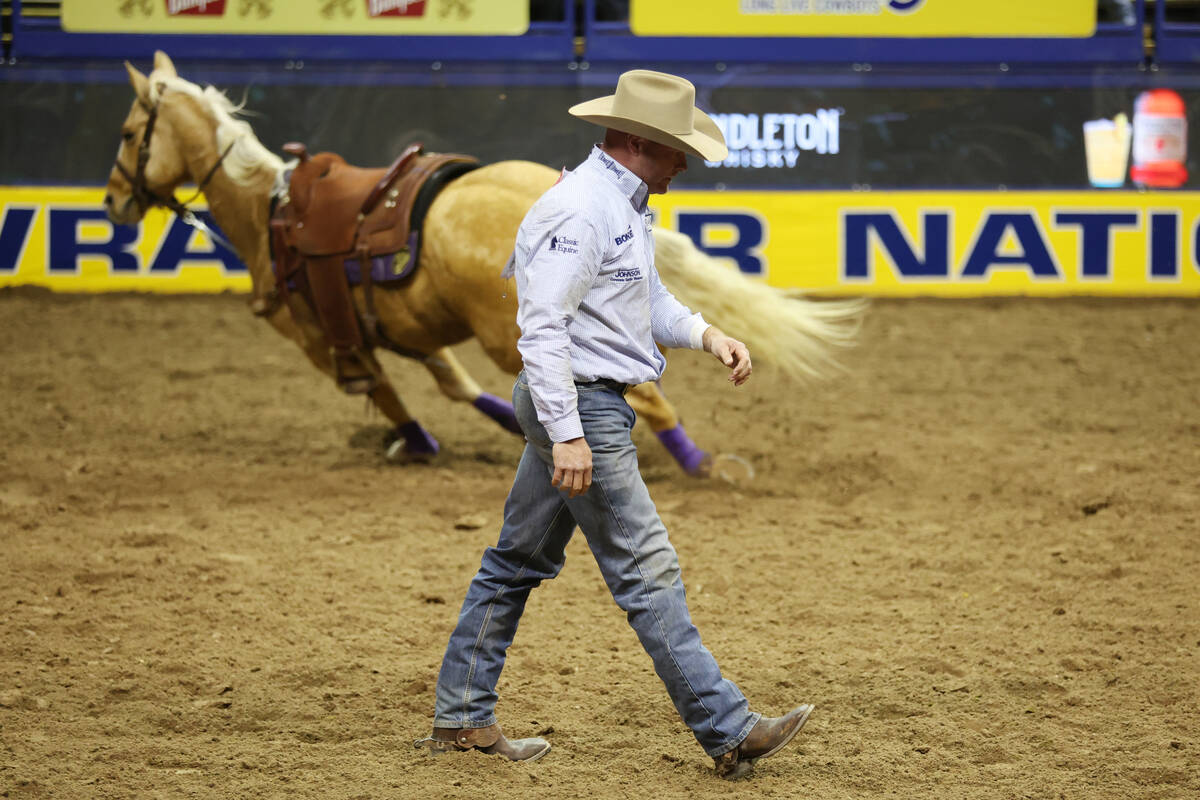 It was a wake-up call that a rodeo cowboy never wants to get.
On Jan. 31, 2021, Hunter Cure was knocked unconscious when he was hazing for a fellow steer wrestler (assisting him) during a rodeo in Sulphur, Louisiana.
It was 20 minutes later when an ambulance pulled into the arena.
"The sirens woke me up," Cure said. "Luke Branquinho (the since retired five-time world steer wrestling champion) had six guys holding me down because he thought I would get up swinging."
Cure got up swinging in a figurative sense during Round 2 of the National Finals Rodeo at the Thomas &Mack Center Friday night with a winning time of 3.7 seconds. A championship career that once appeared over in the Louisiana red clay had risen from the dust.
"I got back physically where I was able to move around in 60 days," said Cure, the 2013 and 2015 world champion who makes his home in Holliday, Texas. "Mentally, it was (quite) a while."
The wreck and concussion left Cure, 39, in such a prolonged haze that he was contemplating retirement when he arrived at RodeoHouston in March.
Winning the prestigious event was the furthest thing from his mind. The idea was to showcase his horses, Player and Zoom, so he could sell them.
He won the rodeo and $50,000. The big bonanza provided such a jump-start on his 2022 season that Cure was able to qualify for his sixth National Finals Rodeo despite a reduced schedule.
He started the NFR in fifth place with season earnings of $109,529. After failing to place on Thursday's opening night, Friday's victory added $28,913 to his bottom line and momentarily bumped Cure to second in the world and fourth in the NFR average, which pays another $74,000 and change after the 10 performances.
He missed cashing another check by two-tenths of a second Saturday night and slipped back to fifth in total earnings, which is fairly common in the early rounds in Las Vegas when the standings often flip-flop.
"It's good to know early in the week that I can still hang with the younger man," the husky cowboy said of his pursuit of 29-year-old championship leader Stetson Jorgensen, who has gotten his NFR off to a red-hot start with placings of third, second and first.
"I feel like the older you get in bulldogging, the more you feel that you have the edge over the younger man," Cure said. "There's the mental fortitude that goes along with age and experience and a little bit of gray hair with the hair that's not there anymore."
But the former college champion at Texas Tech said it's also apparent that steer wrestling and pro rodeo in general is evolving, making it more difficult for a veteran closing in on his 40th birthday to remain competitive.
"I feel like in the beginning of my career, there were cowboys (imitating) athletes to do my event," he said. "Anymore, I feel like we are athletes being cowboys. The transition of genetics and physical fitness and nutrition all play a part."
But one thing Cure says hasn't changed and probably never will change is the thrill of winning a performance on pro rodeo's biggest stage.
"Knowing this is far closer to the beginning than the end gives every victory a little more brown sugar on top," he said.
Contact Ron Kantowski at rkantowski@reviewjournal.com or 702-383-0352. Follow @ronkantowski on Twitter.
NFR becoming island paradise for saddle bronc rider
They say no man is an island. But one man at the National Finals Rodeo is quickly turning into an honorary islander.
Saddle bronc rider Lefty Holman scored 90.5 points on Vold Rodeo Company's Sun Glow to win his second consecutive go-round at the Thomas & Mack Center on Saturday night and send about 50 fans from Hawaii into a frenzy.
Holman's new bride, Hailey, is from Kailua-Kona on the Big Island, and his multiple first-place rides are making a nice honeymoon for the couple, who were married in October.
"Her family just got in today, so we're going to the South Point and I'm taking them up on stage (for the first-place buckle presentation)," said the Visalia, California, competitor. "They actually brought a Hawaiian flag, and they were waving it around for me."
In other third-round news, NFR rookie bull rider Reid Oftedahl will miss the remainder of this year's event after suffering head and neck injuries during Friday's second round.
The 28-year-old from Raymond, Minnesota, was transported to UMC Trauma Center, where he was listed in stable condition and improving Saturday afternoon, according to Dr. Tandy Freeman, co-medical director for the Justin Sportsmedicine team.
Other third go-round winners:
■ Jess Pope, Waverly, Kansas, in bareback riding (86.5)
■ Stetson Jorgensen, Blackfoot, Idaho, in steer wrestling (3.5)
■ Tanner Tomlinson, Angleton, Texas, and Patrick Smith, Lipan, Texas, in team roping (3.6)
■ Cory Solomon, Prairie View, Texas, in tie-down roping (6.9)
■ Hailey Kinsel, Cotulla, Texas, in barrel racing (13.59)
■ JR Stratford, Byers, Kansas, and Garrett Smith, Rexburg, Idaho, in bull riding (90, tie)
Quoteworthy: "It is the most out-of-control, in-control chaos you have been involved in." — third-round bareback winner Jess Pope, describing his 86.5-point ride on Stace Smith Pro Rodeos' Mr. Harry.
NATIONAL FINALS RODEO
When: 5:45 p.m. Sunday-Dec. 10
Where: Thomas & Mack Center
TV: The Cowboy Channel, RFD-TV; Channels 603 and 345 (DirecTV); Channels 231 and 232 (DISH Network).