Rodeo stars lend hand to autism foundation
December 9, 2017 - 11:07 pm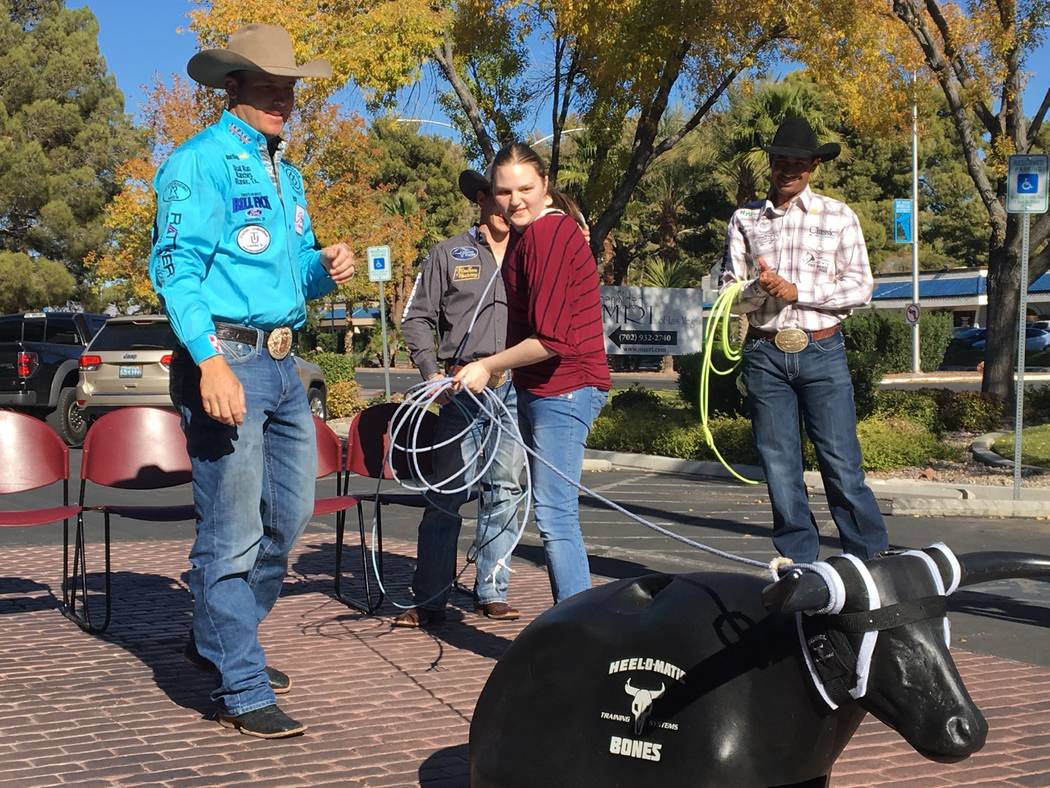 On a sun-splashed Friday afternoon, Tristan Duenez had a rope in his hand, world champion cowboy Junior Nogueira at his back, and a voice box spilling over with enthusiasm.
"I did a good job," the 4-year-old Duenez exclaimed after successfully lassoing a practice steer head.
It's the kind of expressed excitement most parents take for granted, as they see it all the time. But Duenez is autistic, so this outpouring is especially significant.
"He doesn't usually talk a lot, but something like this, he just shines. He really comes out," said Jennifer Duenez, Tristan's mother, of Las Vegas.
Tristan was among 27 children partaking in the Grant a Gift Autism Foundation's meet-and-greet – or more accurately, meet-and-rope-and-color – with a trio of the world's best cowboys: Nogueira, the 2016 all-around world champion; Caleb Smidt, the 2015 tie-down roping world champion; and Tim O'Connell, the 2016 bareback riding world champion.
The youngsters got to rope with the pros for about 30 minutes outside Grant a Gift's office on Rancho Drive, then everybody headed inside the autism center to grab some crayons and do some coloring. This is the second year the Wrangler National Finals Rodeo has teamed up with Grant a Gift to work with autistic children.
"Obviously, the Las Vegas community appreciates the NFR and everything they do here. But for us at Grant a Gift, this is really, really special," said Terri Janison, CEO of Grant a Gift. "It gives the children we serve the opportunity to work one-to-one with the cowboys. What if one of them wants to be a cowboy in the future? We're trying to find other avenues of people to partner with, to show these kids what people can do when they grow up."
Judging by the reactions, many of the kids would enjoy working in rodeo someday. The scene was brimming with smiles from children who really deserve a fun-filled diversion from the difficulties autism brings to everyday life. It made an impact on the parents, too.
"It is emotional. I try not to cry, but it's a happy cry," Jennifer said. "It's really exciting to see how open Tristan becomes when there's something he likes, something new, something different."
And while the cowboys are often seen as tough guys, the event was emotional for them, as well. O'Connell, whose wife Sami is due to have the couple's first child in March, seemed to have a little lump in his throat as he autographed rodeo memorabilia for the children.
"What an amazing experience," O'Connell said. "I really am humbled as a person, seeing the smiles on all these kids' faces, as someone about to be a new dad. The littlest things we take for granted can make a kid's day. I'm so blessed to be a part of it."
Nogueira, who was thick as thieves with Tristan by the time the event wrapped up, echoed O'Connell's sentiments. It was a reminder to Nogueira that, while his full-time job as a rodeo cowboy is important, it's probably more important to not forget the youngster in all of us.
"Little kids show us how to have fun and enjoy it," Nogueira said. "Sometimes in life, we get caught up with all the hard things. This motivates me to enjoy life a little more. It's amazing to have a chance to do this and help these kids – give them a little more hope and a happy day."
Having fun is of course the goal of the event. But what Janison reminded is that through that fun comes learning that can really help these kids and their families along.
"This is the payoff," Janison said. "They come in for treatments, and sometimes those treatments are not as fun as they'd like them to be. This time, they come in and we help them, but at the same time, they get the experience of working with NFR cowboys. It gives them a positive experience while they're getting treatment. So that makes our hearts happy."
And it made a lot more hearts happy this year than last. The 27 participants this year is up from seven last year. Smidt has participated both years and will surely be first in line next time around.
"I'll do it for years to come. It's awesome to give back," he said. "Las Vegas does a lot for us, so anytime we can give a little support back, we're definitely willing to do that. I love doing it, love the kids, love showing them what we do. I'm glad we can help, and hopefully it brings a smile to these faces."
Along with parents, many siblings of the autistic children were on hand Friday. After all, as Janison rightly noted, autism is something the whole family has to work through, learn about and handle on a daily basis. Grant a Gift's program looks to assist all who are touched by autism.
"We don't just focus on services for the child. We have parent empowerment groups and sibling groups," Janison said, adding that experiences such as Friday's event are just as helpful for the rest of the family as for the child in treatment. "It really hits the whole family."
But there's no getting around the fact that, on a perfect Friday afternoon, it's primarily about the unbridled reactions of these autistic youngsters, getting an up-close-and-personal meeting with rodeo superstars.
"You can just see it in their faces," Janison said. "It's just marvelous. That's the goal. These are the kinds of memories they can hold onto when they walk into the autism center. That's a nice benefit, a positive memory to walk in here with."
Or as Tristan summarized:
"It was good. I said, 'Yeehaw!' "