Roper Whitfield winding it down
December 15, 2012 - 12:29 am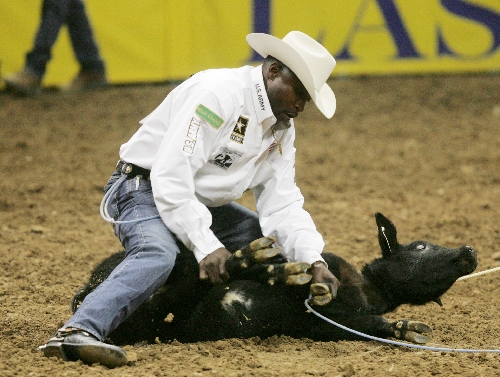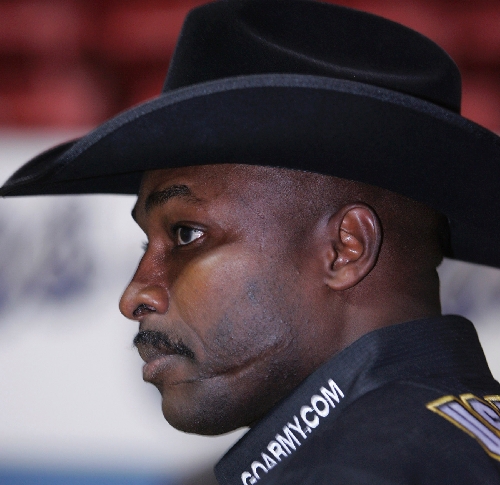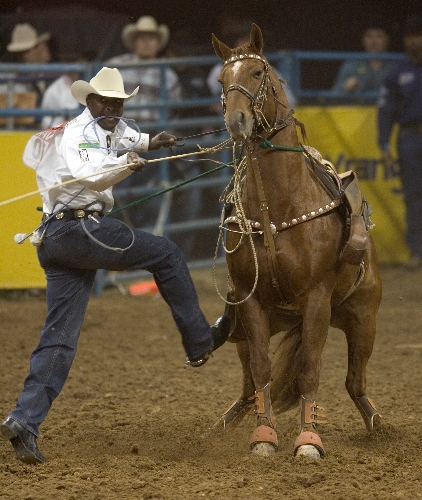 Fred Whitfield has been rodeoing for a living for about as long as he can recall. He could certainly tell you some stories.
And this spring, he's gonna do just that.
Whitfield, the 45-year-old Texan who owns seven world titles in tie-down roping and one all-around title for good measure, is finishing up strong with what he declares will be his last full season on the Professional Rodeo Cowboys Association tour. He has made it yet again to the National Finals Rodeo, where for the better part of 20 years he has consistently proven to be among the best ever at his craft – and where he has been a huge fan favorite.
When it all wraps up today, he will complete the last chapter in his autobiography, slated for a spring release.
While he wouldn't commit to the "R" word – retirement – he made it clear he's going to wind things down quite a bit.
"I think this is probably it," he said. "I don't know about retiring. That's an awful big word. I'm just not gonna go to 70 or 80 rodeos a year. I'm gonna do 15 or 20, max, and most of them will be in the state of Texas."
By only competing close to home, he will get to do a lot more of what he wants to do: spend more time with his wife and two daughters, ages 12 and 9. While that may not mean total retirement, it will mean he probably has qualified for his last NFR.
"It's hard to qualify for the Finals with just that number of rodeos. You gotta go all over," Whitfield said. "To just do (15 to 20) and qualify, I'd have to go to major rodeos and kick everybody's tail, every time. I don't think you can qualify just staying Texas."
Whitfield has made a career out of his speed, strength and agility, and growing up in football-crazed Texas, he surely could have made an impact in that sport. And he almost did, but the lure of rodeo and the opportunity to make that sport his full-time job proved too much to turn down.
"I played a little bit of football up until my freshman year of high school. I was already a starting linebacker on the JV," he said. "But I was into rodeoing. I'd been doing that since I was 7 years old.
"I'd never go to football practice. So the coach said, 'I'd have a hard time starting you if you're not coming out to practice.' I understood that. I piled up all my stuff and got out. In my mind, it was the best decision."
Indeed. Whitfield has piled up career earnings of $3.1 million and stamped himself as one of the all-time PRCA greats. One of his favorite stories to retell – one that perhaps will be in that autobiography – came in 1996. He was 29 and in his prime, but having an awful season early on, with only $6,000 in winnings through May.
"I left home in June, and I probably wasn't even in the top 50 or 60," Whitfield said. Only the top 15 make it to the NFR at the end of the year. "I had $6,000 in June, and at the end of September, I had $90,000. By November, I was No. 1, and I won the tie-down roping title.
"People thought I was quitting (because of the slow start). I said, 'Don't call me with that stupid stuff. I ain't quitting. I'm just getting started.' "
But 16 years later, while he's not quitting, he will begin winding things down. He will continue to raise and train horses, and he will definitely take a big break come next summer – a time when he is usually criss-crossing the country competing.
"I'm gonna take a vacation. My wife and kids have been on vacation the last three summers, and I've been off rodeoing," Whitfield said. "We're gonna go to the Florida Keys in June for a few weeks. I'm gonna take it easy for a while, clear some of these clouds and cobwebs in my head, then figure out what I'm going to do next. And it ain't gonna be a 9-to-5 job, I can tell you that.
"My passion is to rope and ride and be competitive, so I'm not going entirely away. But to maintain a high level, you need to work your ass off."
And Whitfield is done doing that. Rather, he is ready for some serious father-daughter time.
"They're getting to a stage where I need to be around. They need a dad around," he said, noting he grew up without a father in the picture. "I don't want them to grow up like I did, though I turned out OK."
He indeed did turn out OK, far better than OK. And though he still has an outside shot at another world title, it would take a tremendous effort during the 10-day NFR, which he entered in 12th place. So he is smart enough to know when it's time to pull back on the reins of his rodeo career.
"Hell, I'm 45 years old. I ain't no spring chicken. Three surgeries later, it's starting to show up," he said. "A good friend of mine said something to me a few days ago, and it sure rings true: Father Time is undefeated."
Playing Favorites With … Fred Whitfield
Age: 45
Home: Hockley, Texas
NFR qualifications: 20
Favorite rodeo moment: "That would've been my rookie year (1990). I was at Cheyenne, Wyo., and in came a freaking rainstorm. … But they were still roping. I was due to ride, and I was trying to get my horse out of the trailer, and he was not coming. He finally did, and I ended up winning the short round, and then winning the rodeo. And Cheyenne is a big rodeo."
Favorite rodeo superstition: "If I'm driving home and a black cat crosses the road, I'll pull over till somebody else drives by and breaks his path. Then I'll go on. And I won't put my cowboy hat on the bed. I never, ever do that. That's a cardinal sin in rodeo, in my opinion."
Favorite NFR moment: "I invited (former NBA star) Charles Barkley out one night, and after I rode – I think I won the round – they put the camera on Charles, and we pointed at each other. And then we hung out a little bit later that night. So the next morning, heck, he was probably out all night, but he called and said he wanted to come out and see me practice, and I'll be danged if he didn't show up, in a huge stretch limo. He said he thought football was the toughest sport, but after seeing what we do, he said, 'This rodeoing deal is for real.'"