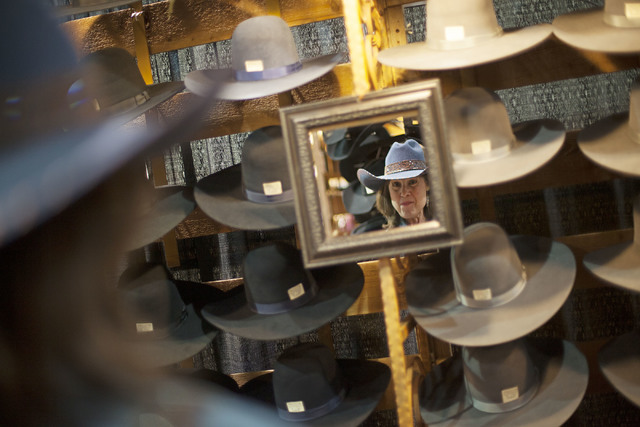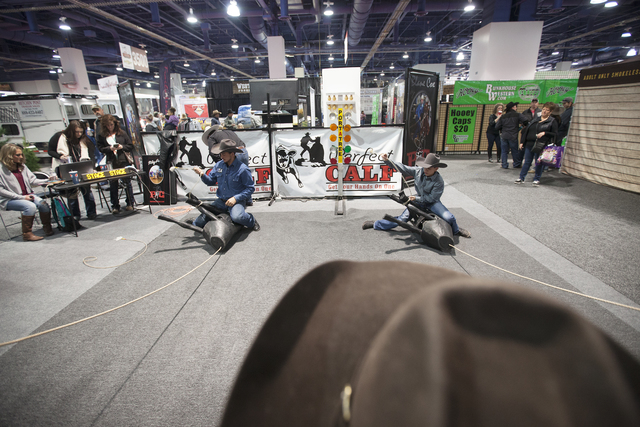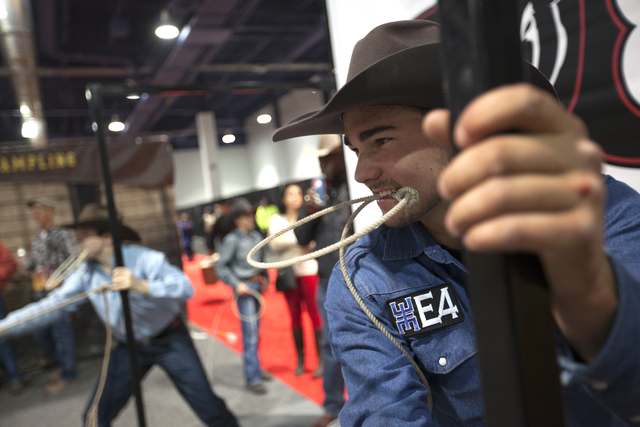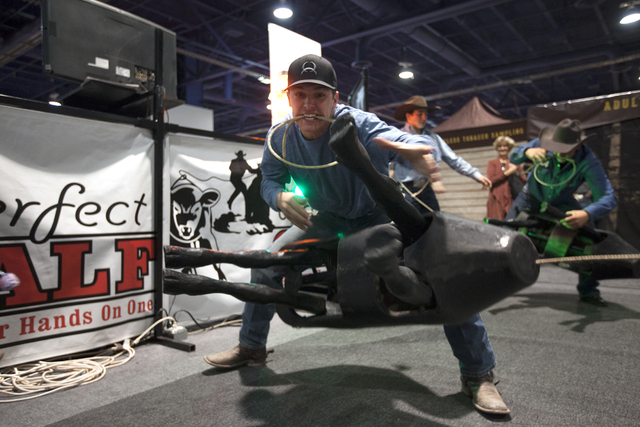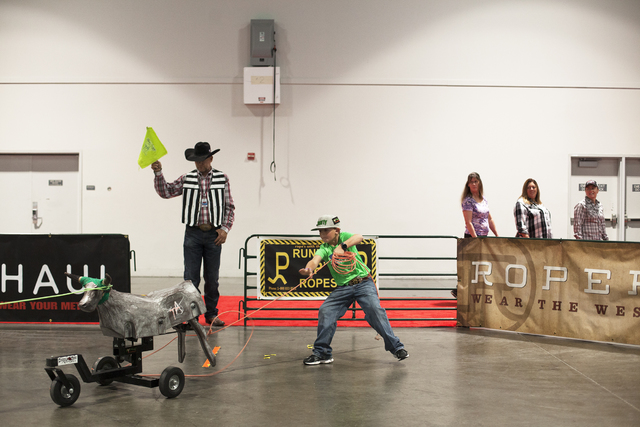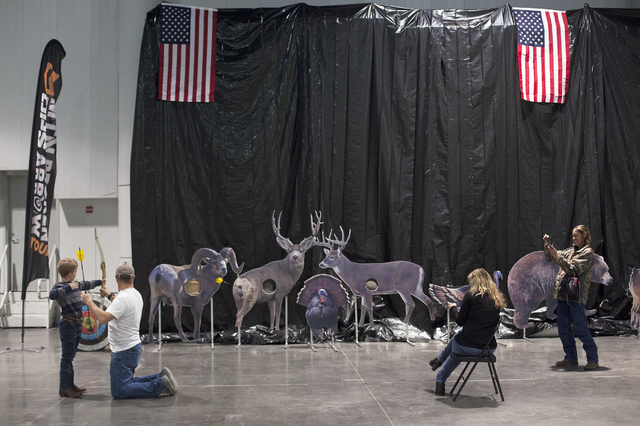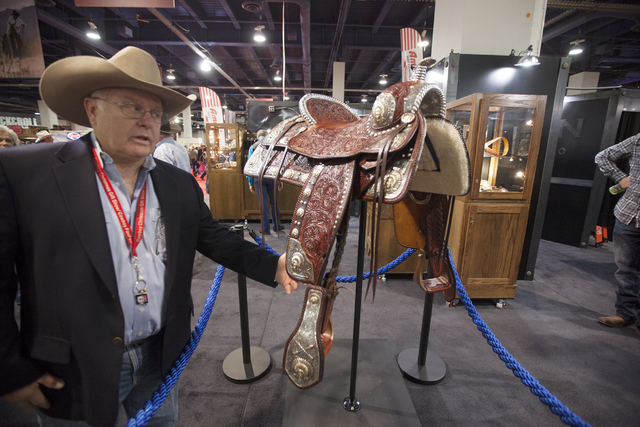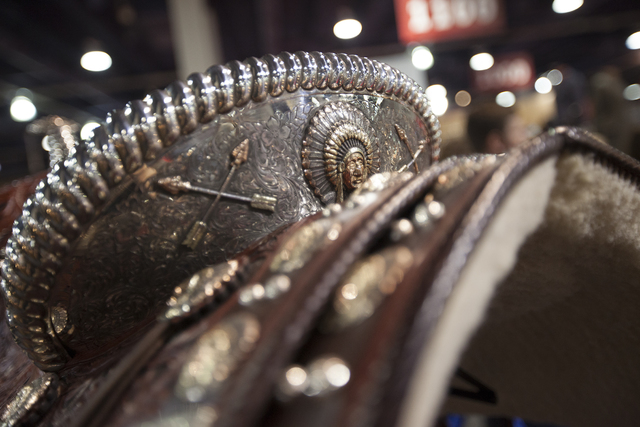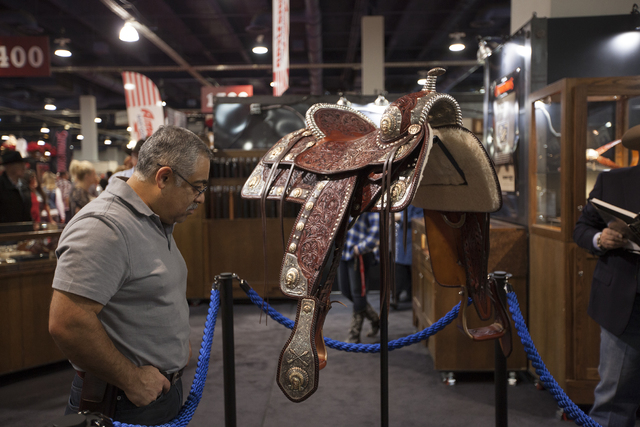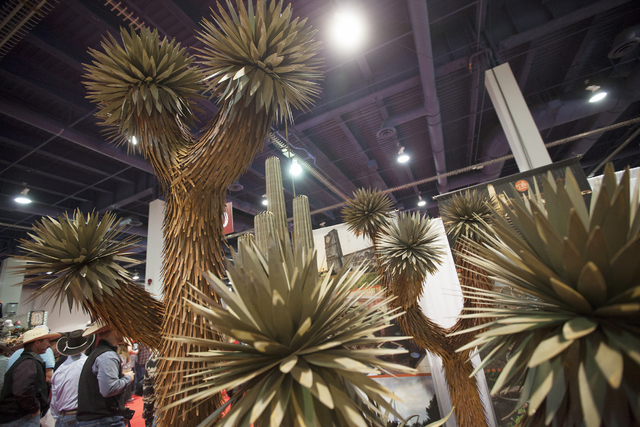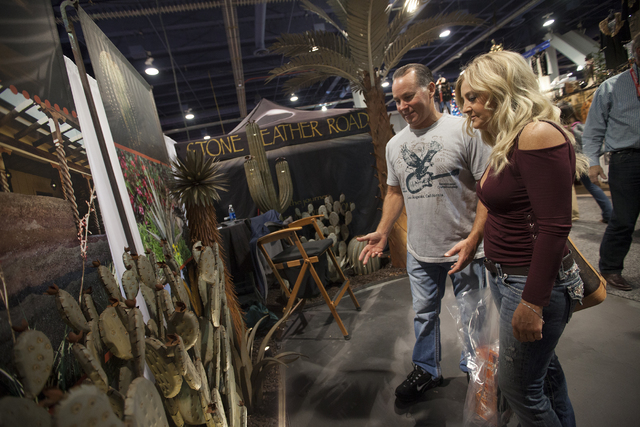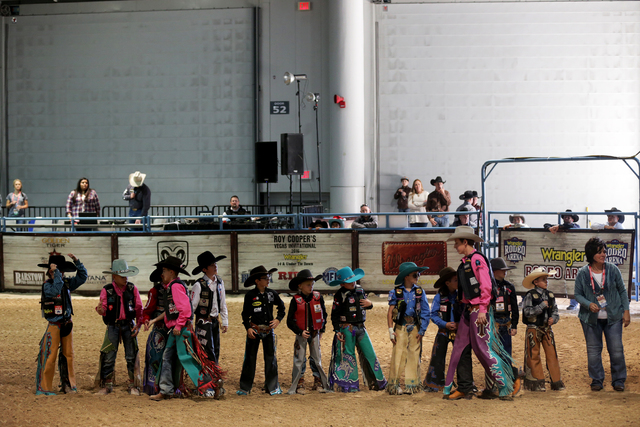 A brightly decorated red-and-gold Christmas tree lights the way to an event almost as beloved as the Wrangler National Finals Rodeo. For many, it's the occasion that marks the start of the holiday shopping season.
Thousands of rodeo fans came to Cowboy Christmas on Sunday for some retail therapy and entertainment. The 31st annual shopping spectacular features more than 400 vendors occupying a 440,000-square-foot space in the Las Vegas Convention Center's south hall.
Cowboy Christmas drew about 216,000 people last year, and Anne Aznarez, Las Vegas Events director of show operations and exhibits, expects the number to stay the same this year.
"People tell me that they wait all year long to do their shopping at Cowboy Christmas," Aznarez said. "The artists featured here are amazing and have eclectic tastes for everyone to enjoy whether they're rodeo fans or not."
Since 1986, Cowboy Christmas has offered customers saddles, custom-made jewelry, furniture, original art, crafts and all things Western. Amid a sea of attendees clad in studded jeans and cowboys hats, everything from baby onesies reading "Rootin' Tootin' Spit-Up Shootin' Cowboy," to beer bottle night lights to calendars featuring scantily clad women holding animals skulls could be seen.
Gary Sullivan, president of Seattle-based the Ride Guys Inc., has been coming to Cowboy Christmas for the past 10 years. His company sells restored coin-operated mechanical horses dating back to the 1950s. Only these horses don't cost 5 cents to ride. Instead, they go for roughly $7,000.
"A lot of people remember riding them when they were kids, so they buy them mostly for nostalgia," Sullivan said. "I always sell out during Cowboy Christmas. As of right now, I only have two of these horses left."
The Bohlin booth had perhaps the most outstanding item: a $219,500 saddle made from kangaroo leather, $25,000 worth of rose, yellow and green gold and 20 pounds of silver.
Bohlin President and CEO David K. Marold said his company has made saddles for movie cowboys Roy Rogers and Gene Autry and the television show "The Lone Ranger."
Besides shopping, Cowboy Christmas attendees could see the inaugural Junior NFR, showcasing children and teenagers in the rodeo. The weeklong event includes miniature bareback riding, tie-down roping, breakaway roping, barrel racing, team roping and miniature bull riding.
Elaine Livran said she's glad she came to Las Vegas to watch the Junior NFR and fulfill her holiday shopping list.
"This is a wonderful addition, especially for the families," said Livran, an Oregonian. "I've been coming here for the last 13 years and I think it's more grand this year. Families are able to involve their kids more because it has something for everyone, old and young."
Besides browsing Western wares, attendees could attend autograph sessions featuring rodeo professionals.
"This event has been awesome so far," said Jana Day, who was visiting from Idaho. "We get to do some shopping and meet professional athletes, like Dale (Brisby), who was great to talk to."
Brisby, a legendary bull rider, was all-smiles as he gave high fives and autographs.
"I've been here many times before and I always enjoy meeting everyone," Brisby said. "It's a fun event because there's so much to do here and so many options for shopping. Plus, it's also nice to be around like-minded people who share the same passion for rodeo as I do."
Between vendors were Christmas trees and snowman figurines reminding Christmas gift hunters to pick up ornaments shaped like cowboy boots and Texas. Given all the shopping bags in hand, it seemed many people found it hard to leave Cowboy Christmas empty-handed.
Cowboy Christmas runs 9 a.m. to 5 p.m. daily through Dec. 10 at the Las Vegas Convention Center, 3150 Paradise Road. Admission is free.
Contact Sandy Lopez at slopez@reviewjournal.com or 702-383-4686. Follow @JournalismSandy on Twitter.
COWBOY CHRISTMAS
Cowboy Christmas runs 9 a.m. to 5 p.m. daily through Saturday at the Las Vegas Convention Center, 3150 Paradise Road. Admission is free.
NATIONAL FINALS RODEO
Click here for complete coverage of the 2016 National Finals Rodeo in Las Vegas