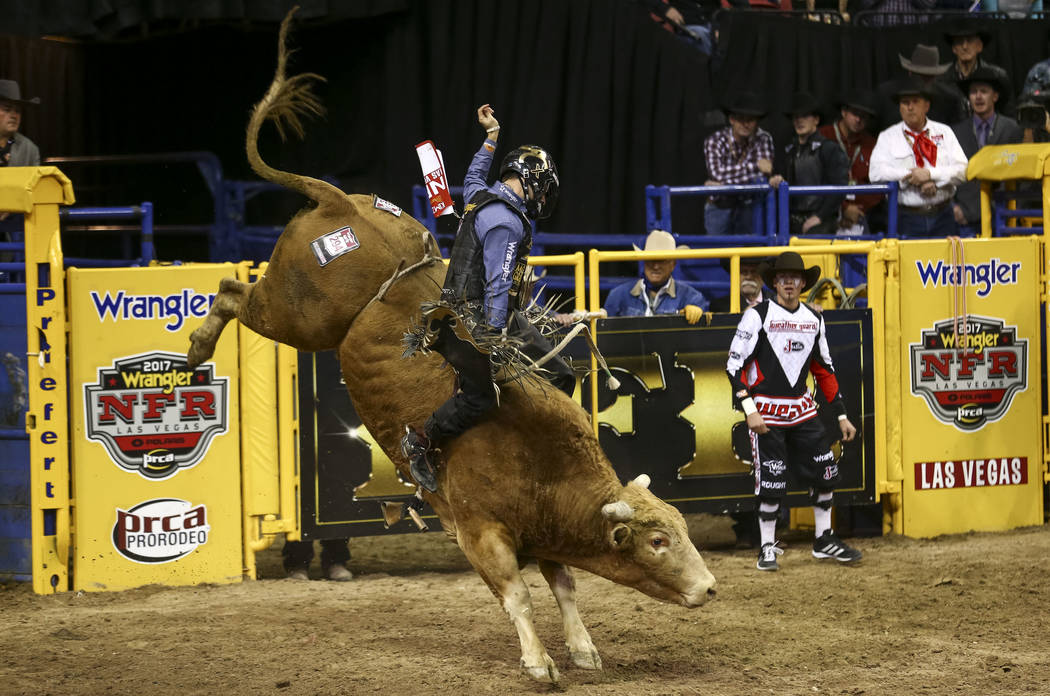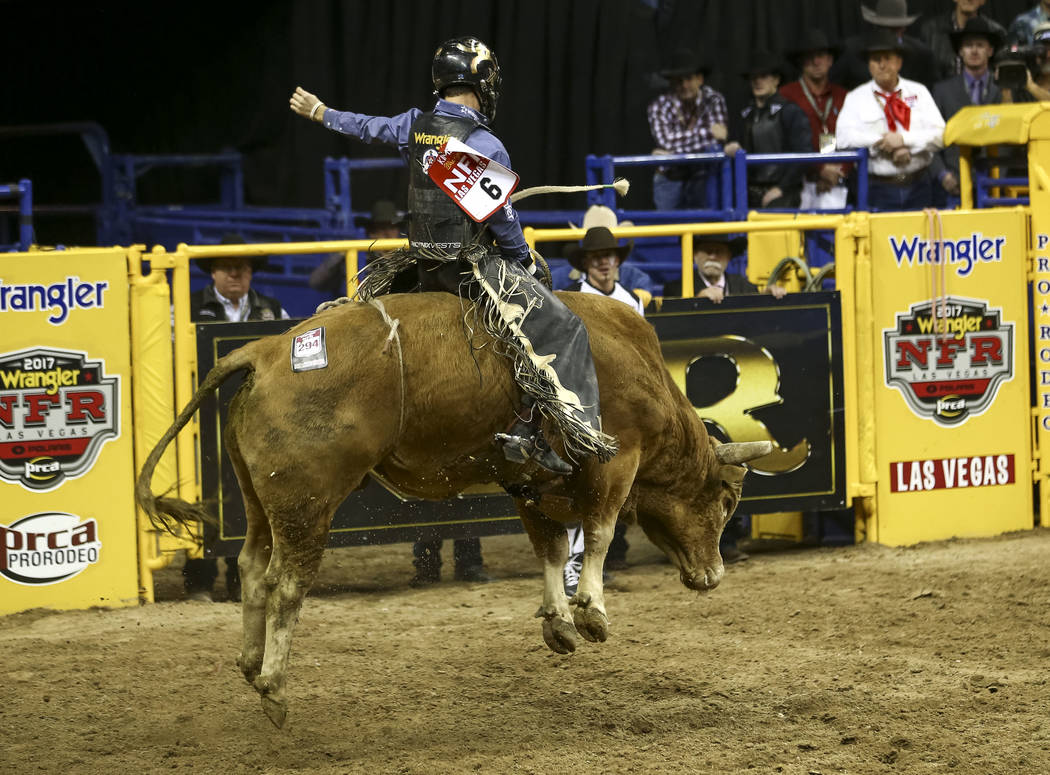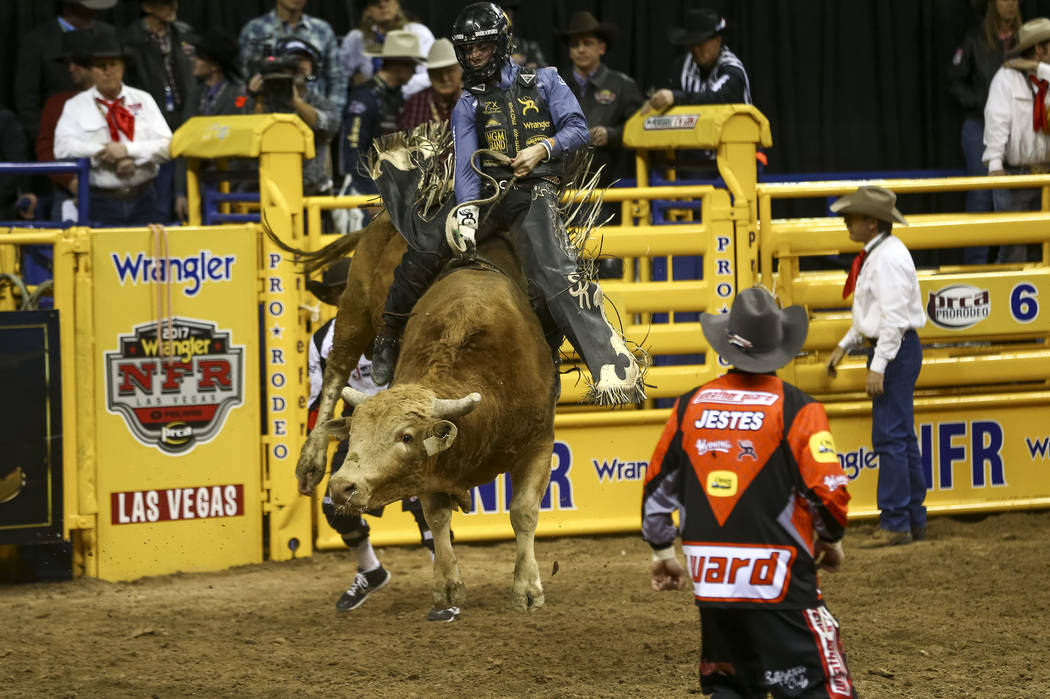 Spend a few minutes with Sage Kimzey, and you'll see he's not a machine. He's a thoughtful, well-spoken cowboy with a pretty good sense of humor.
But as you watch Kimzey atop a hard-bucking, snot-throwing bull, he seems much more machine than man, riding with such control and precision. That, as much as anything else, is why the bull rider from Strong City, Oklahoma, is on the precipice of his fourth consecutive world championship — every year he's competed on the PRCA tour.
So does it ever get old, even for someone who's only 23?
"Not really," Kimzey said after winning the fifth go-round of the Wrangler National Finals Rodeo with an 89-point ride Monday night at the Thomas &Mack Center. "I grew up dreaming about this moment right here, getting to be out here. Nothing about this gets old or monotonous at all. Except losing, and I try not to do much of that."
Indeed, Kimzey got bucked off Cowahbunga on Sunday night for a no score, then came back a night later with that winning ride aboard Record Rack's Shootin' Stars. That was good for a $27,077 check, and Tuesday night he took second with an 86-point ride to add another $21,576. And he needed that, because Trey Benton III has put pressure on Kimzey all week, winning three go-rounds and, like Kimzey, covering five of his first six bulls.
Wednesday's seventh go-round could prove pivotal, though. Benton was running No. 1 in the average — a riders' total score over the course of the Wrangler NFR — and that top spot pays out $67,269 to whomever occupies it after Saturday's 10th and final go-round. But Benton got bucked off for a no score Wednesday, while Kimzey stayed on for 81.5 points.
That score wasn't enough to win go-round money, as only the top six scores cash. But it made Kimzey the only rider with six out of seven bulls ridden so far, so he's now not only on top of the world standings with season-long earnings of $340,229, but he's overtaken Benton for the average lead.
"This is when gut-check time really comes into play, when the nerves come up," Kimzey said. "More people fall apart at this point than go on to win a gold buckle. But the pressure's not gonna get to me. If someone wants that buckle, they're gonna have to come and get it from me."
Kimzey, who also tied for first in the third go-round, certainly respects Benton and all his bull riding peers, but he said it's the past greats who keep giving him inspiration.
"I always look at the old-school guys. Donny Gay is a good one. I've been around Tuff Hedeman quite a bit, and Gary Leffew," he said. Pretty heady company, as those three have a dozen PRCA bull riding gold buckles among them — eight for Gay, three for Hedeman and one for Leffew.
"Those are three guys I look up to, from a bull rider's standpoint, especially lately in my career. I'm lucky to count them as close personal friends. Three Hall of Famers, they're pretty special guys, for sure."
Kimzey is arguably equally special, and becoming more so by the day. Prior to Kimzey, nobody had won PRCA world championships in each of their first three seasons on the tour. He's now in position to go 4-for-4.
"These are what dreams are made of," he said. "The first couple of years, it was really hard to just enjoy the ride. This year, it's easy to step back and see I'm blessed and highly favored.
"Being able to come do this for a living, it doesn't get any better. Just have fun, ride my guts out, and let the chips fall where they may."