Showcasing the young buckaroos at WNFR
December 2, 2016 - 9:44 pm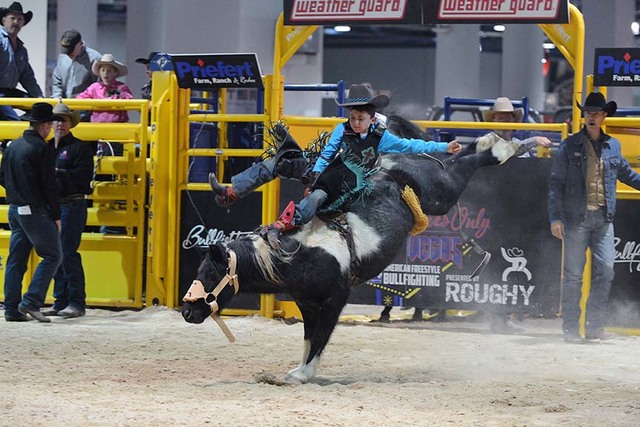 Each year, the Wrangler National Finals Rodeo showcases the very best of the best in seven events: bareback riding, steer wrestling, team roping, saddle bronc riding, tie-down roping, barrel racing and bull riding. But the reason the field of around 120 is so solid is because of the support these contestants received while riding, roping and wrestling their way up through the ranks.
Las Vegas Events, which along with the Professional Rodeo Cowboys Association operates the Wrangler NFR, has recognized the need to broaden support for the sport's youth. This year's ancillary events will therefore include the inaugural Junior National Finals Rodeo, with two sets of competition dates. The first started Friday and runs through Sunday; the second runs from Thursday through Dec. 10.
The competition will take place in the Wrangler Rodeo Arena at the Rocky Mountain Elk Foundation's Hunter & Outdoor Expo, on the second floor of the South Halls of the Las Vegas Convention Center.
"We've been doing mini bull riding for three years, and last year we did mini bareback and tie-down," said Bo Gardner, vice president of corporate marketing for Las Vegas Events. "With the feedback we got from families and fans, we said, 'Let's grow this.' We wanted to get more events included in the arena."
So along with the aforementioned competitions, there will also be barrel racing, team roping and 13-under girls breakaway. Contestants, chosen based on results from rodeos throughout the summer, will go through two days of qualifying rounds in each of the three-day sessions, and those who advance will compete in the finals on the third day.
Admission for qualifying rounds is free, with finals tickets priced at $10 for bleacher seats and $20 for VIP seats. All those funds will go into the prize pots for each event, supplemented by prize money from promoters of each event.
It's a great opportunity for the young contestants, to be sure, but it also presents great opportunities for growth.
"We could sell as much sponsorship for the Junior NFR as we do for the Wrangler NFR," Gardner said. "We've got all these companies that want to be involved with these kids."
One such company is Montana Silversmiths, which makes the gold buckles that go to the PRCA world champions in each event when the NFR wraps up each year. Gardner said the winning youngster in each event will get a Montana Silversmiths-designed buckle.
"These companies involved in the Western lifestyle, they want to get involved with the youth of rodeo," he said. "We have the PRCA's support. They understand that the youth of today will be our champions tomorrow. This could really grow."