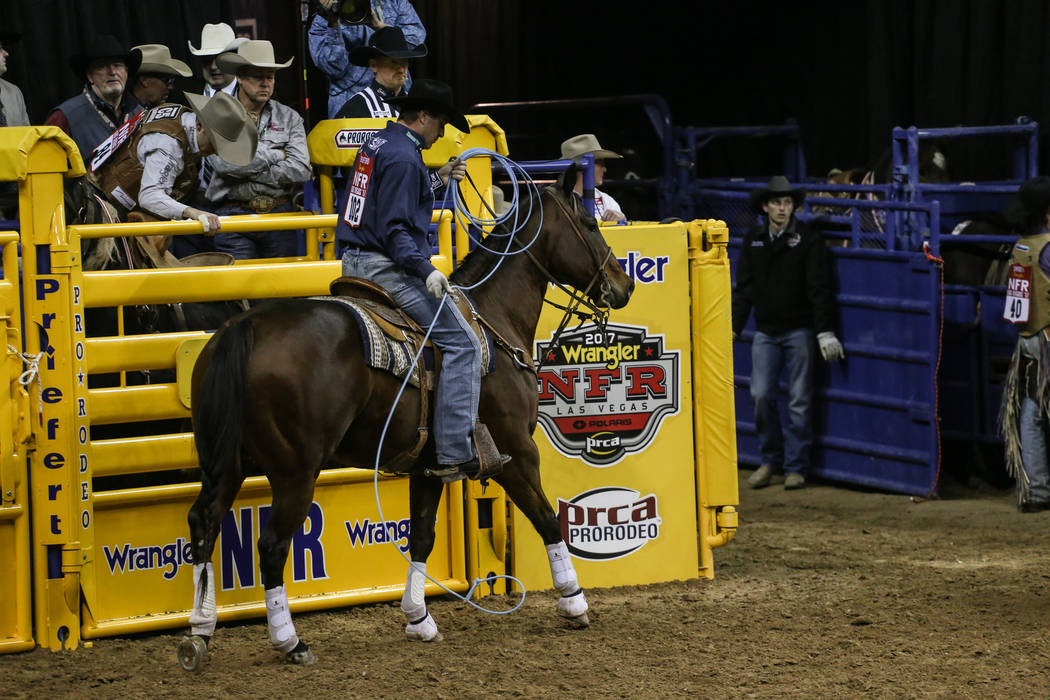 Charly Crawford is coming up on 40 years old. The successful team roper has long been a man of action, understanding you don't get to the Wrangler National Finals Rodeo nine times without getting your fingers deep into the grease.
If there are people one wishes to support, Crawford believes you need to go right to those people. Coming from a military family, he's a big backer of those who served in the armed forces. And he lets those people know that through direct action, as he did just a few weeks ago at his home in Stephenville, Texas.
"I held a roping school for the military," Crawford said. "Anybody who has served attends for free. I'll put my money into those who respect our country. It's something I stand for and have a lot of passion about."
That passion, that kind of outreach, is something he hopes professional athletes across the board take to heart, especially in light of the national anthem protests in the NFL.
"Grab your wallet and make it better. Go back and give back to the communities you came from, make it better for them kids coming up," he said. "I understand the players' side of it, the things they want to make better. But be a positive. Use your platform."
Ideally, Crawford – a huge Green Bay Packers fan – wants the "Star Spangled Banner" to again be something that brings people together.
"At a football game, that's what truly unifies our country – our national anthem," he said. "Liberal or conservative, Packers fan or Bears fan, black or white or Hispanic, everyone comes together for the anthem."
Until he sees that the anthem is again a unifying theme, Crawford said he's putting his NFL fandom and viewing habits on hold. But on the plus side, that's given him more time to focus on his craft of team roping, ending a two-year hiccup in which he didn't qualify for the season-ending Wrangler NFR.
Crawford, a header, earned $74,205 in the regular season to grab the 15th and final spot in the Wrangler NFR, alongside his new roping partner Joseph Harrison, a heeler competing for the first time in the 10-day Vegas event.
"I'm excited to be back, for sure. I've got some good horses and a good partner," said Crawford, who went on to describe the run that secured the twosome's spot. "We had a really good summer, we had about a $12,000 lead (on 16th place), so we were pretty secure toward the end. We didn't finish really strong, but it was enough to get us where we needed to be."
Crawford finished 13th in the 2014 world standings, his last trip to the Wrangler NFR, and his best season-ending finish was seventh, in both 2006 and 2009. Even though he entered this year in 15th among headers, with Harrison 12th among heelers, he's not counting himself out by any stretch.
"There's a lot of money to win right there," said Crawford, alluding to nightly go-rounds that pay the top six finishers, including more than $26,000 for first place, along with the 10-day average providing a potentially huge payout, as well. "You can win more money in 10 days than you've won all year. I'm pretty excited to get back after it, excited to make it pay off. Joseph rides really good horses, and he's really fast.
"I've got a lot of people behind me, a great support system. And being here nine times, I've learned a lot about what to do and what not to do. I feel like this year, it's gonna come together."
Crawford and Harrison got out of the gate well at the Thomas & Mack Center, splitting fourth place in Thursday's opening round with a time of 4.80 seconds, to give each roper a check for $8,885. The duo came back Friday night and took second with a speedy 4.50 clocking to collect another $20,731 apiece, and after a couple of unfortunate no-times, the two claimed sixth-place money of $4,231 apiece with a 4.70 in Monday's fifth go-round.
Add in the $10,000 bonus that each NFR qualifier receives, and Crawford is now up to eighth in the world header standings, with season earnings of $118,052. Likewise, Harrison is eighth in the world heeler standings, but with a little bit more money earned at $122,293.
Although the money won this week has been nice, just getting back to the Thomas & Mack Center brings a great deal of satisfaction. Crawford couldn't single out the one aspect he's most enjoying in his return to the Wrangler NFR.
"There's lots of things for me," he said. "This is something I grew up dreaming about my whole life. Competing against the 14 best teams in the world, on national TV, on the biggest stage of the year for the biggest money of the year, it should give you goosebumps.
"To make it here once or twice was a dream come true. Now it's my ninth time. As a 13- or 14-year-old kid, I'd have been beside myself if I'd known that would happen. I'd have never believed it."