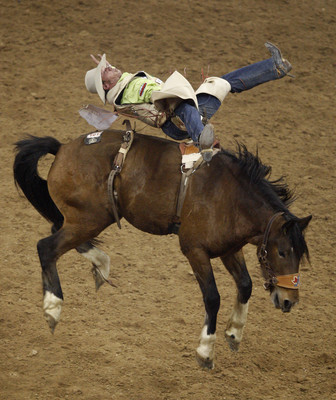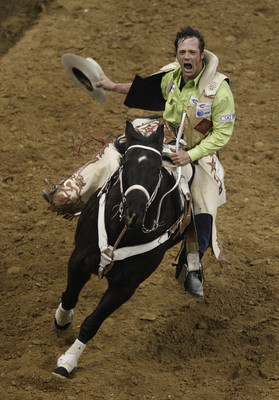 Attitude adjustment is old hat for cowboy Chris Harris.
He conquered a young bucking horse Thursday night in the opening round of the National Finals Rodeo.
But spurring away while conquering a good, young horse for eight seconds hardly is a challenge for someone who has overcome alcohol and drug abuse that contributed to spending two years in prison.
He'll never forget watching the 2003 NFR on a television while sitting in a Huntsville Prison cell in Texas.
The 32-year-old bareback rider from Itasca, Texas, spurred his way to his first NFR go-round victory in eight years before a crowd of 17,341 at the Thomas & Mack Center.
"I've been craving that for a long time," he said with a wide smile and wide eyes.
He let out a yell that released years of frustration after being scored for 88.5 points on Andrews Rodeo's Power Play. The appreciative crowd responded, and his performance meant more than any of his four previous NFR go-round wins.
"Did you see me explode (emotionally) out there? I don't ever remember feeling like that," Harris said. "God Almighty, that's the best feeling I've had in a long time."
Harris was full of promise until he began filling his soul with drugs and booze in 2001.
The low point came March 20, 2003, when he was arrested after head-butting his mother when she refused to let him borrow her truck. When Hill County, Texas, sheriff's officers arrested him, Harris struggled inside the police vehicle and used his feet to steer the vehicle into a tree.
He could have been lower only had he been 6 feet under.
Harris had qualified for the NFR from 1998 to 2000 before self-destructing.
Although he's been clean for five years and just qualifying in 2006 for the first of three consecutive Finals seemed to cap his comeback, winning Thursday's go-round and its $16,766 put an exclamation mark on it.
"What better go-round to win in eight years than the first round of the 50th annual National Finals Rodeo," he said.
He was starting to feel like he'd never earn another NFR gold belt buckle.
"Yeah, it was starting to feel like that," Harris said. "It comes down to mental focus and where your state of mind is."
Harris said he arrived in Las Vegas this week with a different attitude than what he carried into the arena the past two years.
"For so long it was prove, prove, prove instead of going out there and having fun," he said.
He plans to continue that approach, even when he's not competing over the next nine nights. He and his wife, Stephanie, will celebrate their seventh anniversary Sunday, and one of their daughters will turn 6 during the NFR.
"The last couple years coming here I neglected the family," he said. "You just get in your rodeo realm and block everything else out.
"(This year) I said let's have fun with the family, embrace the moment and share it with everybody."
His new approach to chase his first world championship is very sobering.
Contact reporter Jeff Wolf at jwolf@ reviewjournal.com or 702-383-0247.
Audio slideshow