Turning Up Their Noses At Rodeo
December 10, 2008 - 10:00 pm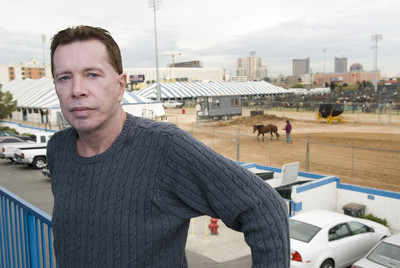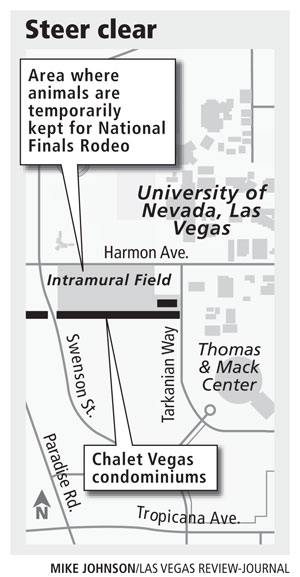 You can tell Ted Groene isn't a city slicker by the way he walks. He makes no attempt to avoid the horse droppings around him, his boots slicing through them like a knife through butter.
"I'm too busy to go around 'em," he said Sunday morning as he made sure the horses, bulls and calves participating in this year's National Finals Rodeo at the Thomas & Mack Center were properly fed. "We've got important work to do. I try to remember to take my boots off when I go in restaurants."
Snorts and grunts from livestock milling about on what usually is the University of Nevada, Las Vegas intramural field are frequently drowned out by the roar of passenger jets taking off from nearby McCarran International Airport.
Now, some neighbors say, if only something could drown out the smell.
"My God, this is a residential area," said Vincent Reilly, who rents a condo at the Chalet Vegas less than the length of football field away. "Each of those animals has a different stench. I don't care what kind of air freshener you use, you can't get rid of the smell."
Since mid-November, the 20-acre area off Swenson Street and Harmon Avenue has been turned into a kind of mini-ranch where Groene, the rodeo's livestock superintendent, and his 11 staffers see to it that the world's most prized livestock are ready to rumble.
They all could be cast in a John Wayne movie, if they would only lose the cell phones.
And despite the fragrance emanating from the holding pens, Groene and his men feel right at home on this Las Vegas range, where seldom is heard a discouraging word.
"I find the smell comforting. It reminds me of where I grew up," said Groene, who wears a shirt that reads, "Dirty Rotten Buckers."
Condos and apartments are within smelling distance of the site.
Reilly, an employee for an Internet business, angrily denounces "a lack of respect for the civilized world" as his face grows high-blood-pressure red. "This being here is making me smoke more to try and kill the smell."
Even Vicks VapoRub in each nostril doesn't help, he said.
"The smell just makes you sick," he sighed. " And I hate the sound of those earth movers moving dirt around. The only thing that will help is them leaving. I have to move before they come back next year."
Two other Chalet Vegas residents also say the smell chokes them, regardless of which way the wind blows.
But one woman, Kim Paylor, sat outside her apartment with a cup of coffee and repeatedly inhaled with a smile on her face.
"This reminds me of growing up in Calgary with the Calgary Stampede," she said of the annual event that draws rodeo fans to the Canadian metropolis. "I feel so blessed. It smells so fresh. I just love the smell of animals."
Like Paylor, UNLV students don't appear upset by having 100 bucking bulls, 200 bucking horses, 75 calves, 120 steers, 120 contestant horses and 80 flag horses living on campus. While they're at the rodeo, the livestock will munch, growl and slobber through 60 tons of grain and 170 to 190 tons of hay.
"They're far away from the students," said biology major Kim Ariwodo, who hopes to go to pharmacy school next year. "And the traffic is about like having basketball games on campus."
Freshman Ryan Cumbo was even less concerned.
"It doesn't bother me at all," he said. "Why should it?"
That kind of response, particularly during these tough economic times, makes sense to Daren Libonati, executive director of the Thomas & Mack.
"This is the Super Bowl of all the events we do," he said, adding that the rodeo grosses close to $12 million, with an amount "in the seven figures filtering through UNLV after all is said and done."
Libonati is quick to remind everyone that livestock housed on campus, conservatively valued at more than $10 million, are the best in the world.
"They've earned the right to be here just like the athletes," he said. "These animals are graded just like the athletes."
Groene, a Pahrump resident, turned to his present work at rodeos around the country after a bull ripped out his right eye during his rodeo clown days.
He says security for the livestock is exceptionally tight.
No one gets into the area without the right kind of pass, day or night.
He won't divulge whether security is armed — "we don't want people to know what we're doing" — but he did say this: "None of these animals has been stolen, and we don't expect any to."
What Groene and Pat Christensen, president of Las Vegas events, do expect is for the National Finals Rodeo to continue to bring its smell to Las Vegas.
"I refer to that smell as the sweet smell of money," Christensen said. "That's hard to argue with."
Contact reporter Paul Harasim at pharasim@reviewjournal.com or 702-387-2908.
Slideshow