Vet, barrel racer's breeding dream comes true
December 15, 2017 - 9:54 pm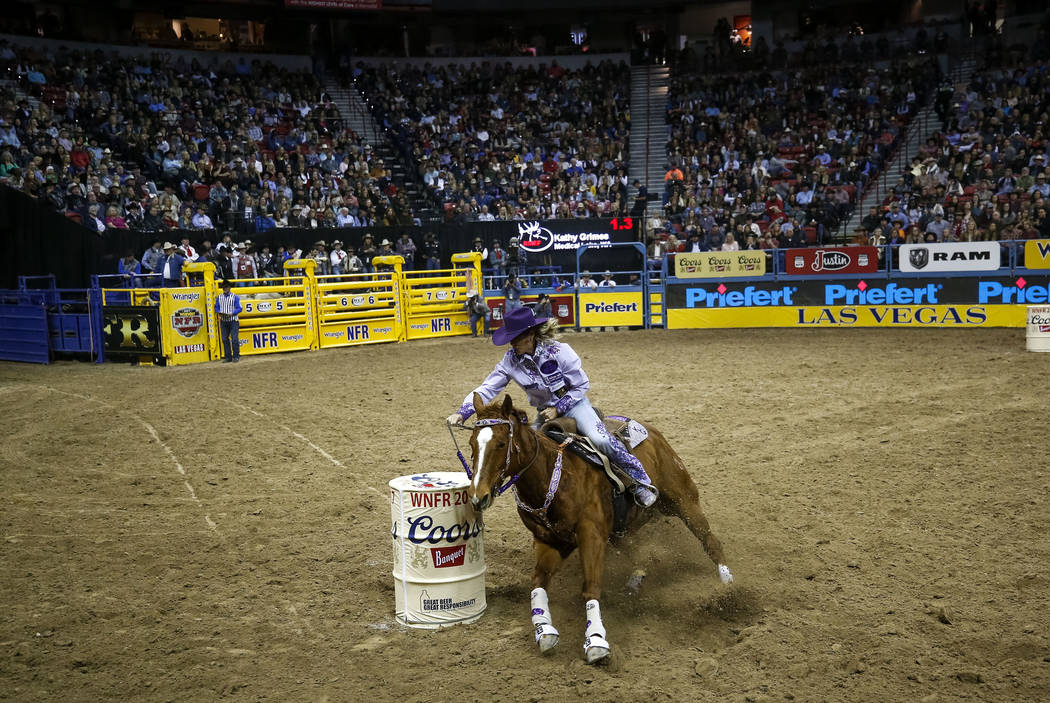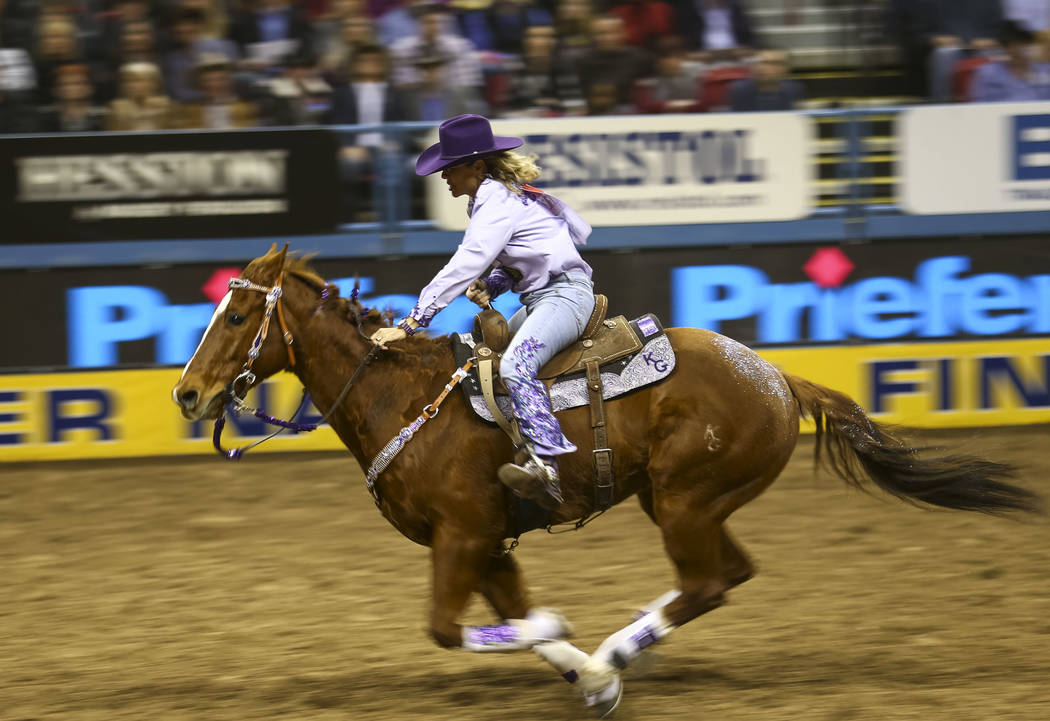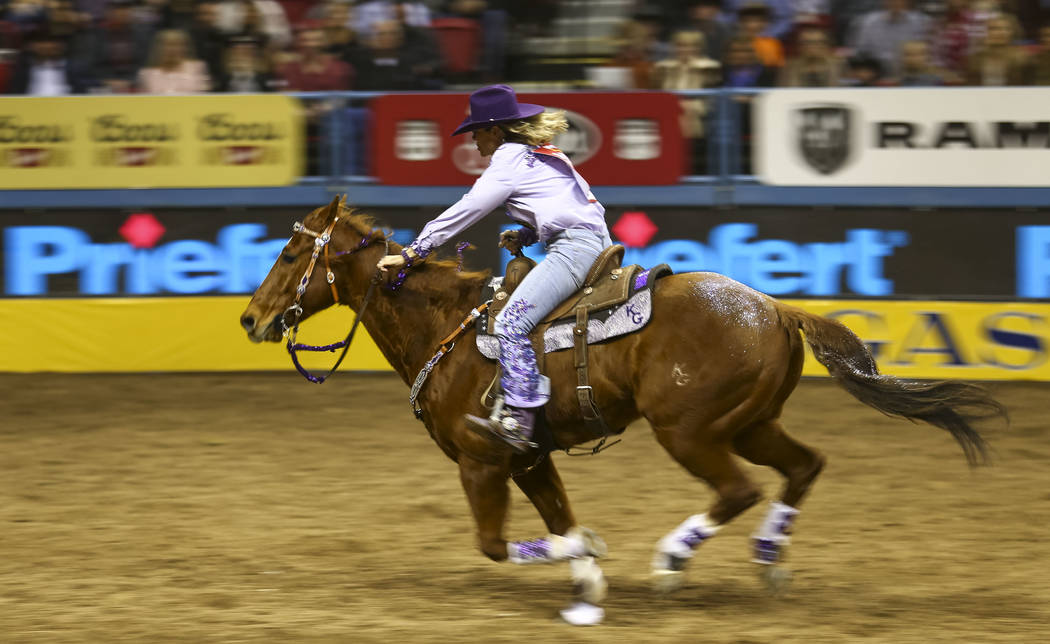 If you've got a pen handy, take a few seconds and look at only the very tip of that writing instrument. It's pretty small, right?
Well, Kathy Grimes' top barrel racing horses were literally that small when she first saw them. She's known these animals from the absolute very beginning of their lives. Now, finally, a dream that's been in the works for two decades has culminated with a spot in the Wrangler National Finals Rodeo, where Grimes will wrap up her first run in the 10-day event Saturday night at the Thomas &Mack Center.
So how is it that Grimes was so intricately involved in the life-giving process that led her to where she is today? The answer: Along with now being one of the world's best barrel racers, she's also an accomplished veterinarian. And where those two worlds collide has become Grimes' life work outside of the rodeo arena.
"This is 20 years of hopes and dreams and efforts, improving my breeding program, my barrel racing training and my mental toughness," Grimes said.
The breeding program has been the biggest key, though, through a process called embryo transfer. As Grimes explained, in 2006, she earned her Women's Professional Rodeo Association permit to compete in barrel racing, thanks to a 6-year-old horse named Do It For Beau.
"I wanted to utilize her genetics," Grimes said. "So I decided to start getting foals from her using embryo transfer. I'd breed her, and eight days after she ovulates, flush her and hope to get an embryo. And we got two the first time. I got lucky with two. It's only about 70 to 80 percent successful."
Those embryos then went to a petri dish for just a few minutes – where Grimes saw them at the aforementioned size of a pen tip – and were then implanted into a recipient mare to carry to term, allowing Grimes to continue competing on Do It For Beau. Now approaching 18 years old, the mare has long since been retired from competition, but the breeding process has continued, with incredible results.
"When you have a really great mare, you can get two to five embryo transfers a year for 10 to 12 years," Grimes said. "Mares can have such a large impact with small numbers. We're still getting foals out of her, because all of her offspring are winning mares. They've produced about $450,000. Right now, four of her foals are competing on the professional level – I'm riding two, and friends have two others."
The two Grimes has would be Issy — one of the original embryo transfers, now 10 years old ­— and 7-year-old Ruby, who have combined to help this veterinarian/barrel racer enjoy a breakout season on the WPRA tour. In fact, a healthy chunk of that aforementioned $450,000 has come this year on those two horses.
The success actually started with what many observers thought was a modest 2016 season.
"I won $32,000. Usually, I was only winning about $10,000 to $12,000 a year. So that was such a cool thing," Grimes said. "I ended up 36th in the world. I keep saying I had such a lucky year."
That's because, even though she made less than half of what it typically takes to reach the Wrangler NFR, it was enough to qualify for some prestigious, lucrative rodeos early in the 2017 season. And she took full advantage.
"I was the last person to get into 2017 Houston, and I got second on Ruby for $28,000. Can you believe that? It was just awesome," Grimes said, before ladling on some more awesome sauce. "At Fort Worth, I got second on Issy for another $14,000. Then at San Antonio, I rode Issy for second and another $24,000."
Three big rodeos, $66,000 in earnings.
"The cool thing was that by the first of April, I had $80,000 won. In 2016, the girl who qualified 15th for the NFR had $77,000," Grimes said. "I ended up qualifying in sixth place, at $111,000, and I only went to 45 rodeos. I didn't have to kill myself — drive 500 miles, then rodeo, drive another 500 miles, then rodeo."
Which was a good thing, because her veterinary work requires her to take 2½ months off each year, from the beginning of April through mid-June, for breeding season.
"Being a veterinarian is a very demanding job, so I've had to kind of rearrange my vet work," she said. "That's where the breeding program works out really well. I breed my own mares and I breed mares for others, for 2½ months, working 14-hour days. But I really enjoy doing this. We had 85 this year."
After returning to rodeo, Grimes was able to pocket another $30,000 or so to cement her first trip to Vegas. The barrel racer, 52, is believed to be only the second veterinarian to qualify for the Wrangler NFR; Ruth Haislip, another barrel racer, was the first, reaching the Wrangler NFR three years in a row, from 1988-90.
Grimes has literally been a part of the long road to Vegas from the very first step with her speedy steeds.
"I'm kind of a control freak," she said with a laugh. "I'm just so proud of my horses and my breeding program."
As she should be. Along with the $10,000 bonus each Wrangler NFR contestant gets for qualifying, Grimes has placed in two rounds to collect an additional $17,769, boosting her season total to $139,555. It hasn't been as lucrative a week as she'd hoped thus far – she's dropped to 11th in the world standings – but Grimes remains exuberant during her best season by miles.
"My dream 20 years ago was that I wanted to go to the NFR on a horse I raised and trained," she said. "I never thought I was gonna get it. It's been such a great experience. Hopefully, I get back here someday."
Grimes then took a moment to marvel at just how far she and her hearty horses have come.
"From something the size of a tip of a pen to the Wrangler NFR," she beamed.