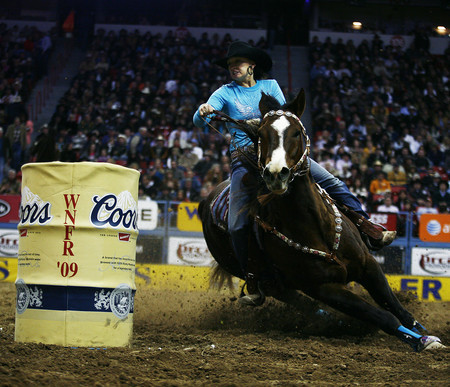 A woman's role in rodeo is not limited to being a fan, flag girl or Miss Rodeo pageant contestant.
Women were prominent in settling the West, and they're among the fiercest competitors in the National Finals Rodeo.
Women just haven't always received as much respect and money as their cowboy counterparts.
"We work just as hard and have as many fans as the men do," said Jordon Peterson, 21, who won her first Finals go-round Tuesday night at the Thomas & Mack Center, where the sixth round of the world's richest rodeo drew a crowd of 17,018.
Barrel racers, the only female contestants in the Finals, drive just as far in their pickup trucks hauling horses from rodeo to rodeo and spend the same amount of time tending to their horses as men in roping events do.
Although the Professional Rodeo Cowboys Association sanctions the NFR, barrel racing is under the auspices of the Women's Professional Rodeo Association.
The WPRA was founded in 1948 with 38 cowgirls as the Girls Rodeo Association to promote all-female rodeos. Events included calf, team and breakaway roping and bareback riding and bull riding. Yes, bull riding.
And for the past two years, the WPRA has staged roughstock riding events, according to first-year president Kathi Myers.
"Women in rodeo aren't that interested in the physical aspect of roughstock, but more and more women are roping," she said.
Many women compete in PRCA team roping events, and Myers said that could be the first event in the NFR other than barrel racing to have a female participant.
It wasn't until the 1968 edition of the NFR in Oklahoma City that barrel racing was included. The racers didn't compete for equal prize money until 1998.
Peterson, of Chilton, Texas, grew up around women's rodeo history. Her mother, Kristie Peterson, won barrel racing world titles in 1994 and from 1996 to 1998.
Coincidentally, the woman who won in 1995 and also stopped Kristie Peterson's streak in 1999 was Sherry Cervi, who finished second to Jordon Peterson on Tuesday.
Cervi, 34, recalls competing for less prize money when she won the 1992 world championship and then running for equal payouts as the 1999 world champ.
"It wasn't until then that barrel racing and team roping competed for the same money as the other events," said Cervi, who lives in Marana, Ariz.
"Making us equal to the other events in money was a big step."
Other sixth-round winners were Bobby Mote (Culver, Ore.), bareback riding; Luke Branquinho (Los Alamos, Calif.), steer wrestling; David Key (Caldwell, Texas) and Rich Skelton (Llano, Texas), team roping; Wade Sundell (Boxholm, Iowa), saddle bronc riding; Monty Lewis (Hereford, Texas), calf roping; and Corey Navarre (Weatherford, Okla.), bull riding.
• NOTES — No bull rider completed an eight-second ride Monday, the first time NFR riders were shut out since 1997. They didn't fare much better Tuesday night, but that was fine with Novarre. He was the only rider out of 15 to make it to the buzzer, giving him a $55,588 payday.
Contact reporter Jeff Wolf at jwolf@reviewjournal.com or 702-383-0247.
View the slide show