5 things to know for the PBR World Finals in Las Vegas
November 6, 2018 - 8:28 am
Updated November 6, 2018 - 9:28 am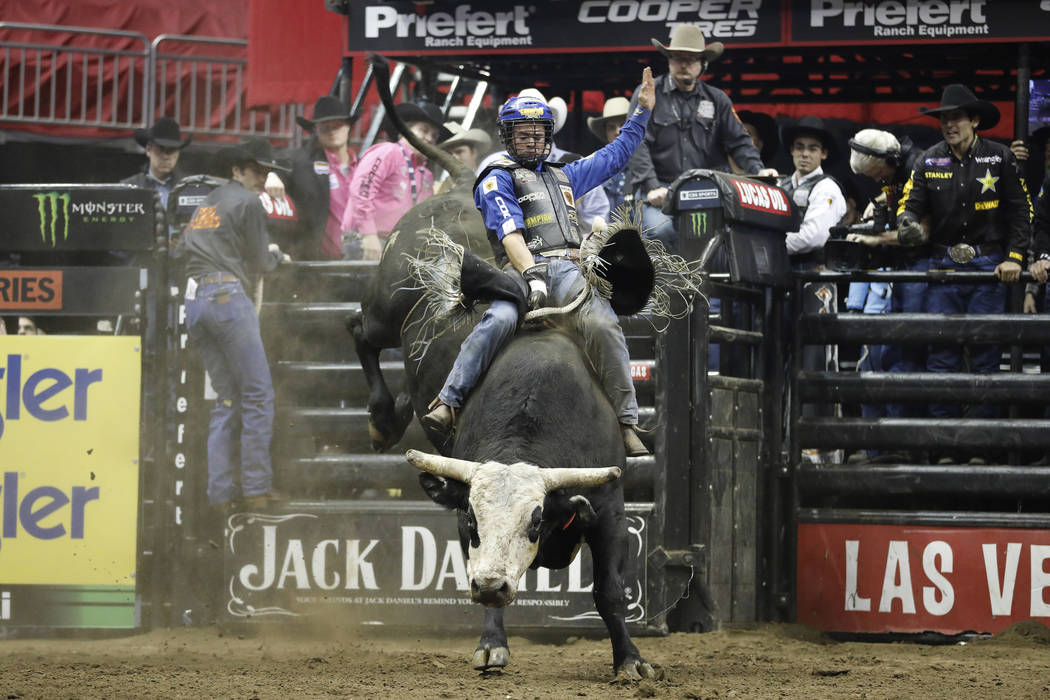 When the Golden Knights hit the road for their Canadian road trip earlier this week, their home was quickly transformed from a hockey arena to a bull-riding arena.
The sport's best and brightest riders will be on display this week as T-Mobile Arena once again will play host to the PBR World Finals from Wednesday through Sunday.
Here are five things to know as the PBR World Finals get underway:
Kaique Pacheco's race to lose
For the second time in three years, Kaique Pacheco will head into the PBR World Finals with a hold on first place.
The 24-year-old from Brazil finished second in the world standings in 2015 and 2016 before a fifth-place finish last year. Per PBR.com, Pacheco hurt his left knee during the Velocity Tour Finals but is expected to be OK to go for Wednesday.
And after a dominant season, it'll be his time to close out his first world title.
"He's just been riding at a level above everybody else and deserves his position coming in," PBR CEO Sean Gleason said.
The competition
Pacheco holds a lead of 1,535 points over countryman Jose Vitor Leme, last year's PBR Rookie of the Year, who enters in second place.
Though other riders are mathematically still in contention for the title, Gleason said realistically a rider would need to be at least within 2,000 points coming into the World Finals to have any shot of overtaking first place.
Claudio Montanha Jr., who enters in third place, is 2,013.33 points behind Pacheco.
"We had one of the tightest races early in the year but now it's a battle between No. 1 and No. 2," Gleason said. "That's going to be a fun and exciting thing to watch for."
Hotly contested event title
While the world champion is essentially between two riders, the World Finals event title is completely up for grabs, and Gleason is expecting it to play out over an exciting five days.
"The title of this event I think is going to be one of the more hotly contested World Finals events that we had because there are a lot of guys that are out of the running for the world title that are riding at the top of their game and want to make a statement," Gleason said.
Gleason first mentioned Chase Outlaw, who has come back strong from injury, as someone who enters riding well.
He also mentioned Cody Teel, who enters in fifth place overall, and Cooper Davis and Jess Lockwood — the past two world champions — as riders to watch.
Rookie of the Year race
The Rookie of the Year title will also be up for grabs throughout the week with less than 200 points separating the top three competitors.
Keyshawn Whitehorse, who hails from Utah, holds a slim lead with 1198.33 points.
Colten Jesse is in second at 1,162.35 points and Alex Marcilio is at 1,030 while Nathan Burtenshaw also remains within striking distance with 972.5 points.
"I think the Rookie of the Year race, it generally does come down to who does the best at the finals," Gleason said. "We've seen that determined for the last several years. The rookie race is always determined at the World Finals and I think that'll be an incredibly exciting storyline throughout this year's World Finals."
Traffic tie-ups
The final day of the PBR World Finals will be held the same day as the Rock 'n' Roll Marathon, so if you're attending the championship round Sunday, be prepared for road closures along the Strip.
Road closures already will have begun when the World Finals start and will continue throughout the night.
Las Vegas Blvd. will be closed from Tropicana Ave. to Harmon Ave. starting at noon, hampering access to T-Mobile Arena.
If attending the World Finals, consult Rock 'n' Roll's website for more information on road closures.
Contact Betsy Helfand at bhelfand@reviewjournal.com. Follow @BetsyHelfand on Twitter.