5 things to watch as the PBR World Finals kick off
October 31, 2017 - 4:54 pm
Updated October 31, 2017 - 8:27 pm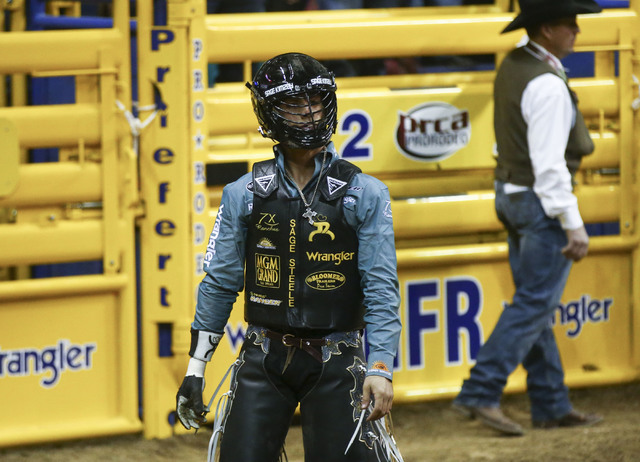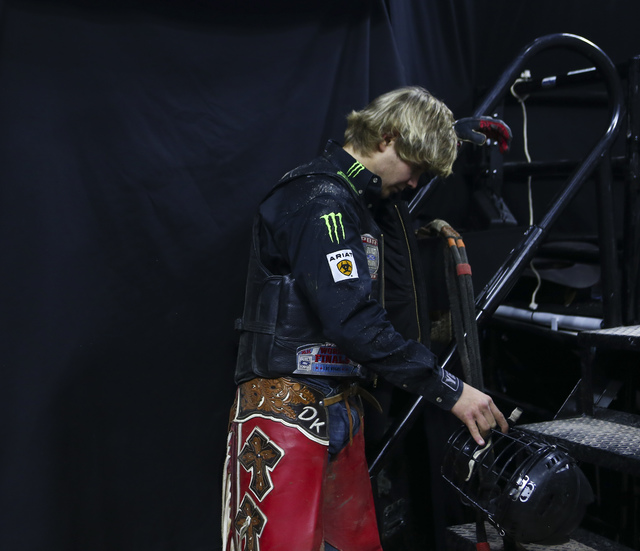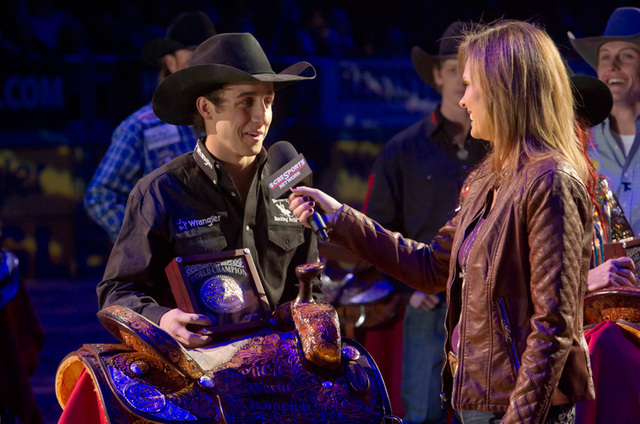 PBR CEO Sean Gleason expects this week's PBR World Finals to be the most highly contested in his 18 years with the organization.
The World Finals return to Las Vegas from Wednesday through Sunday at T-Mobile Arena, and with so many riders closely packed in, there could be a new leader almost every night.
"We're looking forward to one to the most competitive and exciting World Finals in our history," Gleason said. "If the Velocity Tours were any indication, these guys came to ride."
Here are five things to look for as the competition kicks off:
Who will come out on top?
Derek Kolbaba will begin the event leading the pack, followed closely behind by Eduardo Aparecido (142.5 points back) and Cooper Davis, last year's World Champion (174.17 points back).
Jess Lockwood comes in in fourth place and Kaique Pachecho in fifth, both within 500 points of Kolbaba. In sixth, Chase Outlaw is 1135.84 points behind the leader.
"We have six riders that are roughly within 1,000 points of the leader, Derek Kolbaba, and that's the most riders that we have had that close in recent history," Gleason said. "The most we've had dating back almost 10 years is three riders that had that close of a gap between them for the world championships."
Close bucking bull race
As close as the rider race is, the World Champion Bucking Bull competition is even closer.
Pearl Harbor is 11-1 this year, bucking off 91.67 percent of riders. Right behind is SweetPro's Bruiser, last year's World Champion Bull.
It's a virtual tie between the two with Pearl Harbor just .04 ahead with a world average of 46.38 to Bruiser's 46.34.
"That's closer than I can remember," Gleason said.
Sage Kimze enters the arena
Sage Kimzey, the three-time reigning PRCA champion, made the most of his Velocity Tour Finals invite.
Kimzey went 4-for-4 over the weekend at South Point Arena to win the Velocity Tour Finals and earn a bid to his first World Finals.
"He obviously proved he's one of the best bull riders in the world this past weekend, riding all of his bulls at the Velocity Tour Finals," Gleason said. "I think that if he can keep that momentum moving forward and he wins some rounds or places high in some rounds and scores some points, it's going to have an effect on obviously … the world standings."
One month later on the Strip
The World Finals will kick off a month after the mass shooting on the Strip, and PBR plans to open the competition with a celebration of Las Vegas.
"We'll acknowledge and recognize a lot of the first responders that are so great and important to the city, and then we'll celebrate PBR's history in Las Vegas over the past 24 years," Gleason said.
PBR holds its World Finals in Las Vegas every year.
"It's our second home, if you will, (and) certainly an important part of PBR's history and so we're going to celebrate that as well as this great city that you guys all live in," Gleason said.
Other events
While bull riding is the main event, there will also be music both inside and outside the arena throughout the week.
That includes performances from Chase Rice, Night Ranger and Joe Nichols.
Riders will have meet and greets, there will be the Monster Energy Party Zone at Toshiba plaza, a Western Gift Expo at the South Point Arena and an official World Finals after party at PBR Rock Bar.
Contact Betsy Helfand at bhelfand@reviewjournal.com. Follow @BetsyHelfand on Twitter.
If you go:
What: PBR World Finals
When: Nov. 1-5, nightly until Sunday
Where: T-Mobile Arena
Tickets: On sale at pbrfinalsweek.com
Pro Bull Riders world standings
Entering this week's finals at T-Mobile Arena:
1. Derek Kolbaba, 4305 points.
2. Eduardo Aparecido, 4162.5.
3. Cooper Davis, 4130.83.
4. Jess Lockwood, 3837.5.
5. Kaique Pacheco, 3812.5.
6. Chase Outlaw, 3169.16.
7. Stormy Wing, 2277.5.
8. Joao Ricardo Vieira, 2255.
9. Dener Barbosa, 2185.83.
10. Fabiano Vieira, 2145.83.