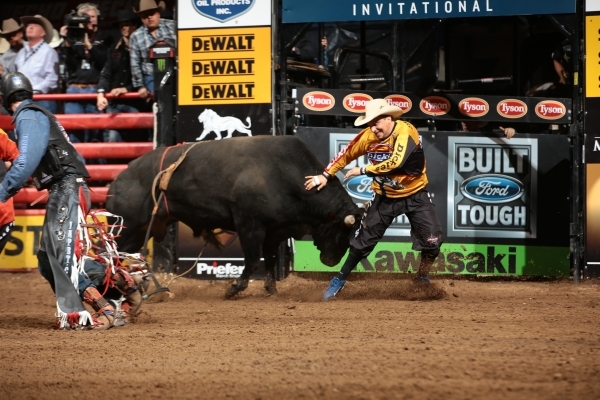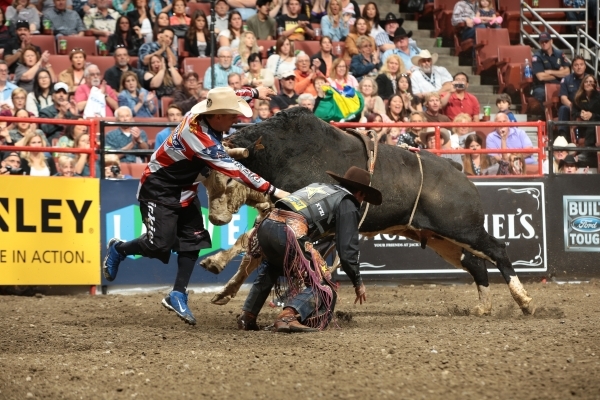 En route to becoming arguably the best bullfighter in Professional Bull Riders history, "Fearless" Frank Newsom overcame drug addiction, a fight that was as fierce as any of the 1,800-pound beasts he's battled to protect riders.
"I've fought some of the meanest bulls that God ever created and some days I won, some days I didn't. But I never felt defeated, even on the worst day. With the drugs, man, it defeated me. I couldn't win," Newsom, 40, said Tuesday at the MGM Grand in advance of the PBR World Finals, which take place today through Sunday at the Thomas & Mack Center. "I don't care how tough you are or how smart you think you are. If you're messing with drugs, you're going to lose."
Newsom found his calling at age 17, when he and the Texas cowboy he worked for rode bulls together.
"We'd take turns saving each other," he said of learning to bullfight, which entails protecting the rider after he is thrown off the bull. "The first time I really saved a guy, something clicked and I knew I was going to devote the rest of my life to it."
Newsom quickly rose to the top of his profession, making it to the National Finals Rodeo and the PBR World Finals in 1997 in only his second year as a pro. He also landed in jail for the first time that year as his addiction to methamphetamine progressed as rapidly as his career.
"I grew up with a good family and I was taught right," he said. "Drinking was always kind of a part of the (rodeo) way of life. I always kind of drank, but that wasn't a whole lot of a problem. When I got out in the rodeo world, I was away from a lot of my family, and things just seemed to get out of control.
"I was going up and down the road a lot. I was really pushing my body pretty hard rodeoing. The first night I did dope, I was just trying to find the energy to get down the road to another rodeo. This guy laid it out there and said, 'Hey, do this and you'll have plenty of energy.' That's where it got started, then I got addicted to it and things just got out of control."
After completing a court-ordered rehab program in 1998, Newsom headed straight to the airport to fly to Las Vegas for the PBR World Finals. Two days later, he relapsed.
"I was disgusted with myself," he said. "It's hard to say how many times I've stumbled and fell."
Newsom reached a turning point in 2000, when he was incarcerated during the Finals because of a parole violation for a failed drug test.
"I was supposed to be at the Finals and I was sitting in jail. That really woke me up," he said. "That was a slap in the face to me that my life was out of control and I needed some help."
A friend introduced Newsom to Texas rancher Randy Stalls, who has aided countless addicts and helped Newsom get back on track.
"I owe everything to him," Newsom said. "They're just a good ranching family, they love the Lord, and they took me in and helped me get my life back together."
After living with the Stalls for a couple years, during which time he strengthened his faith and regularly attended 12-step meetings, Newsom began bullfighting again at the high school and amateur levels.
After getting voted into the 2004 Finals as an alternate, Newsom worked the 2005 Finals and has been back every year since. More importantly, he's stayed clean for the past 11 years.
Newsom, who has a wife and three children, also gives back. He conducts bullfighting schools and has mentored many youngsters, including Cody Webster, who showed up at Newsom's home when he was 11 wanting to be a bullfighter.
Now 23, Webster will work his second consecutive Finals this week with Newsom, who has been a father figure to him.
"Definitely. We've been through the thick and thin," Webster said. "If I've got questions outside the arena, in life, that's the man I go to."
Newsom beamed with pride when talking about Webster.
"It's hard to put into words how awesome it is to see Cody rise into the kind of bullfighter and the kind of man he's become," he said. "There have been a lot of young people who've come into my life that I've been able to mentor and help with their bullfighting, but also to teach them the truth about life and try to keep them from making the same mistakes I have."
Bull riders such as 2013 world champion J.B. Mauney are grateful to have bullfighters like Newsom protecting them from the animals after they hit the dirt.
"Them bullfighters are like the Secret Service. They don't get enough credit," Mauney said. "They prolong our career because when you're supposed to get run over, they step in and take the bull away from you. They save you a lot.
"(Newsom) is one of the toughest men I've ever laid eyes on. I've seen him take plenty of hookins' and act like it wasn't nothing but a paper cut."
* NOTES — Mauney has a series-best four event wins since returning from a torn left ACL in April and takes a 1,315-point lead on Joao Ricardo Vieira into the Finals, where 2,200 points are up for grabs. … The wide-open battle for the world champion bull includes NFL star Jared Allen's Air Time and Roy, the legendary Bushwhacker's half-brother. … The Finals will be shown live on CBS Sports Network at 6 p.m. today through Saturday and at 1 p.m. Sunday. … After 17 years at the Thomas & Mack, the PBR — which has agreed to a three-year contract extension with the LVCVA — will move its Finals to the Las Vegas Arena in 2016.
Contact reporter Todd Dewey at tdewey@reviewjournal.com or 702-383-0354. Follow him on Twitter: @tdewey33