Beast gets better of Shivers on final ride at PBR World Finals
October 28, 2012 - 12:59 am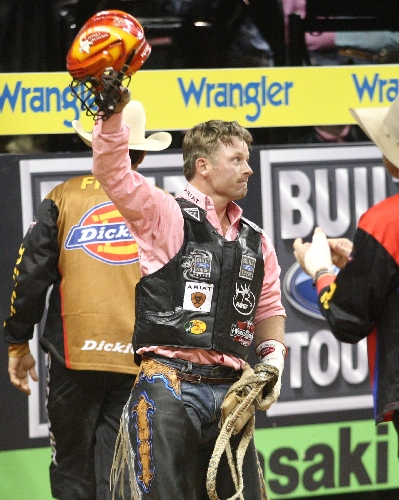 It was "Legends Night" on Saturday at the Thomas & Mack Center. After two of the biggest stars in the 19-year history of the Professional Bull Riders finally went head to head in the World Finals, one of them left the sport for good, and the other departs today.
Chris Shivers, a two-time world champion rider, took on Chicken on a Chain in the fourth round in a battle of future Ring of Honor members. When it was over, the bull came out on top as Shivers was unable to complete the ride, lasting 6.73 seconds.
This is the final event for the 33-year-old Shivers, from Jonesville, La., and the fact he is in the hunt for his first World Finals title in his last year fills him with mixed emotions. Saturday's failed attempt – after victories in the second round (89.75 points) and the third (90.75 points) – dealt a crushing blow to Shivers' aspirations of winning the event, which ends today with two rounds, with $250,000 going to the winner.
Defending champ Robson Palermo is the man to catch, holding an 85-point lead over Luke Snyder and a 171.5-point lead over Shivers, who dropped to seventh place and is a long shot to overtake Palermo.
"It's a bittersweet deal," Shivers said. "I've been riding bulls for 20 years, and I've experienced just about everything a bull rider can experience at (this) level.
"I've been through all the highs and all the lows. I was able to accomplish all the things I intended to do. Now, I'm going to stay home and start a new chapter."
Chicken on a Chain also is headed home. The bull began his career in 2005, and in 127 rides he bucked off nearly 80 percent of the cowboys who attempted to stay on for the mandatory eight seconds.
He was the 2007 PBR World Champion Bull and co-World Finals Champion Bull that year.
Shivers appeared to be in good shape when the chute opened. He was in control and had a solid ride working. But Chicken on a Chain showed his competitiveness, spinning and bucking to his right, and then back to his left, and Shivers was unable to stay aboard.
After hitting the dirt, Shivers banged his fist in frustration on one of the safety rails as the sellout crowd of 15,686 gave him a rousing ovation.
"It's been a real special week," he said. "To have a 90-point ride (Friday), it's a great feeling. You just conquered something not many people can do. It's hard. It's a difficult ride. I won two world titles here, but I haven't won the World Finals.
"Chicken is a big bull who's been around for some time. I've watched him time and time again, and I've seen him buck off a lot of guys. I saw the first time he was ridden when Justin McBride rode him. He's going out with a bang this weekend, and so am I."
Shivers began riding bulls as a teenager and realized he had found his vocation.
"I was winning enough money to pay my own way when I was 15 years old," he said. "It was something that fit what I did. I won a truck when I was 15 in an event in Alexandria, La. I wasn't old enough to drive it yet. So I knew back then this was what I wanted to do."
Shivers has earned nearly $4 million in PBR dating to 1997, and he watched the sport evolve into the spectacle it is today, with international television coverage and millions of fans following him and his fellow competitors.
"It's tremendous what it's become," he said. "It's a production now. It's not 45 guys getting their name announced and riding a bull. It's not just bull riding anymore. It's a big show now. It's entertainment. People get what they pay for.
"And it's real. There's no staged acts here. It's as real as sports can get."
As Shivers rides for the final time today at the Thomas & Mack, he'll do so with the knowledge he has had a good week – even though he got bucked off Saturday and needs a minor miracle to win.
"(The World Finals) has been a good place and a bad place for me," he said. "I've had Finals where I've ridden one bull or two bulls. I don't know if the pressure got to me or not doing the right things.
"I've had a roller-coaster ride in Las Vegas. I think it's a sigh of relief that I'm just settled down after that first round and letting it all take place. I want people to leave here with memories that I could still ride and do a good job."
Contact reporter Steve Carp at scarp@reviewjournal.com or 702-387-2913. Follow him on Twitter: @stevecarprj.