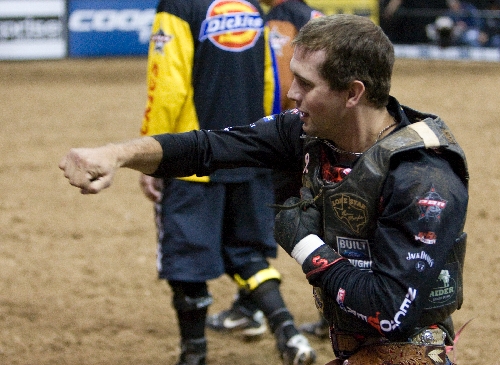 Were McKennon Wimberly not competing this weekend in the Professional Bull Riders World Finals as the ninth-ranked cowboy, he could be lacing up gloves and boxing somewhere.
Wimberly, 22, brings some of the fight world to the rodeo arena. He'll often shadow box before getting aboard his bull.
"It gets me in the mind frame to take the fight to the bull," he said.
At 165 pounds, he's the best pound-for-pound boxer in the PBR Built Ford Tough series.
Wimberly began training in the sweet science when he was 12 and continues to use it to tune up for going eight seconds instead of eight rounds.
"Boxing helps to keep me mentally and physically prepared," said Wimberly, of Cool, Texas. "It's a very mental sport, and if you ever think you're going to get beat, you will be beat in both sports."
Wimberly celebrates solid, eight-second rides by shadow boxing with rodeo barrelman and entertainer Flint Rasmussen.
But he didn't get a chance in the third round Friday night at the Thomas & Mack Center.
RICO, a 1,500-pound bull, bucked off Wimberly in 6.4 seconds before a crowd of 15,684. Brazil's Renato Nunes won the round with an 89.25 on Closet Gangster to take the Finals aggregate lead and move to second in the championship race.
Wimberly will start tonight's fourth go-round, which begins at 6, with no chance of winning the title. Still, he has earned $119,000 this year to push his career total to $350,000 since 2007 when he began competing full time in the PBR's top series.
Wimberly turned pro as a bull rider five years ago and is competing in his third straight Finals.
"I don't care if I'm fighting a heavyweight, I'll never back down," he said. "It's the same with bulls."
One of Wimberly's biggest fans, other than his father and five-time National Finals Rodeo bull rider Joe Wimberly, is Ty Murray.
"I've known McKennon since he was born," the seven-time world champion in the Professional Rodeo Cowboys Association said. "He's just like his dad was: tough."
Nobody has had a greater influence on McKennon than his dad, who finished PRCA seasons ranked in the top eight three times in the 1980s. They competed together until 2005 and before Joe began to concentrate on the family's bull-breeding business.
The older Wimberly encouraged his son take up boxing along with competing in youth rodeos. Wimberly's first and only Golden Gloves competition was in 2005 when he posted a 1-1 record, the loss a controversial decision after he nearly knocked out his opponent three times.
That also was the year he began bull riding professionally at a time when you could not compete in amateur boxing if you were a professional in another sport, he said.
That rule has changed, and Wimberly said he plans to resume boxing next year.
Contact reporter Jeff Wolf at jwolf@reviewjournal.com or 702-383-0247.