Bull rider Jess Lockwood keeps family legacy alive at Helldorado Days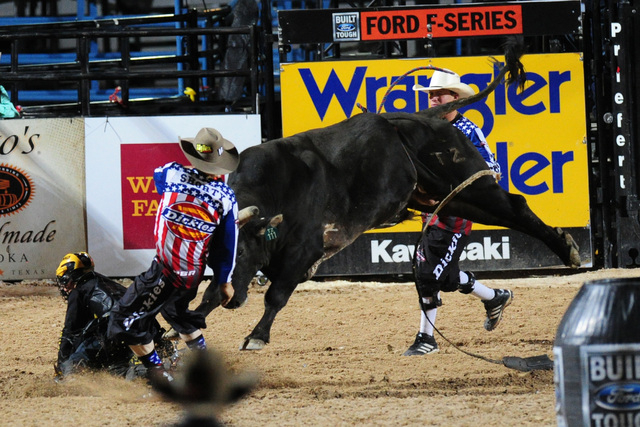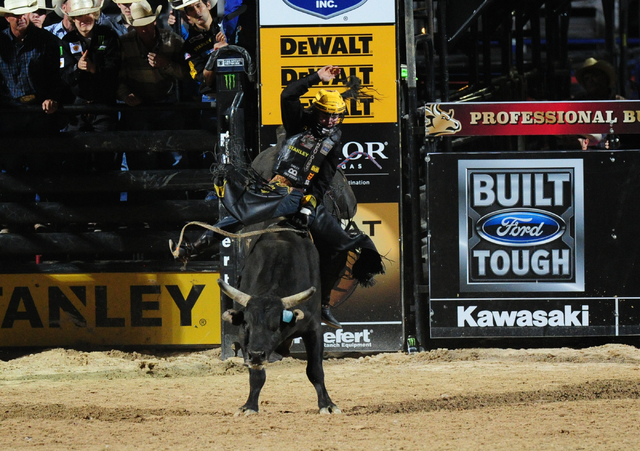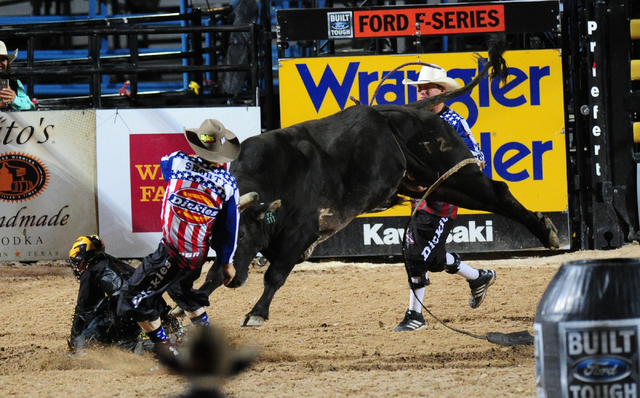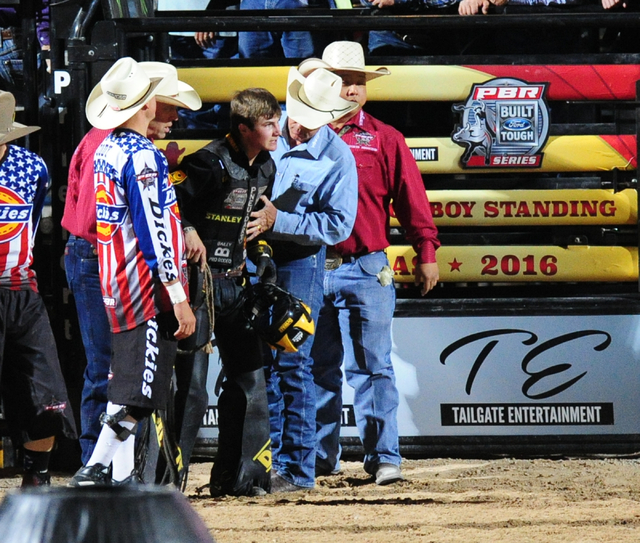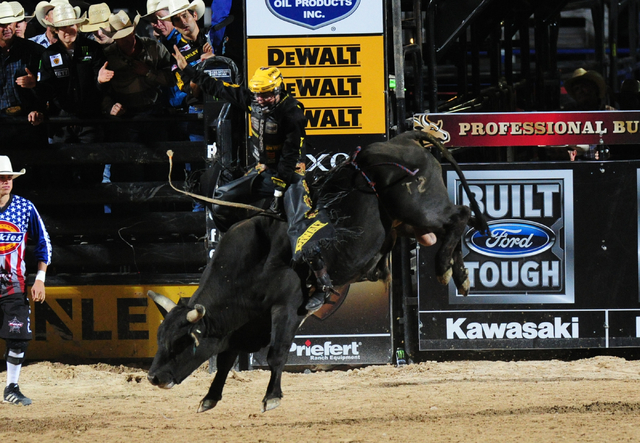 Jess Lockwood understands the mystique that surrounds Helldorado Days.
Lockwood's father, Ed, is a former Helldorado saddle bronc champion.
The younger Lockwood now has an opportunity to win his own Helldorado competition, but it won't be in the rodeo or on top of a wild horse.
Jess Lockwood participated in the Last Cowboy Standing, the new bull-riding event added to the historic Helldorado Days this year.
"I always grew up around the rodeo atmosphere when I was young," Lockwood said. "My dad was in saddle bronc, and my mom was a barrel racer. But I guess I'm the different one of the family. I went with the bulls."
Last Cowboy Standing is part of the Professional Bull Riders and one of the majors on the Built Ford Tough Series.
The 18-year-old Lockwood was the youngest competitor during Day 1 of Last Cowboy Standing on Friday night at the Las Vegas Village. The event concludes Saturday beginning at 7:50 p.m. with $100,000 on the line and 625 points toward the world standings.
Lockwood advanced to the final round after meeting the eight-second requirement on top of his bull, Pitch Black. Lockwood posted a score of 84.50 and finished Friday in a three-way tie for ninth.
The rookie cowboy didn't come out unscathed. He got gored in the legs by Pitch Black after the first-round run.
Lockwood exploded onto the bull-riding scene when he won his first BFTS event last month in only his third time participating on the PBR's highest tour. If that wasn't surreal enough for Lockwood, his grand victory came in his home state of Montana during the Stanley Performance In Action Invitational.
Oh, and he walked away with a cool $40,000.
"I'm not sure what I'll do with it (the money), but probably save it up and maybe buy a couple cows for the ranch," Lockwood said.
At the rate Lockwood is going, he'll probably be able to be buy numerous cows for everyone in his hometown of Volborg, Montana, by the end of the year. Lockwood estimated Volborg has a population of 15 people, with most being family members.
Lockwood has placed in the top 10 in three of his four BFTS competitions and is 15th in the world standings. He has won $80,717.70.
He hopes to be back in Las Vegas for the PBR World Finals in November at T-Mobile Arena.
"That's what I'm shooting for," Lockwood said. "That's what you shoot for every time you come out, you expect yourself to win. I have confidence that I can move up a few spots and get to the finals."
Lockwood is still considered a senior in high school, but he had to be home-schooled to keep up with the grind of the PBR schedule.
That's not stopping Lockwood from enjoying his final year of high school. He plans on participating in the Montana bull riding state prep finals in June.
It's not a given Lockwood will win the competition. His 15-year-old brother, Jake, is giving him a run for his money.
"I was actually behind my brother on the standings," Jess Lockwood said. "I couldn't let him do that. I had to come back, and now we're tied.
"When I get to go to these high school events, I can just have fun and relax and see my friends. It's great."
Lockwood's mother, Angie, was a barrel racer and recently retired from the sport. Ed Lockwood was a decorated saddle bronc rider in the early 1990s, but quit once his sons were born.
"My dad decided he better take it easy now that we were born," Jess Lockwood said. "Then we go and ride bulls. My parents were worried at first, but now they trust us."
Jess Lockwood was drawn into bull riding by watching the PBR on TV with his dad as a child. His favorite rider was Justin McBride, now a mentor to Lockwood.
PBR CEO Sean Gleason said having fresh faces such as Lockwood and 20-year-old Derek Kolbaba on the tour is good for the sport.
"An 18-year-old missing his high school prom to go pro is a great story," Gleason said. "There aren't too many sports where you can go pro while in high school."
Reese Cates, a 10-year veteran on the tour, agreed with Gleason.
"They'll be making a name for themselves in the next few years," Cates said. "The sport is in good hands, and it's cool to see what it's growing into."
Last Cowboy Standing first-round results
The field for Saturday night's final has been narrowed to 25 riders. Here's how the top 15 fared Friday:
1. Robson Palermo, 89
2. Jorge Valdiviezo, 88.50
3. Lachlan Richardson, 88
4. Gage Gay, 87.50
5. Tyler Harr, 86.75
6. Cooper Davis, 86.25
7. Rubens Barbosa, 86
8. Jay Miller, 85
9. Emilo Resende, 84.50
9. Fraser Babbington, 84.50
9. Jess Lockwood, 84.50
12. Ryan Dirteater, 83.50
13. Eduardo Aparecido, 83.25
14. Derek Kolbaba, 83
15. Kaique Pacheco, 79.50
Contact Gilbert Manzano at gmanzano@reviewjournal.com or 702-383-0492. Follow him on Twitter:@gmanzano24