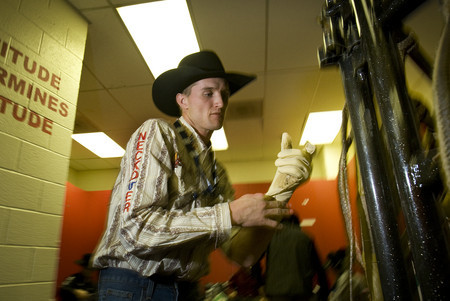 Just making it to the PBR World Finals on Friday was a major accomplishment for bull rider Ryan McConnel, who was involved in a life-threatening car accident Tuesday.
McConnel, 22, who entered the Finals in sixth place in the standings, was driving behind an alleged drunk driver outside his native Colgate, Okla., when the driver put on his right blinker.
As McConnel, traveling at about 65 mph, began to pass the car on the left, it made a sudden left turn that lodged it underneath his truck, causing it to flip over five or six times.
While McConnel's truck, a Dodge Ram 2500, was destroyed in the wreck, he miraculously emerged relatively unscathed.
Besides suffering a punctured left lung, he escaped with "a couple scratches and bumps" and two sore shoulders.
"I was really surprised I came out at all," said McConnel, who had a small gash on his forehead and a blood spot in his left eye Friday at the Thomas & Mack Center. "If you look at the pictures (of my truck), I shouldn't have come out (alive)."
McConnel spent Tuesday night at a hospital and was released Wednesday morning. He and a friend then drove 21 hours nonstop to Las Vegas, barely making it on time to rider registration Thursday morning at Mandalay Bay.
Doctors had cleared him to ride bulls but not to fly because of his punctured lung.
"They said if I flew, my lung would collapse, and that can turn fatal in a hurry," said McConnel, who claimed he "actually couldn't feel much better" a few hours before he successfully rode Shotgun Willy for 88 points in the first round of the Finals.
"My lungs are not bothering me. I've been exercising with a breathing mechanism, and it's been going really good," he said. "The way I see it, there's absolutely no reason to get thrown off here in the Finals. I feel just fine."
McConnel appears to have luck on his side. Not only did he survive a similar car crash in 2007, when he rolled his truck on his way home from a bull-riding event in Anaheim, Calif., but he also escaped serious harm at a Professional Bull Riders event in Pueblo, Colo., this year, when a bull stepped on his head.
"A guy has died from that, and another guy has been paralyzed and was never able to ride bulls again," McConnel said. "For some reason, I'm still kicking and still going. … I don't know how many second chances I've had now."
McConnel has made the most of his chances this year, his third as a professional, placing in the top 10 14 times and gaining his first PBR victory in Birmingham, Ala., in March.
"When I started riding as good as I was, it was just a matter of time that at one of these events I was fixing to go get 'em, and I did," said McConnel, who attributes much of his success to experience. "I'm not the new guy anymore.
"I know that I can go ride right beside (the PBR's best riders). I'm a heck of a lot more confident."
And glad to be alive.
• NOTES — J.B. Mauney rode Chester for 89.75 points in the top ride of the first round, in which 19 of 44 riders covered their bulls. Josh Koschel placed second with an 89.25-point ride on Bad Moon, and Travis Briscoe took third place with 88.75 points on Little Juicy. Points leader Kody Lostroh rode Red Kat for 83.50 points.
Contact reporter Todd Dewey at tdewey@reviewjournal.com or 702-383-0354.
Video and Slideshow