Here are 5 reasons to pay attention to the PBR at T-Mobile Arena
November 2, 2016 - 12:16 am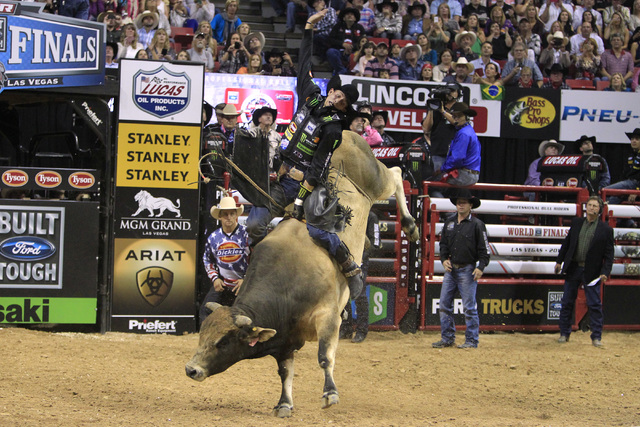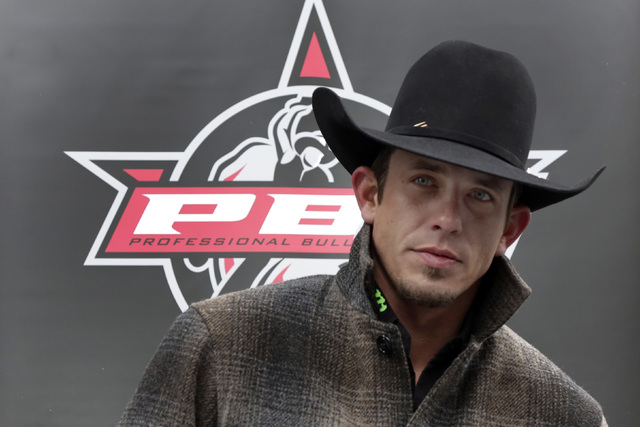 PBR Finals Week is well in swing, and at 6:15 p.m. Wednesday, the World Finals will begin.
It will have a new home at T-Mobile Arena after spending many years at the Thomas & Mack Center.
"We feel like Las Vegas is home, and we have a lot of fans in the area, and we'd love to have anybody that's interested in checking it out show up," CEO Sean Gleason said.
Here are five things to know before the event begins:
NEW HOME
Thanks to long-standing relationships with the Anschutz Entertainment Group and MGM — the owners of the venue — the PBR worked with architects to build some elements that Gleason said will make a better viewing experience for fans.
Gleason said the bucking shoots are farther back so all fans in attendance should be able to see.
"(At) Thomas & Mack, we bucked out at both ends, so we had bucking shoots at both ends of the arena," Gleason said. "The height of the bucking shoots obstructed some of the sightlines for some of the fans in the building, and we don't think that's going to be an issue at the new building. Plus, we can buck out of three corners instead of both ends."
TIGHT COMPETITION
Kaique Pacheco, last year's rookie of the year, enters in first place with 4,980.33 points. Cooper Davis, last year's event winner, is second with 4,757.5 points, and J.B. Mauney, last year's champion, is third with 4,302.5.
"In the last couple years," Gleason said, "there's generally been one guy that's had a very dominating season of performance that it was a little more work for the others to catch him, but there's so many points available at the World Finals that this year … literally the lead could change every single night depending on how these guys do."
Gleason said the three have spent the season trading leads.
"We have three guys that are basically within one night's performance of each other in terms of overall score for the year-end championship, and then there's 16 guys that it's mathematically possible for them to win the world title," he said.
FAST GROWING SPORT
The event will cap a successful season for PBR, which set attendance records and has drawn millions of TV viewers.
"We are one of the fastest-growing sports in history in terms of how fast we've been able to build a really solid fan base that's 61 million fans that watch, attend or have interest in the sport," Gleason said. "This year is the first year of ownership by WME|IMG, so that's opened up a lot of access to resources that we haven't had in the past, and that's contributed to the growth."
That includes financial resources but also the ability to tap into professional resources in other areas, including public relations, sponsorship sales and consumer marketing.
NOT JUST BULL RIDING
The week also features concerts inside and outside the arena.
Musical acts include Steven Tyler, Dustin Lynch, Rick Springfield and Jerrod Niemann.
There's also rider meet and greets, a fan zone and western gift expo, and a free party zone at Toshiba Plaza.
"PBR is one of the most exciting sports," Gleason said. "It's eight seconds of adrenaline every time the shoot gate opens, and it's wrapped in a rock concert environment."
REPEAT
Will Mauney repeat?
Mauney was the PBR World Champion in 2013 and 2015.
He comes in within striking distance of first place and has success in Las Vegas at the World Finals, winning the event in 2009 and 2013.
Contact Betsy Helfand at bhelfand@reviewjournal.com. Follow @BetsyHelfand on Twitter.
PBR World Finals
When: 6:15 p.m. Wednesday, 6:15 p.m. Thursday, 6:15 p.m. Friday, 7:15 p.m. Saturday, 12:45 p.m. Sunday
Where: T-Mobile Arena
Tickets: From $36 for P6 to $1,000 for Elite Seats
Website: pbr.com