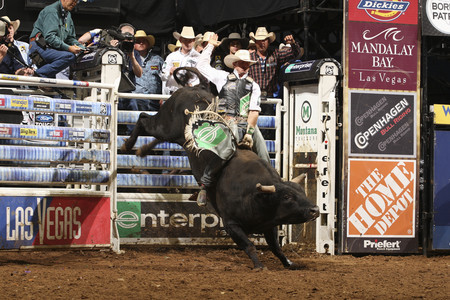 Kody Lostroh could win his first Professional Bull Riders championship in the next 10 days and collect $1 million.
He also could win the PBR World Finals title and get a $250,000 bonus.
Some bull-riding champions have been left in altered states for a few days after victory celebrations.
Lostroh, though, knows he won't be going to Disneyland or partying on a beach if he becomes a PBR champion.
Regardless of the Finals' outcome, however, his consciousness will be altered.
But it will be from an anesthetic and not alcohol.
The PBR points leader heading into tonight's first round of the World Finals at the Thomas & Mack Center will be in an operating room for elbow surgery a few days after the event and sidelined for up to four months while he recovers.
He was plagued by a sore shoulder when he tore a tendon in his left elbow in April during a PBR event in Omaha, Neb.
He returned to his ranch in Longmont, Colo., and tried to convert to holding the bull rope with his right hand.
"I tried to figure how I could make it work, but it was going to take more time than I had," he said. "I just had a brace made for my left arm and have been using that."
Despite missing one of 31 PBR events, he was able to end the regular season with five Built Ford Tough Series titles and $357,624.
Lostroh, 24, finished 2008 ranked fifth in the PBR with one event title and made $298,852.
"I just quit trying to beat everybody," the 2005 top rookie said of what has been the biggest factor in his improvement.
"Your natural instinct and competitive nature makes you want to beat the other guys. But really, you have no control over what the other person does or what the bull does. You're pretty much wasting energy worrying about what you can't change."
When the first round begins at 6 tonight, Lostroh will lead reigning PBR champion Guilherme Marchi of Brazil by 294.75 points and J.B. Mauney of Mooresville, N.C., by 785.
Lostroh knows his lead is as precarious as any eight-second ride because the seven-day Finals uses a points system designed to ensure the season champion isn't determined before the last weekend of the event.
Lostroh said he likes that, but not as much as the three-day break riders get after Sunday's 3 p.m. round.
"It's nice to have those days off to let your aches and pains cool down a little bit," he said.
Mauney might not want to take a break.
"Right now, I'm probably the healthiest I've been in quite awhile," he said.
The 22-year-old leads PBR earnings this year with $399,207. He also picked up another $100,000 by winning the bull-riding title in the prestigious Calgary Stampede over the summer.
Money won in the Canadian rodeo, however, doesn't count in the PBR or the Professional Rodeo Cowboys Association. Had it counted in the PRCA, as it did until 2006, Mauney would have fulfilled his goal of qualifying for the Dec. 3 to 12 National Finals Rodeo in Las Vegas.
"I went to a lot of (PRCA) rodeos in the first part of the year, but I started to get beat up pretty good," he said. "I decided to focus on the PBR, but next year I plan to work at qualifying for the NFR, too."
Mauney, who has four titles this year, won two of the last nine PBR events, including the one in Reno on Sept. 20.
Contact reporter Jeff Wolf at jwolf@reviewjournal.com or 702-383-0247.