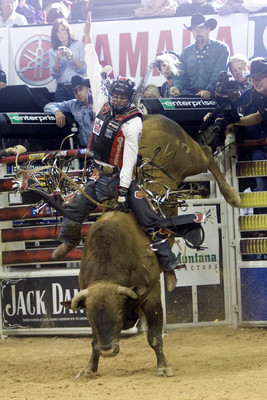 Getting injured turned out to be one of the best things to happen to bull rider J.B. Mauney, who suffered broken ribs, a lacerated liver and a bruised kidney and spleen in June 2005.
Since then, Mauney has emerged as one of the world's best in his sport.
He won the first go-round of the PBR World Finals on Friday at the Thomas & Mack Center — scoring 92.25 points on Ricky Bobby — and the victory made him the fastest bull rider to surpass $1 million in career earnings.
On Saturday, Mauney made it two straight wins, scoring 93.50 points on Troubadour, a bull that his father, Tim Mauney, told him to draft instead of Copperhead Slinger, which Professional Bull Riders points leader Guilherme Marchi drafted and rode for 92.25 points and second place.
"It was a tossup between the two bulls, but I figured I could get a few more points from Troubadour," Mauney said. "I don't like picking them. I just want the one that's ranker."
A night after riders rode a record 33 bulls for eight seconds, only 14 riders covered bulls in the second round, with five of them topping 90 points: Mauney, Marchi, Renato Nunes (92), Chris Shivers (90.75) and Brendon Clark (90.75).
Mauney, of Mooresville, N.C., leads the event with 185.75 points, Nunes is second with 184, Marchi is third with 182.50 and Shivers is fourth with 180.50.
Mauney has dreamed of becoming a world champion since he was a boy, but the injuries he sustained in a nondescript event in 2005 gave him added inspiration.
Surprisingly, Mauney didn't go to the hospital the night of the bad ride, partly because his traveling partners, PBR World Finals competitors Brian Canter and Billy Robinson, gave him grief about it.
"They said, 'Quit whining about it, it's just a little scrape,' " he said. "It didn't look bad. But I felt like I was dying. I couldn't breathe real good.
"I knew I broke my ribs, but I didn't think anything else was wrong, so I went home and went to bed. But the next morning, I wasn't feeling real good."
After spending several days in the hospital, Mauney missed four months of action and was forced to get a job taking machines apart at a ball bearing factory.
"I couldn't ride, so I had to get a job. That was the most incentive I needed to ride bulls good," Mauney said. "After two weeks, I told my dad whenever I got back, they're going to have a hell of a time getting me off, because I'm damn sure not doing this for the rest of my life. I just couldn't take being inside all my life."
True to his word, Mauney, 21, has been tough to buck since then.
He won the 2006 PBR Rookie of the Year award and Challenger Tour championship. He entered this year's World Finals fourth in the points standings.
Still, he won't be happy until he's the best.
"The only time I'll be satisfied is when I win the world title," he said.
Slide show