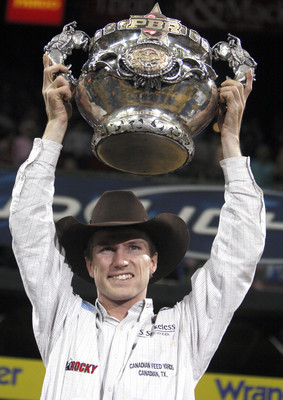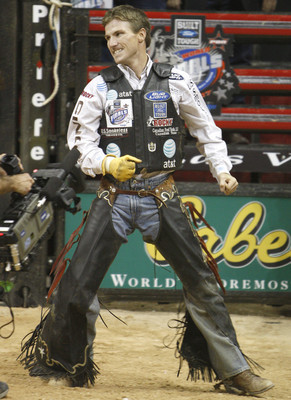 Justin McBride had it, nearly lost it but heeded some sage advice on how to recover it.
That was the edge that allowed the former UNLV rodeo athlete to dominate the 29-event regular season of the Professional Bull Riders series.
He set a record for most titles won in a year (eight) before stumbling out of the gate in the PBR World Finals by failing to complete an 8-second ride in each of the three opening rounds at Mandalay Bay Events Center.
After that McBride received a few words from longtime bull riding champion and PBR Hall of Famer Ty Murray.
"He told me to quit riding not to lose and start riding to win," McBride said.
Fortunately for McBride, he took Murray's advice to heart, and the result was his second PBR championship in three years. McBride wrapped up the season title Sunday when he finished second in the championship round.
When the event shifted to the Thomas & Mack Center on Thursday, McBride became the hottest of the 45 contestants by covering four of five bulls and winning two of the last four regular rounds.
McBride held off hard-charging Guilherme Marchi of Brazil to raise his season earnings to a record $1.86 million. That figure includes a $1 million championship bonus that will be paid over 10 years.
McBride, 28, said he has won enough this year to pay off his recently purchased 3,200-acre ranch in Oklahoma.
His earnings this year are close to what Murray earned in his entire PBR career.
"The PBR has made me a rich man," said McBride, whose career earnings of $4.9 million are the highest ever.
"I started bull riding to be the best. I felt like the world was lifted off my shoulders in 2005 (when I won). Now I have more important things in my life," he said, referring to wife, Jill, and daughter, Addisen.
"I feel like I can hang 'em up whenever I want to."
McBride will hang up his chaps for at least six months after he undergoes surgery in early December to repair a shoulder injury that has plagued him over the past few months. But he didn't show any signs of being hurt over the past four days.
Any chance Marchi had of catching McBride was dashed when McBride rode Camo for 92.25 points in the championship round of the top 15 in the Finals aggregate standings.
That ride placed second to the one by J.B. Mauney, who scored 92.75 points in the final round on Copperhead Slinger to win the round and post the best score of the seven-day event.
Mauney finished third in series points.
McBride's ride on Camo, out of Boyd/Floyd/Paradise Farms, was a rematch of when he covered the bull in the final round in 2005 when he wrapped up his first PBR championship.
"I had to forget about a world title and (event aggregate) title," he said. "I had to win every go-round."
The only rider hotter the past four days was Wiley Petersen, who covered six bulls and won the aggregate title worth $225,000.
Petersen was bucked off Julio Moreno Bucking Bulls' Troubadour on his final ride, but was able to beat Marchi 531.25 points to 524.50 points to earn the aggregate title.
Contact reporter Jeff Wolf at jwolf@reviewjournal.com or (702) 383-0247.