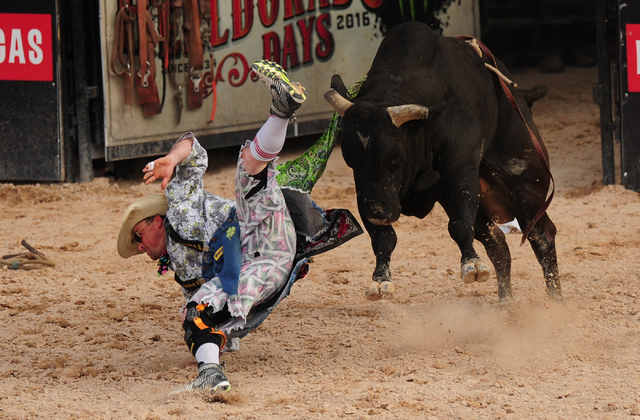 It's not often 82-year-old events make major changes, but last year Helldorado Days got a face-lift by adding the Professional Bull Riding major Last Cowboy Standing to its lineup.
A year later, the event returns as the headliner of the rodeo, which takes place Thursday through Sunday at the Las Vegas Village. Riders will try to stay on their bull for eight seconds one round at a time Friday and Saturday, with the last man to not fall off winning one of the organization's biggest competitions of the year.
"We love Las Vegas. It's our second home," PBR CEO Sean Gleason said. "Being tasked with reinvigorating (the Helldorado Days) brand is a great honor for PBR."
Last Cowboy Standing arrives at Helldorado Days amid what Gleason calls "one of the more exciting" seasons in his 17 years with PBR. While Brazilian rider Edurado Aparecido is atop the world standings by 885 points, only 510 points separate the riders in second and 10th.
Winning one round of Last Cowboy Standing is worth 125 points, and winning the entire competition is worth 625 and $100,000.
"I've never seen it as tight as it is, basically from two to 10. They're basically separated by a normal event win, let alone a major," Gleason said. "I think it's going to be the tightest race we've ever had."
The top 40 riders will compete in the event, with world No. 2 Kaique Pacheco returning to the event as defending champion and Aparecido being the last rider eliminated last year.
Just 490 points behind Pacheco is Texas rider Stormy Wing, who is tied for seventh in the rankings with two event wins. Wing didn't make it out of the first round last year, but complimented the outdoor venue and the atmosphere, even though Las Vegas was hit with unseasonably warm temperatures.
"There's the best bulls, the best bull riders," Wing said. "I've been talking to my buddies, we're all excited to get back and put on a good show."
To better accommodate fans, PBR moved the start times to 7:45 p.m. Friday and 8:30 p.m. Saturday. The event will be shown on CBS Sports Network on Friday and KLAS-8 on Sunday.
"We're optimistic, based on our first year under our Helldorado brand. We're very excited for this year," Gleason said. "There's so many points available at these majors, they are game-changers."
Ben Gotz can be reached at bgotz@reviewjournal.com. Follow @BenSGotz on Twitter.
Helldorado Days schedule
Thursday: PRCA Rodeo, 8 p.m.
Friday: PBR Last Cowboy Standing, 7:45 p.m.
Saturday: PBR Last Cowboy Standing, 8:30 p.m.
Sunday: PRCA Rodeo, 5 p.m.