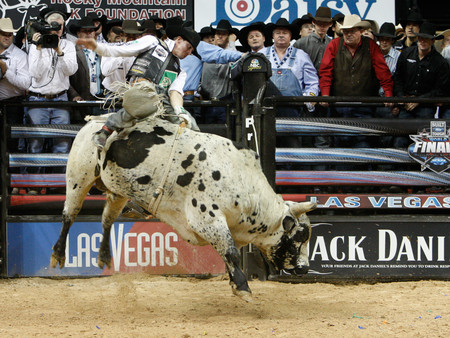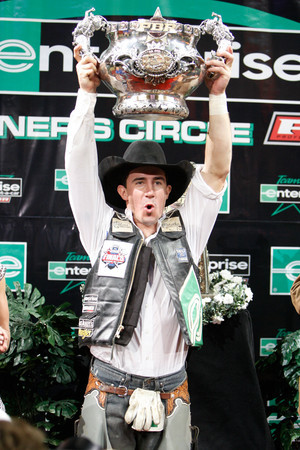 As Kody Lostroh prepared to ride Voodoo Child — a bull only one other rider had ever successfully stayed on — he didn't know he had already clinched the Professional Bull Riders world championship.
He fell a half-second short of completing the ride Sunday in the eighth and final round of the PBR World Finals at the Thomas & Mack Center. Even though the result of that ride had no bearing on the season championship, it still mattered to Lostroh.
"I didn't know the points," he said. "I just wanted to ride all eight of my bulls."
Lostroh rode his first seven bulls, building an insurmountable points lead for the season title heading into the last round for the top 15 competitors.
Lostroh beat J.B. Mauney by 594 points for the season championship and earned a $1 million bonus. Combined with the $244,000 Lostroh won in the Finals, he finished the year with $1.6 million.
"It's just a dream come true," Lostroh said. "It hasn't sunk in yet. A million bucks is a lot of money."
Mauney outperformed Lostroh in the Finals by becoming the first rider to cover each of his eight bulls since the format expanded six years ago. It will be a lasting record, because the 2010 Finals will be trimmed to five days in one week, instead of seven days spread over two weeks.
On Mauney's last ride, he scored 93.75 points on Black Pearl before a crowd of 17,431.
"I came out here with the mindset to ride every bull I got on," said the 22-year-old Mauney, who won the last round of the Finals for the third time.
For his efforts, Mauney received $343,000 for winning the World Finals title.
Lostroh has battled shoulder and elbow injuries this year, but missed only one of the 31 regular-season events. He's scheduled to have surgery on his left elbow next week.
Before arriving in Las Vegas two weeks ago, Lostroh was told by doctors to wear a brace on the elbow, but he tossed it after it didn't feel comfortable on his riding arm.
"The stuff I went through were challenges," he said. "Nothing is ever easy. No matter how much you win, there will be challenges."
Doctors want to reattach a tendon to his elbow, but that could cause him to miss up to four months of riding. He's considering having them "just clean it out a bit" so he can be ready to compete at the Atlanta PBR event in two weeks.
Lostroh also wants to be certain he's healthy enough to compete with Mauney on the U.S. team when the fourth annual PBR World Cup is held April 16-18 at the Thomas & Mack Center. It will be held in conjunction with the Academy of Country Music Awards show.
The World Cup has previously been held in Australia, Mexico and Brazil.
Contact sports reporter Jeff Wolf at 702-383-0247 or at jwolf@reviewjournal.com.
Slideshow