Marchi's PBR title coronation delayed
November 8, 2008 - 10:00 pm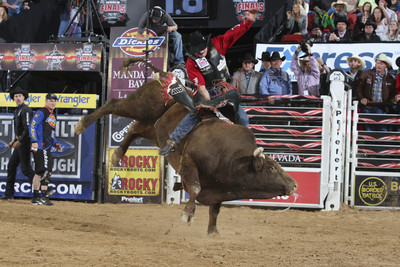 Guilherme Marchi could have been polishing his world championship belt buckle by now.
He could have already invested part of the $1 million champion's bonus in the stock market.
Well, maybe that wouldn't have been a good idea considering the market is anything but, um, bullish these days.
Instead, the Brazil native, who moved to the United States in 2004 to ride bulls, will have to wait another day for his Professional Bull Riders World Finals coronation.
Marchi came within 1.5 points of clinching the championship Friday night at the Thomas & Mack Center before a sold-out crowd of 18,404.
He scored 89 points on Firewater to tie for 16th in the round behind winner Renato Nunes, who rode Walk the Line for 92.25 points.
"I'm very happy to win, and because I know (the championship) is Guilherme's dream," said Nunes, who is fifth in the season standings and won $25,000.
Kasey Hayes of Liberal, Kan., placed second on California Dreaming.
A ride of 90.5 points would have earned Marchi enough bonus points to place in the round and lock up the world title with three rounds left.
Marchi's lead is 3,798.50 points over Brazil's Valdiron de Oliveira and 3,892 ahead of North Carolina's J.B. Mauney.
The most points available through the rest of the Finals is 4,000 including today's round and two on Sunday — when the top 15 riders after a full round will compete in the eighth and final round. Bonuses are added for positions in the Finals aggregate standings, which pays $250,000 to the winner.
"I know it's hard for anyone to catch me," Marchi said.
Nunes added Marchi's success is "good for me too" because he said he will use his friend's success as added motivation.
Marchi will become the third Brazilian to win a PBR championship. Adriano Moraes has won three and Ednei Caminhas one.
Mauney, who has won three of five rounds, holds the lead for the Finals title with Marchi close behind in second. He's put some pressure on Marchi by being the dominant rider in the Finals.
They are the only contestants to have completed rides on five consecutive bulls, tying a record set in 1999 by legend Ty Murray when the Finals consisted of only five rounds instead of eight.
"I just want to ride all my bulls," said Marchi, the runner-up for the championship in each of the past three seasons.
"I need to stay on them and make 88, 89 points and then I can take the buckle. I know what I need to do.
"I've learned the past three years to pray every day, train and to focus on my bulls."
As for Mauney's persistence, "He came in very strong," Marchi said. "Thank God for my concentration."
• NOTES — Australian Jared Farley, who dislocated his left (riding) shoulder in Thursday's performance, did not compete Friday, leaving 44 riders in the field. …
It was a good night for the riders with 24 making it to the eight-second buzzer.
Contact reporter Jeff Wolf at jwolf@reviewjournal.com or 702-383-0247.