Officials dump symbolic dirt at site of new PBR venue
October 26, 2015 - 9:50 pm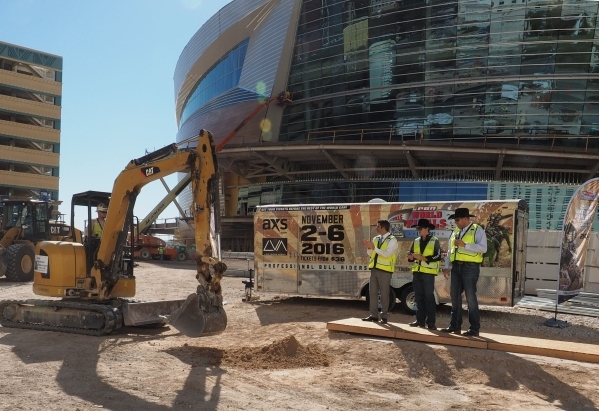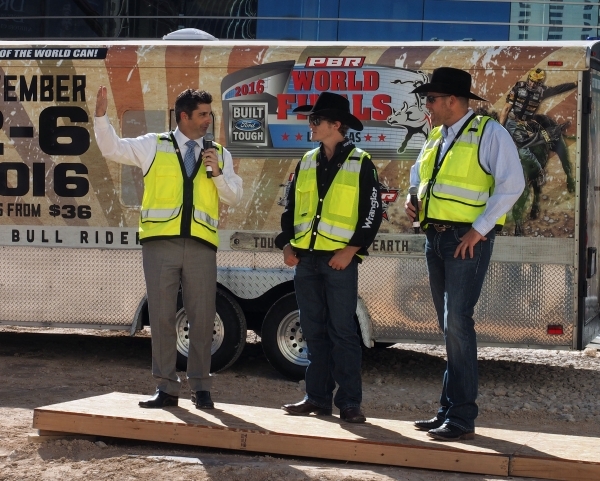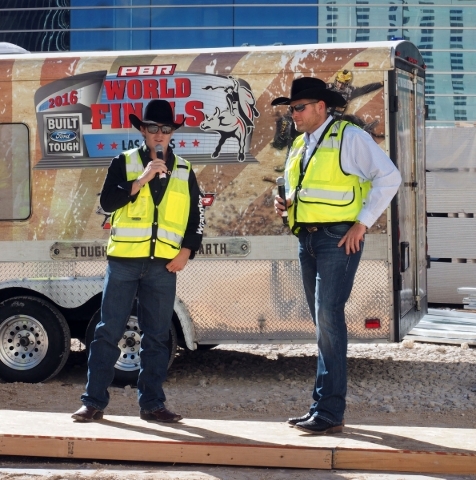 Well, that didn't take long.
A day after the Professional Bull Riders circuit held its final event at Thomas & Mack Center, a bucket of PBR World Finals dirt from that arena on the UNLV campus was ceremoniously dumped Monday afternoon in front of the new Las Vegas arena being built on the Strip.
PBR is moving its season-ending World Finals from Thomas & Mack to the $375 million, 20,000-seat arena being developed by the partnership of MGM Resorts International and Anschutz Entertainment Group, the Los Angeles-based sports and entertainment company.
"I can't promise you that there isn't something else in the dirt," cracked Sean Gleason, PBR CEO, as he stood by the dirt in front of the arena behind the New York-New York parking garage and in front of the Monte Carlo entrance.
The decision to stage the World Finals at the new arena from Nov. 2-6, 2016, means the event is coming full circle to the Strip because PBR held the World Finals at the MGM Grand Garden from 1994-98.
"We closed a chapter," Gleason said. "We're coming home to the Strip."
Gleason said 20,000 tickets have already been sold for the 2016 event at the new arena. Thomas & Mack's attendance was 66,600 for the World Finals, held from last Wednesday to Sunday, PBR spokesperson Denise Abbott said.
PBR bull rider Reese Cates, a seven-year PBR vet from Arkansas, speculated that even the bulls are looking forward to the new venue.
"I bet the bulls will enjoy it," he said.
MGM Resorts Senior Vice President Rick Arpin, overseeing the arena operations, said the bulls will be transported from South Point for the World Finals and will be stored in the marshaling yard outside the building.
"This (PBR World Finals) shows the flexibility of our state-of-the-art facility," Arpin said.
A plaza is also being built in front of the arena for pre-event festivities. Mark Prows, MGM senior vice president for arena, said he expects crowds of 10,000 fans to fill the plaza when the PBR bull riders appear on the outdoor arena stage to pump up the PBR fans during the next World Finals.
Not only are the bull riders and bulls moving from Thomas & Mack to the new arena but so is the World Finals dirt. Some 4 million pounds of dirt are stored at a Las Vegas funeral home and will be transported to the new arena for the November 2016 event, Gleason said.
And 300 pounds of glitter will also be poured on the dirt for the event that attracts 40 qualifying bull riders and caps a 26-event season. PBR's move to the new arena sounded the bell for competition for events between Thomas & Mack and the MGM-AEG venue. The National Finals Rodeo, one of the Thomas & Mack's premier events, is staying put for the next decade.
Contact reporter Alan Snel at asnel@reviewjournal.com Find him on Twitter: @BicycleManSnel