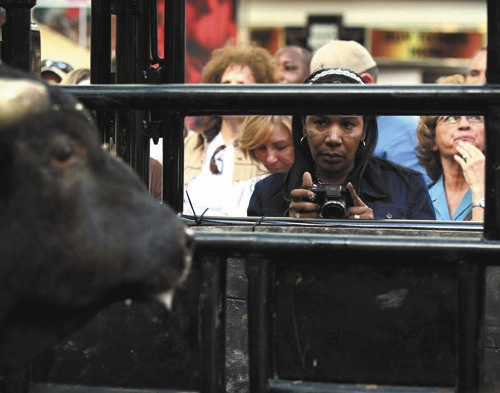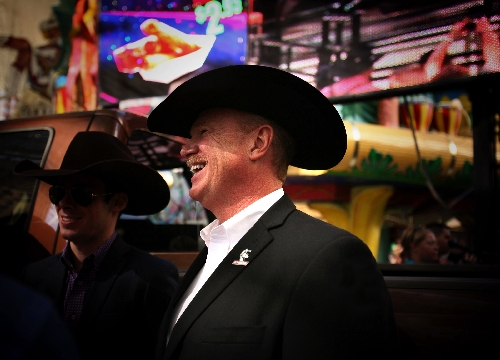 As weigh-ins go, the one held Monday at Fremont Street Experience was rather docile.
With a couple of hundred people looking on, the competitors got on the scale and didn't so much as look at each other. There was no trash talking, no drunks singing a parody, no entourages pushing and shoving, and no need for anyone to intervene between the combatants.
But if bulls could talk …
There's probably no love lost between Bushwacker and Asteroid, who are two of the orneriest characters this side of Floyd Mayweather Jr.'s Spring Mountain Road gym. But they are among the four-legged stars who will be on display beginning tonight at the Thomas & Mack Center as the Professional Bull Riders World Finals makes its season-ending run in Las Vegas.
Jim Haworth, the PBR's chairman and CEO, said thinking outside the chute is how his organization needs to do business in the Twitter-Facebook-YouTube age if it hopes to continue to grow its fan base.
"Somebody suggested we do a weigh-in with the bulls, and since Las Vegas is the fight capital of the world, it made sense," Haworth said. "We can't be afraid to try different things."
So you have riders tweeting, stock contractors blogging, Chad Ochocinco trying to ride a bull and fans such as swimsuit model Kate Upton watching the action on their iPhones when they can't be there in person.
Haworth, a 50-year-old former Wal-Mart executive who took over the PBR in 2011, is dedicated to growing the sport internationally. He wants to take Bushwacker and Asteroid to China, to Australia, to Japan, to Europe and to other North American markets. Selling out Madison Square Garden for three consecutive nights in early January is nice. But a week in Beijing, Sydney or Tokyo is better.
"It's like any business," Haworth said. "You want to reach your maximum potential. We happen to be in the entertainment business. Why limit ourselves?"
The PBR runs tours in five countries, with more than 100 events and $10 million in annual prize money. But it's the Built Ford Tough Series that is its biggest and most visible event, and this week's World Finals celebrates the best of the best. Besides the Garden, the tour stops at Cowboys Stadium in Arlington, Texas, Reliant Stadium in Houston and Ford Field in Detroit, and holds events in arenas in Chicago, Philadelphia, Baltimore, Indianapolis, Tampa, Fla., Columbus, Ohio, and Greensboro, N.C.
"We were in Connecticut for the first time at Mohegan Sun, and we were well received," Haworth said. "We want to go to nontraditional rodeo markets in the U.S. That's how you grow the sport.
"I always like to say we were the original extreme sport. Once you get people inside, they're hooked."
Of course, traditionalists think Haworth and the PBR are overdoing it. They think there are too many events, which means the riders have more opportunities of getting injured and not making it to Las Vegas. But Haworth counters that it also gives riders more opportunities to make money, and the overwhelming majority of the top riders do make it to the Thomas & Mack.
"We listen," he said. "We want input from the fans, just like we want input from everyone connected with the sport.
"Look, you're never going to please everybody. But we're not going to jeopardize the safety of the riders or the bulls. We want to make our sport appealing to everyone."
One thing on which everyone seems to agree is the World Finals has a great home in Las Vegas. Tonight marks the PBR's 19th year at the Thomas & Mack, and the five-day run is expected to bring 70,000 visitors to town and generate nongaming revenue of approximately $15 million. It's little wonder the Las Vegas Convention and Visitors Authority and the PBR announced they were extending their relationship through 2015.
"This is where we want to be; this is where our fans want to be," Haworth said of Las Vegas. "We're very happy with the Thomas & Mack. It suits our needs just fine. I know there's been plenty of talk about building a new arena in Las Vegas, and we're monitoring that.
"But as far as we're concerned, as long as Las Vegas wants us, we're not going anywhere else."
For the record, Bushwacker weighed in at 1,625 pounds, while Asteroid came in at a rather svelte 1,365 pounds. Still, that's a whole lot of meanness for the guys who will have to try to ride them this week.
Contact reporter Steve Carp at scarp@reviewjournal.com or 702-387-2913. Follow him on Twitter: @stevecarprj.
PBR WORLD FINALS
When: 6 p.m. Today-Saturday; 11:30 a.m. Sunday
Where: Thomas & Mack Center
Purse: $2.2 million
Defending champion: Robson Palermo
TV: CBS Sports Network (Cable 333) 6 p.m. Today-Thursday; NBC Sports Network (Cable 38) 6 p.m. Friday-Saturday, KSNV (Channel 3) 1 p.m. Sunday
Tickets: $25-$35 (Today-Friday); $25, $35, $85 (Saturday-Sunday)