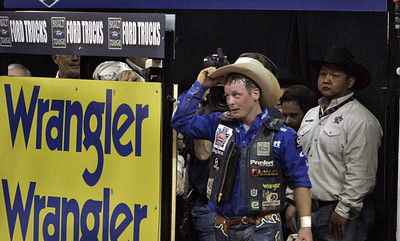 At 29, Chris Shivers is the same age as Justin McBride, his fellow two-time Professional Bull Riders world champion.
But while McBride intends to retire after the PBR World Finals in Las Vegas, Shivers is just getting his second wind.
Having undergone surgery this summer to repair a herniated disc in his neck, Shivers said he feels better than he has in years, and his fresh outlook has showed in his stellar performance during the Finals — his first PBR event since July.
"I feel great, the way I used to when I was young," Shivers said. "I feel freedom in the Finals. It's amazing. I feel completely normal and right now I'm not worried about anything."
Shivers has covered his first three bulls in the Finals and is in early contention to win his first Finals title — about the only thing missing from his impressive resume.
"That's one of my goals — to win the Finals," he said Sunday, shortly after scoring 89.75 points on Flash in the third round of the Finals at the Thomas & Mack Center. "That's the second-best thing after winning the world championship."
Shivers finished fifth in the go-round and is in third place in the event standings with 270.25 points.
J.B. Mauney leads the Finals with 273.50, and season points leader Guilherme Marchi is second with 270.50.
"As of right now I like my chances," Shivers said. "I'm right where I need to be."
Brendon Clark and Ross Coleman each scored 90.75 to tie for first place in the round, with Clark on Pearl Snap and Coleman aboard Outside.
McBride tied PBR Rookie of the Year candidate Reese Cates for third with 90.50, with McBride aboard Gonzales Black and Cates on Firewater.
Overall, 18 of 49 riders covered their bulls Sunday.
Shivers scored 89.75 on Carillo Cartel in Friday's first round and added 90.75 on California Dreaming on Saturday, giving him nine 90-point rides this season and a PBR-record 75 for his career.
The first PBR bull rider to register 13 90-point rides in one season (1998), Shivers also has the highest marked ride in PBR history at 96.5 points, a score he has achieved twice.
On Sunday he was initially timed at 7.9 seconds, but challenged the ruling and, upon review, was awarded an 8-second ride.
Had he lost his challenge, Shivers — the first PBR rider to reach $1 million, $2 million and $3 million in career earnings — would've had to pay $500. Instead he won $5,000.
"It was $500 versus how much I think I can win," he said.
The 5-foot-5-inch, 145-pounder also attributes some of his success to lifting weights for the first time at a gym in Jonesville, La.
"I got a new gym I've been going to for over a month now and it's something I think might have helped," he said.
But the biggest key for Shivers — who also suffered a broken left cheekbone and broken eye socket in April — was finally undergoing neck surgery. Using a piece of bone from his hip, doctors fused his C-5 and C-6 vertebrae.
"It was worse than I realized when I went to the doctors," he said. "I wish I'd (had surgery) a whole lot earlier. It's been kind of a nagging injury for the past three or four years."