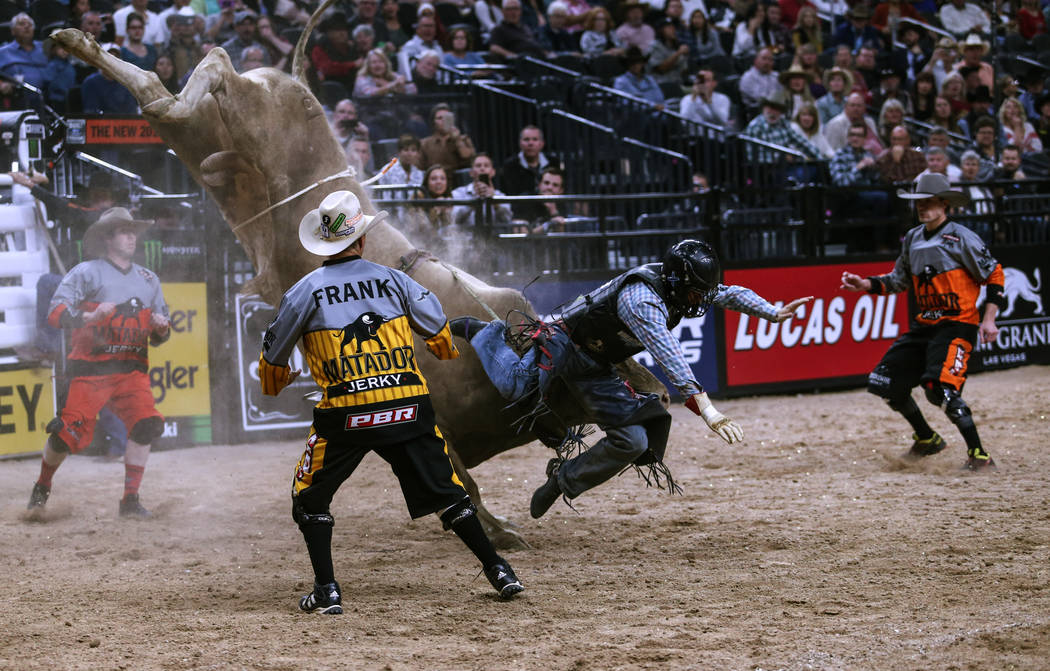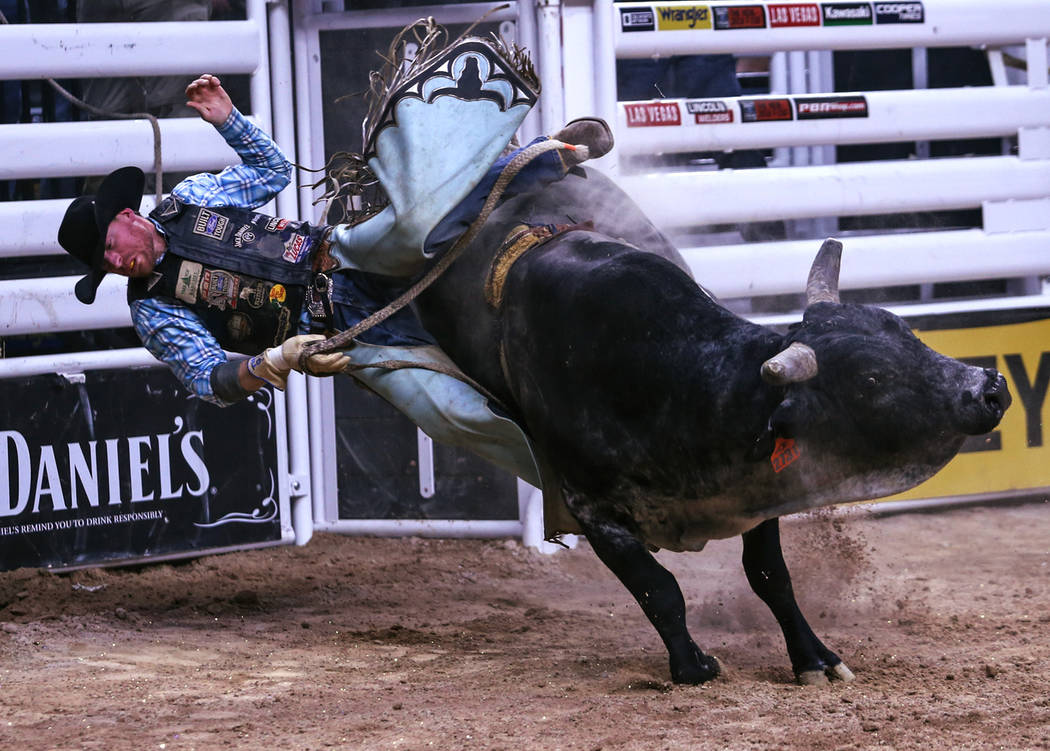 A lot is at stake at the PBR World Finals — and not just for the bull riders.
Bulls Pearl Harbor and SweetPro's Bruiser have butted heads throughout their careers.
The two have been battling atop the standings, and after a year of stiff competition, one will be crowned World Champion Bull on Sunday at the PBR World Finals at T-Mobile Arena.
Bruiser, last year's world champion, took a slight advantage over Pearl Harbor, who won the regular-season title, on Thursday after bucking off Emilio Resende in 1.91 seconds.
His 47 points brought his world average up to 46.42. Pearl Harbor, who bucked off Lachlan Richardson on Thursday, is at 46.25.
Bulls are judged by eight outs and two in the World Finals. Bulls with more than eight outs can drop their lowest scores.
Bruiser has been ridden four times this season in 15 outs. He has an average buckoff time of 3.12 seconds.
Pearl Harbor was ridden just once this year — by Shane Proctor — in 13 outs. His average buckoff time is 3.93 seconds.
The close race will make for a nerve-racking Sunday for stock contractors H.D. Page and Chad Berger, as a $100,000 bonus is on the line.
"The easiest way to explain it is when your son is going for a state title wrestling title, and you're sitting there nervous as all get out, and that's how I feel. I feel like these bulls are like my kids, so I'm just as nervous," said Berger, Pearl Harbor's owner. "It takes a lot for me to get nervous, but when something like this is on the line … I want it not just for me but for the bull to win. It'll make the hair on the back of your head stand up."
It takes a little less for Page, Bruiser's owner, to get nervous — he admitted to getting nervous "every time," and his prized bull's laid back demeanor doesn't help much.
"Nothing fazes him," Page said. "It's odd that you find one with that kind of intensity when the gate opens that can kind of turn it on like that, and he can literally turn the gas on when the gate opens and the rest of the time he's just completely on reserve, which is a great thing but it still makes me nervous."
The two have vastly different personalities, but both have proven themselves to be special bulls.
Bruiser wants "a scratch every time you show up," Page said, while Pearl Harbor would "just as soon run you over as let you play with him," Berger said.
Berger started watching Pearl Harbor when the bull was 2. After years of trying to purchase him, he was finally successful, buying Pearl Harbor when he was just turning 5. He is now 6, as is Bruiser.
"I knew right then and there I wanted that bull," Berger said. "I just knew he had that edge it took to be a champ."
With Bruiser, Page said he has always "had that ability" from day one. When he was 2, he was "really good, but not great," and at 3, Page realized he had a shot to have a superstar.
"He was a specimen when he was a yearling. He was a big stout, long legged, long-backed calf," Page said. "He always carried himself like a little stud, too. Now it's almost like he knows he's a badass. He holds his head up above the rest of them and he prances around."
Both have given riders fits this year, but in a poll taken by PBR.com, 33 of 36 riders said they would give the World Championship to Bruiser if they had to break a tie.
On Sunday, the bulls will have their say.
"They've both excelled their whole career," Page said. "They've been special."
Contact Betsy Helfand at bhelfand@reviewjournal.com. Follow @BetsyHelfand on Twitter.
If you go
What: PBR World Finals
When: 7:15 p.m. Saturday; 12:45 p.m. Sunday
Where: T-Mobile Arena
Tickets: pbrfinalsweek.com
Friday: Jess Lockwood extended his grip on first place in the World Standings on Friday night, taking home his third straight round victory after posting a 90.25.
Derek Kolbaba and Eduardo Aparecido, who were in second and third place, respectively, were bucked off. Cooper Davis, who was in fourth, picked up 152.5 points and moved into third.
Davis and Jose Vitor Leme both posted scores of 90.