Roger Goodell says there will be no settlement in ongoing Deflategate fight with Tom Brady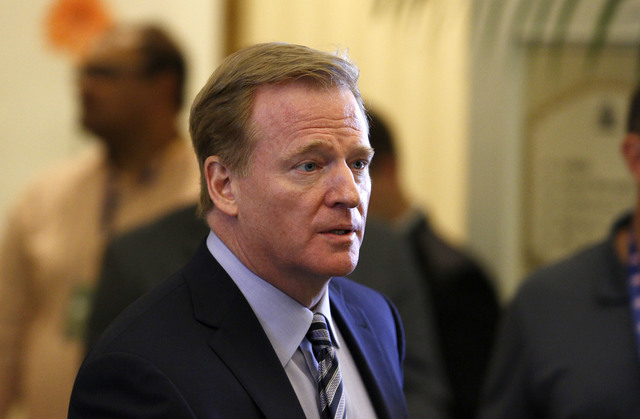 NFL commissioner Roger Goodell made it clear Monday there will be no settlement in his Deflategate battle with New England Patriots quarterback Tom Brady.
Speaking with reporters before Hall of Fame quarterback Jim Kelly's charity golf tournament in Batavia, N.Y., Goodell said he doesn't expect a compromise between the NFL and Brady, who is attempting to have his four-game suspension overturned.
"We're not going to hand the integrity of the game off (to someone else)," Goodell said Monday, via Mike Rodak of ESPN.com.
Goodell said the courts will make their decision.
On Brady lengthy appeal process, Goodell said: "I don't think it's an issue of length. … It's been litigated."
A circuit court panel ruled 2-1 in April that Goodell was within the rights of the collective bargaining agreement to suspend Brady four games after the suspension was first overturned by U.S. District Court Judge Richard Berman.
Last month, the NFL Players Association and lawyers for Brady filed a petition for a rehearing of his suspension ruling with the 2nd U.S. Circuit Court of Appeals in New York.
Led by former U.S. Solicitor General Ted Olson, Brady's legal team requested the court rehear the matter "en banc," meaning all 13 of the active 2nd Circuit judges will decide whether or not an appeal of their ruling should be heard.
Brady was suspended by the NFL on May 11, 2015, for his involvement in the Patriots' alleged deflation of footballs during the 2015 AFC Championship Game against the Indianapolis Colts, which New England won 45-7.
Brady's suspension was overturned on Sept. 3, 2015, and he played in all 16 regular-season games last season, leading the Patriots to a 12-4 record and another AFC title game appearance.
If Brady's suspension is again upheld, he would miss New England's first four games in 2016 against the Arizona Cardinals, Miami Dolphins, Houston Texans and Buffalo Bills. He would be eligible to return on Oct. 16 against the Cleveland Browns.
Goodell also suggested Monday at Kelly's golf tournament that Bills owners Terry and Kim Pegula should push harder for a new stadium.
"Well, I think that's one of the things Terry's going through," Goodell said, via the Buffalo News, "trying to see what it takes to make sure the Bills remain here on a successful basis. That's their objective and I know that's their commitment. We fully support that.
"Stadiums are important, just to making sure the team here can continue to compete not only throughout the NFL but also to compete in this environment because we've got great facilities here now. The Bills have to stay up with that."
The Bills have been in no rush to build a new stadium. In 2014, the organization invested $130 million in new renovations.
"That's up to Terry and the community to really get focused on," Goodell said. "What does it take? What is the right location? Those are the difficult decisions that have to be made locally. We'll support it any way we can. But ultimately, those decisions are made here."
RELATED
NFL to ask court to restore Tom Brady's 'Deflategate' suspension
7 Patriots fans are suing the NFL over team's 'Deflategate' punishment
Like Vegas Sports News on Facebook: