Roper Hanchey cashes football parlay while competing in NFR
December 9, 2013 - 7:09 am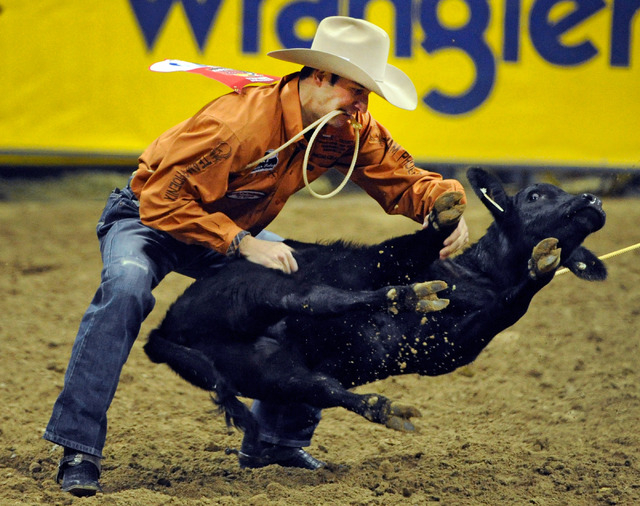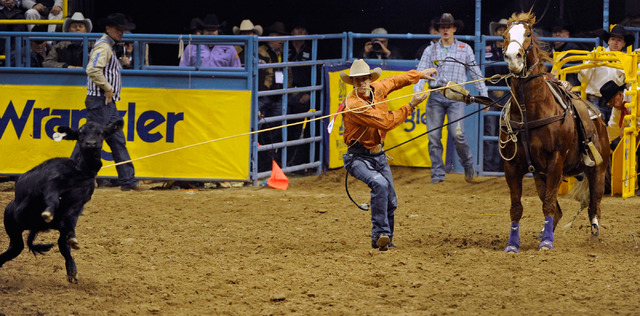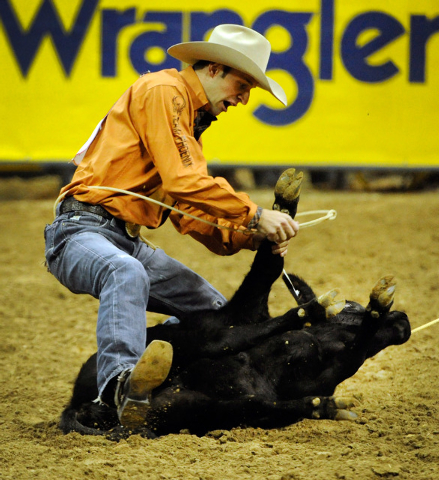 Tie-down roper Shane Hanchey has won more than $44,000 through the first four rounds of the National Finals Rodeo, but he's more excited about the $1,800 he pocketed Saturday on a $300 three-team college football parlay.
A huge Louisiana State and New Orleans Saints fan from Sulphur, La., Hanchey had Auburn, Stanford and Michigan State — a 6-point underdog that beat Ohio State outright 34-24 on Saturday night to cap the cowboy's perfect day.
Hanchey, who won the first round of the NFR in 7.6 seconds Thursday and finished fourth Friday, placed second Saturday but wasn't nearly as thrilled as he was when he learned moments later that the Spartans had upset the Buckeyes.
"When I seen Michigan State covered, I was literally jumping up and down," the 24-year-old said. "I was just so happy that one, Ohio State got knocked off — because I'm not a fan of Ohio State just because of strength-of-scheduling reasons — and two, that I hit my three-game parlay, so I was pretty pumped about that."
Hanchey wasn't as fortunate in the sports book on Sunday, when he lost a Saints-Detroit Lions-San Francisco 49ers parlay.
However, he did take home $3,000 for placing sixth in the NFR's fourth round at the Thomas &Mack Center, where he competed wearing a burnt orange shirt as a tribute to his friend — former Texas Longhorns defensive back Aaron Williams, who plays safety for the Buffalo Bills.
"I told him I'd show him some love on the fourth round because his college football number was 4," said Hanchey, who also sported an LSU wild rag. "I told him I'd wear a burnt orange shirt just for him tonight."
Hanchey also is close friends with Tigers linebacker Tahj Jones, who also hails from Sulphur.
"We grew up together," he said. "He was at my house watching the (NFR's) first two rounds with my sisters. He stays at my house nonstop, and I go over to LSU games and watch him.
"After every home game, I go back to his dorm and hang out. He's kind of like me, not one to party very much. We stay in touch every day, no matter what. He's been through a lot in his life, and so have I. We're really close."
The 5-foot-10-inch, 150-pound Hanchey played high school baseball and football before turning his focus to rodeo.
"I knew if I didn't want to play baseball for a living I had to do this rodeo deal because we all know (18-time world champion) Trevor Brazile isn't the biggest guy in the bunch," he said.
Leading the NFR average in tie-down roping and third in the world standings with more than $117,000, Hanchey already has earned more than $625,000 in his five-year Professional Rodeo Cowboys Association career.
The PRCA tie-down roping Rookie of the Year in 2009, Hanchey has qualified for four straight NFRs, finishing third in the world in 2010 and fifth last year. He credits most of his success to his horse, Reata, who he has ridden since his sophomore year in high school and who returned to action at the NFR after a year-long bout with colic.
"The day I got to ride Reata was the day I decided I wanted to do this for a living, and four years later I was at my first NFR," Hanchey said. "That horse has meant something to me ever since I climbed on his back the first time.
"We clicked. We kind of did everything the same. He's laidback and I'm kind of laidback."
When it comes to roping, Hanchey also can be intense, which is one reason he said he escapes into sports.
"I watch that to kind of take my mind off stuff," he said. "I'm a student of this roping so much, I kind of put too much emphasis and too much pressure on myself to do good, so I like to take the pressure off, relax and talk football to people now and then."
Hanchey watched some of the Saints' 31-13 romp over the Carolina Panthers on Sunday night before his event started, but he only had them in a losing parlay.
"I do pretty good (sports betting) but I'm hit and miss," he said. "I'll do a three-teamer then it'll just be one team. As long as I'm winning out here, I can spend a little money on sports bets."
Contact reporter Todd Dewey at tdewey@reviewjournal.com or 702-383-0354. Follow him on Twitter: @tdewey33.