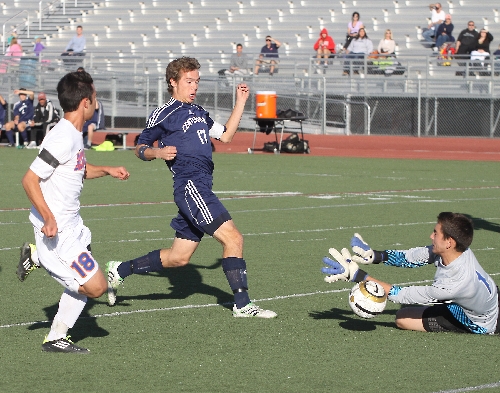 The deck seemed stacked against Centennial's boys Thursday.
Trailing Bishop Gorman 3-1 with 25 minutes left, looking as though they were tired and with their top goal scorer sitting on the bench with his foot in a cast, the Bulldogs pulled ace after ace out of their sleeves.
Chance Rosa scored twice and had an assist in the final 25 minutes, including a nearly impossible goal with 90 seconds left, to allow Centennial to stun the Gaels 4-3 in a Sunset Region semifinal at Arbor View.
"He's a special player," Centennial coach Tommy Porrello said. "When he has the will and he's going to the goal, he's extremely difficult to stop."
Centennial (17-3) will face Legacy (16-1-2) in the region final at 10 a.m. Saturday at Faith Lutheran.
With the game tied 3-3, Rosa put on a display that left heads shaking and jaws dropping on the winning goal.
After gathering the ball near midfield with time winding down, Rosa beat one Gorman defender, then another as he worked along the left side of the field.
A third defender tried to grab Rosa, but the senior broke free.
"I just did what I had to do," Rosa said. "I was not going into extra time."
Two more Gorman players awaited, and Rosa maneuvered around both.
Then he laced a shot into the lower right corner of the net, just out of the reach of Gorman goalkeeper Thomas Olsen.
The Bulldogs appeared to be out of the tournament after Gorman's Nick Wesen netted his third goal to give the Gaels (17-2-2) a 3-1 lead in the 53rd minute.
Centennial, which lost leading goal scorer Blake Frischknecht to a broken ankle Tuesday, finally found the spark it needed three minutes later when Miguel Nieto's shot deflected to Rosa, who scored into the lower right corner of the net.
Rosa set up Jesus Zacarias for the tying goal with 16 minutes left. Erik Christiansen scored a first-half goal for Centennial.
■ Legacy 2, Palo Verde 1 — Legacy coach Jose Gomez feared the final whistle was coming.
Saul Aguirre still had a little work to do first, though.
Aguirre scored the winning goal with 15 seconds left in a match that went just beyond the regulation 80 minutes as the defending state champion Longhorns knocked out the Panthers (13-5-1).
"I didn't know if the whistle was going to blow. We just played until the whistle," Gomez said. "Once it got to his feet and he made the move, I thought it was going in."
With less than two minutes left, Palo Verde's Jose Silva Reyes went down with an injury and had to be helped off the field.
Instead of letting time expire, game officials allowed play to continue. Aguirre streaked down the field, made one move to beat a defender and chipped the ball past Panthers goalkeeper Josh Dinsmore.
The Panthers led 1-0 on A.J. Henry's goal in the 10th minute and held the lead until Aguirre scored the equalizer three minutes into the second half.
Palo Verde was awarded a penalty kick midway through the second half, but Legacy goalkeeper Ramon Carvajal moved to his left to rob Palo Verde's Alexander Shackley on the shot.
SUNRISE REGION
Ivan Rodriguez took a pass from Mark Ocampo down the left sideline and scored from 25 yards in the 52nd minute to propel Green Valley to a 1-0 win over Desert Pines in a Sunrise Region semifinal at Rancho.
"He (Rodriguez) creates opportunities, as he's done all year," Green Valley coach Jacob Rivera said. "We were getting a lot of spacing outside, and (Ocampo) played a great ball behind the defense, and sometimes those go in. He struck it well, and sometimes it's one goal that is the difference."
It was for the Gators (12-4-1), who advanced to play Eldorado (17-2-1) in the region final at noon Saturday at Faith Lutheran.
Green Valley goalkeeper Phillip McGovern made Rodriguez's goal stand up with a 13-save shutout that included a leaping block of a Desert Pines free kick just above the crossbar late in the second half.
"He (McGovern) gave us the game. He came up with every save," Rodriguez said.
McGovern posted an 11-save shutout in a 1-0 upset of Las Vegas in the first round.
"He's been the rock back there. He was tremendous," Rivera said. "He's smart, he's composed, and this is his last year. He knows it, and you can see it in his eyes; he's not going to let us down."
Desert Pines (9-6-3) fell short in its upset bid after knocking off Southeast League champion Coronado on Tuesday.
Green Valley will play Saturday for its first region title since 2001.
■ Eldorado 2, Tech 1 — Antonio Murrillo scored off an assist from Ruben Duran in the fourth minute, and the Sundevils ousted the Roadrunners (15-4-1).
Duran scored on an assist from Chris Perez in the 39th minute to give Eldorado a 2-0 halftime lead.
Tech's Oscar Velazquez scored from more than 30 yards out in the 44th minute to narrow the deficit to 2-1, but the Roadrunners couldn't rally from a 2-0 halftime deficit for the second consecutive match.
Eldorado sophomore goalkeeper Sammy Tapia made 11 saves.
"He was probably the difference today," Eldorado coach Gerald Pentsil said. "We'd been platooning (goalkeepers), but we went with him for the playoffs, and he proved why today."
In-depth high school sports coverage