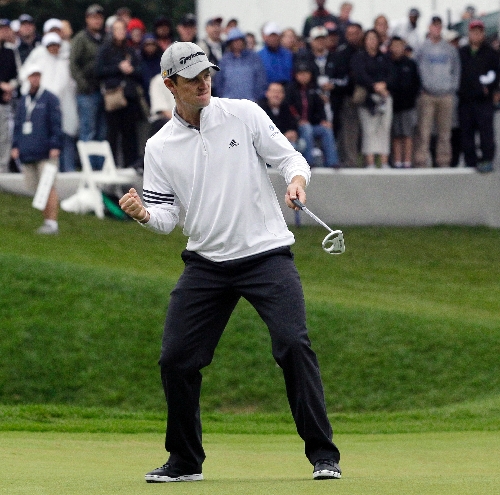 LEMONT, Ill. — Justin Rose was trying not to lose the BMW Championship until he decided to play like he wanted to win.
Rose already was feeling the pressure from watching a five-shot lead over John Senden shrink to one. He hit another mediocre shot that came up short of the 17th green, and while he faced a relatively simple chip, Rose thought about using his putter because it would eliminate any chance of a mistake.
"I knew it was kind of coming down to me," Rose said. "Either I was going to fritter it away or make something happen to win the tournament. That's how it felt. I nearly took the 'chicken stick' out there and putted it on 17, and I had a little chat with myself. … I said, 'These are the moments where tournaments are won.'
"It was an easy chip, it just needed committing to, just not wimping out."
It turned out to be the right move.
Rose chipped in for birdie to restore his lead and then played the 18th without fear to close out a par 71 and a two-shot victory that sends him to the Tour Championship with a shot at the $10 million FedEx Cup prize.
"It was just nice to have made the right decision and then execute it," Rose said. "That's a great lesson to learn that down the stretch, it does come down to one moment sometimes, and you just need to be ready for it."
The Englishman's third career PGA Tour win came at just the right time. He was at No. 34 in the FedEx Cup when he arrived at the third playoff event — only the top 30 from the 70-man field at Cog Hill would advance — and he moved to No. 3 with the victory.
The top five — Webb Simpson, Dustin Johnson, Rose, Luke Donald and Matt Kuchar — at Atlanta's East Lake next week only have to win the Tour Championship to collect the biggest payoff in golf.
There were plenty of consolation prizes to go around.
Senden played bogey-free, an amazing feat in the rain on a tough course, and closed with a 70. He moved from No. 55 to No. 9 in the FedEx Cup, and his spot in the Tour Championship effectively assures him a spot in all four majors next year.
Geoff Ogilvy had a 69 to finish the week with four rounds in the 60s. He had a decent chance of winning on the back nine, although it didn't take long for the Australian to appreciate the benefits that came with third place.
At the previous playoff event, Ogilvy had to made birdie on the final hole just to advance to the BMW Championship at No. 69. Now, he is on his way to Atlanta for the Tour Championship, and he moved high enough in the world ranking to assure himself a spot in the Presidents Cup at Royal Melbourne, where he has a home off the 14th fairway.
"I'm glad I played well," Ogilvy said. "I just holed some putts for three days and hit the ball well today on the hard day."
Rose finished at 13-under 271 for the biggest win of his career, worth $1.44 million. The BMW Championship also was the final event for the top 10 players to qualify for the Presidents Cup.
Despite all the possibilities for the U.S. team, there was no change except in the order.
David Toms went from No. 10 to No. 8 with his tie for 10th.
Hunter Mahan and Jim Furyk nailed down the last two spots for the United States. The other seven who had locked up spots were Kuchar, Steve Stricker, Johnson, Phil Mickelson, Nick Watney, Simpson and Bubba Watson.
Nothing but the order changed for the International team, too. Its list is based on the world ranking. Ogilvy, who was narrowly No. 10, moved ahead of Ryo Ishikawa to No. 9. The other eight players are Jason Day, Adam Scott, Charl Schwartzel, K.J. Choi, K.T. Kim, Retief Goosen, Ernie Els and Y.E. Yang.
Captains Fred Couples and Greg Norman will make two picks after the Tour Championship. Couples already has said Tiger Woods will be one of his picks.
■ CHAMPIONS TOUR — At Incheon, South Korea, Jay Don Blake beat John Cook on the fifth playoff hole to win the Songdo IBD Championship for his first Champions Tour victory.
The two Americans shot 4-under 68s in the final round to finish at 13-under 203 with Mark O'Meara and Peter Senior at the Jack Nicklaus Golf Club Korea. O'Meara and Senior were eliminated from the playoff on the third hole. Blake won with a 10-foot birdie on the fifth.
■ VIVENDI SEVE TROPHY — At Saint-Nom-la-Breteche, France, Britain & Ireland held off a comeback by Continental Europe in singles to retain the Vivendi Seve Trophy, 15½ to 12½.
thompson, 16, becomes
youngest LPGA winner
PRATTVILLE, Ala. — Lexi Thompson, a 16-year-old from Florida, became the youngest player to win an LPGA Tour event, closing with a 2-under 70 to claim the Navistar LPGA Classic.
Thompson finished the four-round tournament at 17-under 271, defeating Tiffany Joh by five strokes.
Thompson shattered the age record for winning a multiple-round tournament, held by Paula Creamer, who won in 2005 at age 18. Marlene Hagge was 18 years and 14 days old when she won the single-round Sarasota Open in 1952.
The victory brought Thompson a piece of history and $195,000.
— THE ASSOCIATED PRESS