Ross' career hits stride with Giants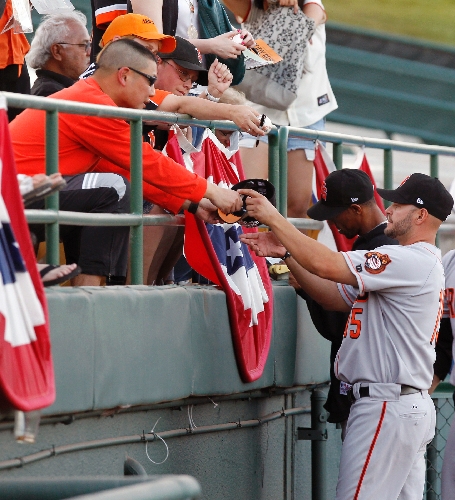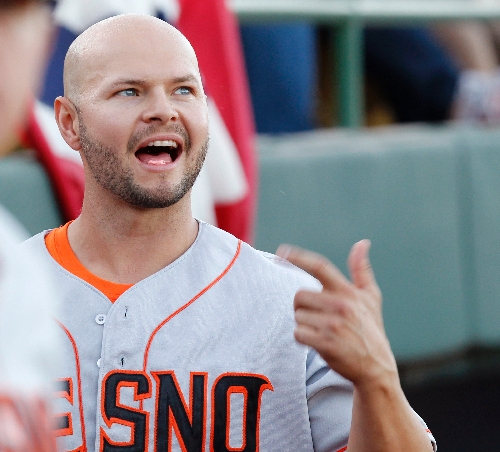 Before San Francisco outfielder Cody Ross compiled a magical postseason last year to spark the Giants to a World Series title, he endured two lost seasons in Las Vegas.
Ross, who returned to Cashman Field on Monday with Fresno to rehabilitate a strained right calf, played for the 51s in 2004 and 2005. At the time, the 51s were the top affiliate of the Los Angeles Dodgers.
"I'd say the years I was with the Dodgers were probably the lowest of my career," Ross said before going 1-for-3 with a two-run double and two walks for the Grizzlies in their 9-8 loss to Las Vegas.
"I had a blast here. It's a great place to play and a great city," he said. "But nobody wants to be (in Triple-A), to be honest."
Drafted by Detroit in the fourth round in 1999, Ross spent five seasons in the minors with the Tigers before getting traded to the Dodgers for pitcher Steve Colyer.
"I was a top prospect with the Tigers coming up, and then I got traded over to the Dodgers and kind of got lost in the shuffle," Ross said. "That was a tough pill to swallow for me, to not be the next up-and-coming prospect."
Ross had 36 homers and 112 RBIs in 175 games for the 51s, and he had two homers and seven RBIs in an April 2006 game for the Dodgers. But he was traded later that month to the Reds.
After playing two games for Cincinnati, the Reds traded Ross to the Marlins.
Ross played parts of the past five seasons for Florida, which placed him on waivers in August, in part to avoid paying him the remaining $1 million of his $4.45 million salary.
The move stunned Ross, who produced 80 homers and 297 RBIs for the Marlins.
"I didn't think they were just going to let me go, that's for sure," he said. "But it was a blessing … to have an opportunity to play for a team that was a real contender.
"And, obviously, what we ended up doing was epic. Epic."
Claimed off waivers by the Giants, Ross played well in 33 regular-season games for San Francisco.
But he was incredible in the playoffs, when he hit .294 with five homers, five doubles, 10 RBIs and 11 runs scored and was named National League Championship Series Most Valuable Player. He hit safely in 13 of 15 postseason games.
He smacked a game-tying homer to break up a no-hitter by Atlanta's Derek Lowe in the deciding Game 4 of the NL division series, then belted two home runs off Philadelphia ace Roy Halladay — who was coming off a no-hitter of the Reds — in Game 1 of the NLCS.
He also homered off Roy Oswalt in Game 2 of the NLCS and added another blast in Game 3 of the World Series against Texas.
"There's very few times throughout the year when you go to the field and you know that you're going to do some damage," Ross said. "Some guys have that feeling in April. Some guys get it in July. It just so happened for me it was in October."
Ross, who went 2-for-3 for Fresno on Sunday, strained his calf chasing a fly ball in spring training March 23. But he said it's healed, and he expects to return to the Giants today.
"It felt good running. That's the main thing," he said. "I can't wait to get back up there to help my team get back to where we want to be — in the playoffs."
■ NOTES — The Blue Jays also sent infielder Mike McCoy and right-hander Yohan Pino to the 51s. Pino was acquired by Toronto from the Indians for cash. … Las Vegas placed infielder Niuman Romero and outfielder Jason Lane on the disabled list.
Contact reporter Todd Dewey at tdewey@reviewjournal.com or 702-383-0354.
LAS VEGAS — 9 FRESNO — 8
KEY: Eric Thames had four of the 51s' 19 hits, including a walk-off, bases-loaded single in the 10th inning.
NEXT: Salt Lake Bees (RHP Trevor Bell) at 51s (LHP Brad Mills), 7:05 p.m. today, KBAD-AM (920)