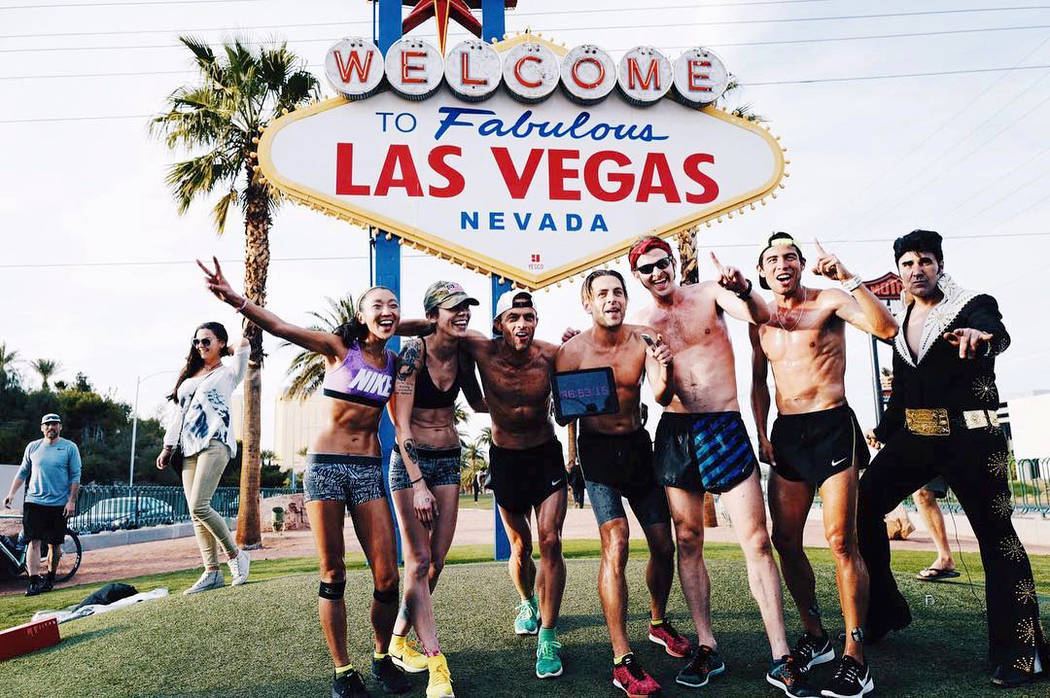 The words might have been slightly different, but the message was the same.
"Oh, that's crazy, you can't do that," people would tell Nils Arend when he shared his idea of running from Los Angeles to Las Vegas.
That was, until he met Blue Benadum at the Malibu Marathon.
Benadum reacted positively to the idea, and eventually they became two of the first team of six to run The Speed Project in 2013. A friend documented the relay race and produced a 17-minute film, which they then showed around the world, creating a swell of interest.
This year, for the third running of The Speed Project, more than 150 runners on 20 teams from around the world will leave from the Santa Monica Pier at 5 a.m. Friday and run to the Strip.
The races that are full of entertainment — a Disney marathon, Color Run, or Tough Mudder, for example — don't appeal to Arend.
So Arend, The Speed Project's founder, found a way to appeal to a different sector of the running community.
"Society caters to (comfort), and I think it is really important for us and, especially for the youth, to get out of their physical comfort to strength their mental comfort," Arend said.
The elite teams, such as Arend's, run six to a team and tend to switch off runners every six miles over the 340-mile stretch.
One runner will be pounding the pavement while the other five are in an RV ahead of him. Sometimes cyclists bike alongside the runner; sometimes there is another car driving with the runner.
Teams can take whatever route they want, split the running in whatever way works best and have as many team members as they want.
There's only one rule: Don't break the law.
Las Vegan Samantha Jo Alonso is preparing to run The Speed Project for the second time. Her team will have 10 to 11 runners, most of them Las Vegas residents.
"To run from Los Angeles to Las Vegas, it's very illogical, it's very disruptive and I think as … entrepreneurs and millennials, we thrive in those moments of being in the unknown, and so personally for me specifically, I find so much of who I am within these miles," Alonso said.
Alonso will be producing a deck of cards with questions on them for competitors to pick before they start running to "give the miles way more meaning."
The questions range from "What could you do this year that you couldn't do last year?" to "Do you believe to see or see to believe?"
"The things that go on in your mind when you're running in the middle of Baker and Barstow in the desert at 3:57 a.m., they're usually probably thoughts that don't come to you in the middle of chaos, so when you're in that stillness but also in movement, there's a clarity that's spoken to you," Alonso said. "We're really looking forward to what it's going to produce emotionally more so than physically."
There will be hourly updates on Instagram (@thespeedproject) from 5 a.m. Friday to 5 p.m. Sunday.
All this came from an idea in Arend's head that people initially rejected.
Now, people are coming from all over the world — runners from Canada, Sweden, France, Mexico, two teams from Germany, one from the United Kingdom, one from Denmark and beyond — to embrace his idea.
"It was really cool to see this community just grow because everybody's really hungry for a little bit out of the norm running related things," Arend said.
Contact Betsy Helfand at bhelfand@reviewjournal.com. Follow @BetsyHelfand on Twitter.
CALENDAR
Saturday: Hero 5K by The Shade Tree, 5K run, Las Vegas
Saturday: Labor of Love Races, 50M, 50K, 26.2M, 13.1M, 10K, 5K run, Las Vegas
Saturday: Make-A-Wish Southern Nevada 5K run, Las Vegas
Saturday: Run Away with Cirque du Soleil, 5K run, Las Vegas
Sunday: Fight 4 Fitness 5K run, Las Vegas