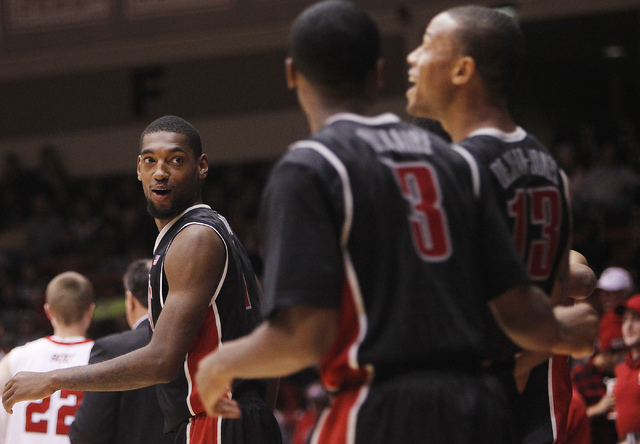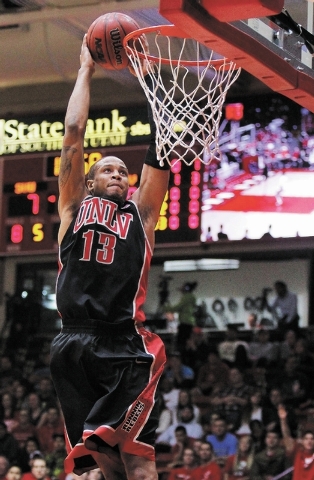 CEDAR CITY, Utah — It was a surprise to Jelan Kendrick when he got the call to start, and the junior guard answered with his best all-around game in a UNLV uniform.
Not that he was celebrating any personal accomplishments, such as his career-high scoring night. He deflected every question about his game into an answer about the team.
"Everybody was flowing and had a little swagger to their game," he said. "It was just a good team win, and I'm just glad I contributed to that effort."
Kendrick and junior forward Roscoe Smith each scored 12 points, and Smith also grabbed 10 rebounds to help the Rebels roll to a 73-51 victory over Southern Utah on Saturday at Centrum Arena.
Kevin Olekaibe and Bryce Dejean-Jones had 11 points apiece in UNLV's first win since Nov. 30. A week after losing at then-No. 2 Arizona, the Rebels (4-4) took a major step down in competition and dominated.
"It helps the team a lot just to get another 'W.' We had a tough stretch of games," said Dejean-Jones, who came off the bench for the second straight game after starting five times in November.
Dejean-Jones was pulled from the starting lineup a week ago as punishment for being late to a team meeting. This time, UNLV coach Dave Rice was making a different point to the team's leading scorer.
"Did he break a team rule? No, it was nothing like that," Rice said. "I hold him to a high standard, and I want to motivate him to be even better. No one in our program plays harder than Bryce does. I'm trying to motivate him to be a better leader.
"I want him to be more vocal. Bryce has all the potential in the world. I think he's got pro potential, and I just want to push him. It was my way of sending a message to him."
Dejean-Jones, who shot 5-for-8 and had six rebounds in 30 minutes, accepted Rice's call to start Kendrick instead.
"I agree with him," Dejean-Jones said. "I just go along with his decision."
The 6-foot-6-inch Kendrick hit of 3 of 5 shots, including his only 3-point attempt, and made 5 of 8 free throws in 20 minutes. He added three rebounds, three steals and two assists, and he was effective pushing the ball in transition.
A former McDonald's All-American and junior-college transfer, Kendrick was 1-for-9 from 3-point range and had 18 turnovers and eight assists through the first seven games, including three starts.
"The thing about J.K. is he puts so much pressure on himself to play well. He was forcing the issue," Rice said. "He's just a guy who wants to facilitate for others. He helped our team immensely."
After a slow start against a zone defense, the Rebels finally got their offense rolling, and a dunk by Smith put UNLV up 18-9 with 8:37 left in the half. Chris Wood hit a 3-pointer, Olekaibe made another, and Wood connected again from deep to blow open the game.
Olekaibe's 10 points propelled the Rebels to a 38-23 halftime lead, and they led by as many as 24 points in the second half.
Rice was able to use his reserves for quality minutes. Wood, a 6-10 freshman forward, finished with nine points and seven rebounds, and backup point guard Deville Smith contributed eight points and four steals.
Junior forward Khem Birch led a strong defensive showing with five blocked shots to go with seven points and seven rebounds. Birch made 5 of 6 free throws to help UNLV go 24 of 37 at the line.
The Thunderbirds (1-6) got 10 points from Trey Kennedy, a freshman guard from Bishop Gorman High School. Kennedy shot 3-for-13, including 0-for-5 from 3-point range, and made 4 of 5 free throws.
Southern Utah, a slow-footed team that shot 31.6 percent from the field, presented a challenge in no way, shape or form similar to Arizona.
With Cedar City a 175-mile drive from Las Vegas, UNLV fans represented a significant portion of the crowd of 3,505.
"It's a good road win for us. We've got nine games on the road in the conference, and it's a different feel," Rice said. "To win going away is a nice thing for a team like us."
■ NOTES — Senior forward Carlos Lopez-Sosa was ill and did not make the trip with the Rebels. … UNLV beat Southern Utah for the 20th consecutive time.
Contact reporter Matt Youmans at myoumans@reviewjournal.com or 702-387-2907. Follow him on Twitter: @mattyoumans247.