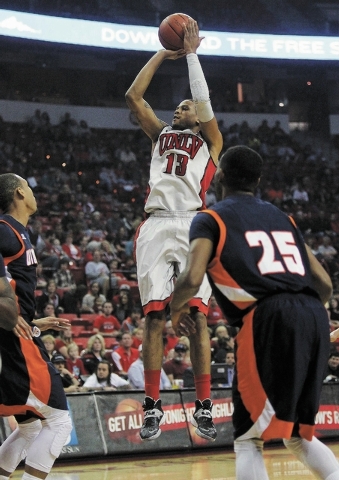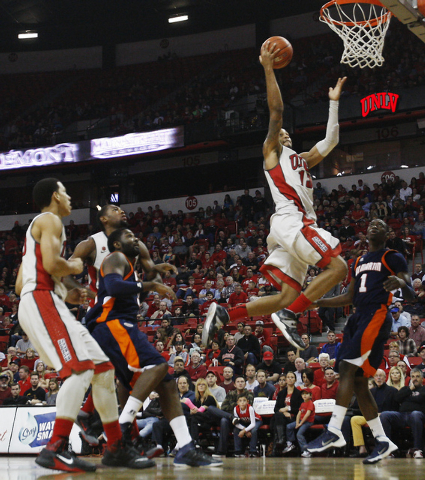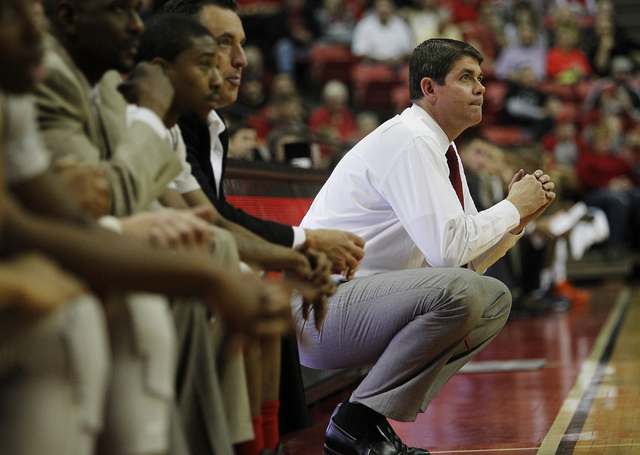 A sore hamstring bothered UNLV junior guard Bryce Dejean-Jones for a while, but nothing has irritated him more than losing.
The Rebels stumbled through most of November, dropping home games to UC Santa Barbara, Arizona State and Illinois. Dejean-Jones and junior forward Roscoe Smith were weary of getting knocked down and eager to end the month on their feet.
"We were devastated by those losses," Dejean-Jones said. "We used it as fuel for the fire, and we looked to come out and try to make a statement. We're all ready to start getting this thing rolling."
Dejean-Jones scored 16 points, and Smith recorded 13 points and 19 rebounds as UNLV rolled past Tennessee-Martin 85-55 on Saturday at the Thomas &Mack Center, where the announced attendance was 12,397 but that might have been the number of empty seats.
No statements were made against the Skyhawks, who looked worse than their 2-8 record indicates, but the Rebels (3-3) stopped their two-game losing skid and started scoring on the run.
Khem Birch finished with 13 points, and Jelan Kendrick and Kevin Olekaibe each scored 11 for UNLV, which overcame a slow start and shot 55.6 percent (30-for-54) from the field.
"It was a very necessary win for us," coach Dave Rice said. "Any time you drop a few games, particularly when you lose games at home, it has an effect on your team in terms of confidence. We've made tremendous improvement from the first exhibition game to now."
In the first exhibition, which the Rebels lost to Division II Dixie State, Dejean-Jones walked off with a hamstring injury. He returned in less than two weeks, but said he's just now feeling at full strength.
Dejean-Jones shot 5-for-10, including 2-for-3 from 3-point range, and scored 10 points after halftime to help UNLV pull away. He also had a game-high seven assists and only one of the team's 15 turnovers.
"Bryce is a terrific player, a potential all-conference player, and we need him to do that," Rice said.
Smith showed why he's the nation's leading rebounder while getting his fourth double-double in six games.
"Roscoe plays hard, and his personality, his spirit is such that it makes our team go," Rice said. "It's a huge deal to have a guy who plays that hard, and all he wants to do is get rebounds. He doesn't just rebound in games. He rebounds in practice. He's rebounding as well as anybody in the country."
Smith has had 22- and 21-rebound games this season. Rice rattled off the numbers and said, "For some guys, that's a freaking career."
The Skyhawks started with a flurry and took a 17-15 lead on Marshun Newell's steal and layup at the 12:27 mark. The Rebels, who led 39-27 at halftime, opened the second half with a 15-2 run, capped by Dejean-Jones' fast-break layup that made the score 54-29.
With four minutes to go, Dejean-Jones and Birch teamed up for the highlight of the game. Birch led a break, passed to Dejean-Jones on the left wing, and he lofted a pass that Birch threw down for a sensational slam.
"We're at our best when we're getting stops and running the ball up the floor," Rice said.
Olekaibe, who missed a 3-point attempt in the final seconds of UNLV's 61-59 loss to Illinois on Tuesday, scored the game's first five points and made 3 of 4 3s.
"Kevin, without question, is our best outside shooter," Rice said.
If Olekaibe or anyone else misses, Smith is usually fighting for the rebound.
"This is what we expect from him. Roscoe's a great rebounder," Dejean-Jones said. "Every time I look up and the ball is going off the rim, I know who's going in there."
With a six-game homestand in the books, and the Rebels even in the win-loss columns, they hit the road for the first time to face No. 4 Arizona on Saturday.
"This game helped our confidence a lot," Smith said. "We're definitely ready for the challenge. We know we're not going to beat Arizona by 30, but we're definitely not intimidated by them."
Contact reporter Matt Youmans at myoumans@reviewjournal.com or 702-387-2907. Follow him on Twitter: @mattyoumans247.