Running backs on center stage for Arizona, UNR
December 15, 2012 - 2:02 am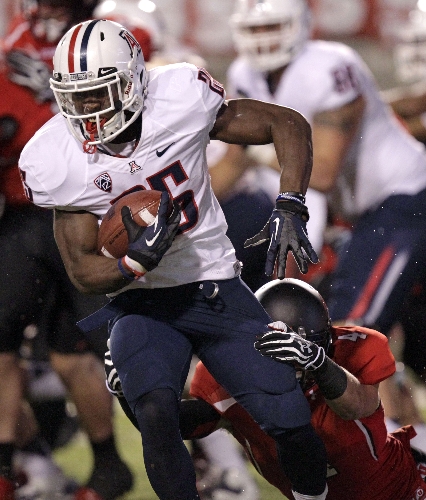 ALBUQUERQUE, N.M. – Expect a lot of offense when Arizona meets UNR today in the New Mexico Bowl.
The game features two of the nation's best scoring offenses against two of the nation's worst scoring defenses.
Oh, and it also has two of the nation's best running backs.
Arizona's Ka'Deem Carey would be the 16th player in NCAA history to have a 2,000-yard season if he can get 243 yards today. UNR's Stefphon Jefferson isn't far behind, trailing Carey by 54 yards.
UNR coach Chris Ault and Arizona's Rich Rodriguez tried to downplay their star running backs Friday and instead said any explosive offensive production during the first bowl game of the season would be the result of team effort.
"Stefphon is a very humble and modest young man," Ault said. "He's the first to tell you it's the offensive line … it's them who are making him look good."
The matchup between the Wildcats (7-5) and the Wolf Pack (7-5) also marks the return of Rodriguez to the postseason. Rodriguez took over at Arizona this season after a disappointing stint at Michigan that ended with his firing in 2010.
He found a program in the desert that had plenty of offensive weapons but not a lot of depth.
The combination led to wild games for the Wildcats, who are among the nation's most prolific offensive teams but also give up yards and points in bunches.
Considered a trailblazer for college football's no-huddle trend, Rodriguez created a two-minute-drill-all-the-time offense while at Glenville State in the 1990s and later took a version of that system to Clemson and West Virginia. But Rodriguez faced resistance in trying to implement his system at Michigan.
Asked if he felt vindicated by drawing attention to Arizona and getting his program to a bowl game, Rodriguez said he didn't know if he'd use that word.
"I feel I'm glad I'm back," he said. "I was hungry for a challenge, and I was hungry to be at a place that wanted to build a program the way we did this."
UNR and Arizona got off to strong starts but ended the regular season in disappointing fashion. UNR started 6-1 to become eligible for a bowl. But an overtime loss to San Diego State sent the Wolf Pack into a 1-4 tailspin to close the season.
Arizona looked poised for a winning conference record in its first year under Rodriguez, but the Wildcats lost 41-34 at home to rival Arizona State in their season finale.
ARIZONA VS. UNR
WHEN: 10 a.m. today
WHERE: University Stadium, Albuquerque, N.M.
TV/RADIO: ESPN (30), KBAD-AM (920)
LINE: Arizona -8.5; total 78.5