Sacramento going for MLS after success of keeping Kings
September 11, 2014 - 4:37 pm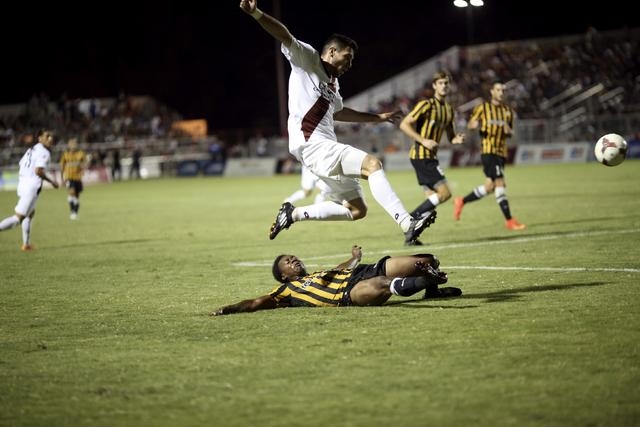 SACRAMENTO, Calif. — After securing its perch as a pro-basketball city amid much controversy last year, Sacramento is now aiming to add Major League Soccer, a move that could help revitalize the California capital and mark it as a regional center for sports.
The minor league Sacramento Republic FC soccer club, brought to town this spring as part of the effort to persuade Major League Soccer (MLS) that the city could support a team, has been selling out tickets since its first match attracted 20,000 fans. Next week, executives from the league will tour the downtown site where backers hope to build a stadium big enough to hold them all.
"It's hard not to be impressed," said MLS spokesman Dan Courtemanche. "They're setting records there."
One of Sacramento's chief competitors for an MLS team is Las Vegas, where Justin Findlay of the Findlay car dealership empire is working with The Cordish Cos. to lobby for a team.
The Findlay-Cordish connection has signed a tentative stadium deal with the city of Las Vegas for a $200 million, 24,000-seat stadium Findlay-Cordish wants to be built in Symphony Park.
Findlay-Cordish signed a tentative deal with city staff, but the Las Vegas City Council is split over approving a nonbinding deal. Last week, the council voted 3-3, with Councilwoman Lois Tarkanian undecided.
Instead of deciding the fate of the nonbinding stadium deal, the council voted to push the issue to an Oct. 1 meeting while the city will hold stadium deal information meetings in all six wards starting next week.
Council members Bob Beers, Stavros Anthony and Bob Coffin oppose the stadium deal. Mayor Carolyn Goodman, and Councilmen Ricki Barlow and Steve Ross support the nonbinding deal. If Tarkanian joins Goodman, Barlow and Ross to approve the nonbinding stadium deal on Oct. 1, then the tentative agreement goes before the council in December for a vote on a final agreement.
Because the proposal calls for the city to issue bonds to help build the stadium, the council would have to vote in a supermajority — or 5-2 — in December to ratify the deal. That appears unlikely with three no votes on the council from Beers, Coffin and Anthony.
The proposed deal calls for the public to contribute nearly 78 percent of the upfront costs for the $200 million soccer stadium, with Findlay-Cordish saying it would pay back 59 percent of the construction costs through annual team rent of $3.5 million and other non-soccer revenue payments over 30 years.
Sacramento is making its play for soccer just a year after Mayor Kevin Johnson, himself a former NBA star, led a successful effort the Kings basketball team from moving to Seattle.
Johnson sees the soccer bid as an element of the revitalization of downtown that he hopes will start with a glitzy new $477 million arena for the Kings on a site now occupied by a dilapidated shopping mall. Sacramento was hard-hit by the economic recession and is still struggling to recover.
The former Phoenix Suns point guard's success at mounting a team to save the Kings, including an ownership group led by tech entrepreneur Vivek Ranadive, made waves in the sports world, leading some analysts to view Sacramento as a possible hub under his leadership.
"Sacramento from a sports standpoint is a market people have been paying attention to," said David Carter, a sports analyst with the University of Southern California. "Going after a soccer team makes sense."
The plan's backers say the game will appeal to millennials whom the city is already wooing with a thriving midtown hipster scene, and to Latinos, who comprise nearly a quarter of the city's residents, as well as other groups.
But the deal is far from done. Other cities, including Minneapolis, San Antonio and Austin are also vying for a team and Sacramento is even competing with one of its own suburbs, Elk Grove.
One of the MLS requirements is that the team have a stadium. But despite the considerable political capital and star power expended by Johnson to keep the Kings in town and build them an arena with more than $250 million in public support, the mayor says a soccer stadium must be built with private funds.
Smith says he is prepared to raise funds privately for a $100 million downtown facility he is considering on the site of a former railyard.
Contact reporter Alan Snel at asnel@reviewjournal.com or 702-387-5273. Follow @BicycleManSnel on Twitter.

An arena plan for Symphony Park
More coverage
Complete coverage of the various stadium and arena proposals.