Sarah Palin rips ESPN's Las Vegas radio affiliate in rant over Curt Schilling suspension
August 28, 2015 - 5:43 pm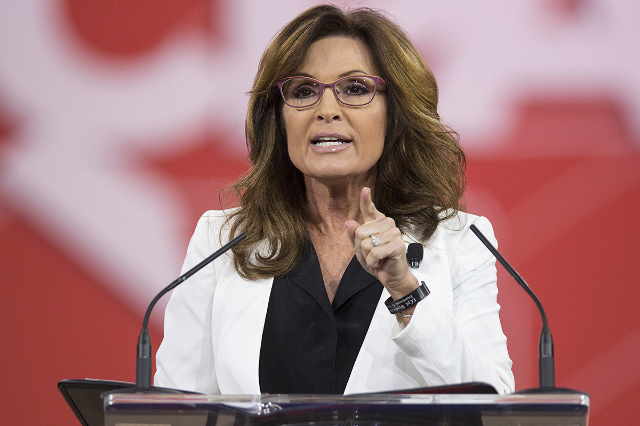 Sarah Palin condemned ESPN over Curt Schilling's suspension for his Internet meme comparing Muslim extremists to Nazis and also ripped the network's Las Vegas radio affiliate in a long Facebook post titled "ESPN IS A JOURNALISTIC EMBARRASSMENT."
The former Alaska governor and Republican vice-presidential candidate started her post by writing, "ESPN — what happened to you? Your intolerant PC police are running amok and making a joke out of you!
By picking and choosing who they'll tolerate and who they'll try to destroy, ESPN has zero credibility as a sound and reasonable media outlet."
Palin went on to write "there's been crude, rude bile spewing from the once-great sports network for years now" and then referenced a 2011 broadcast on Las Vegas radio station KWWN (1100 AM, 100.9 FM) during which Mike Tyson made some off-color remarks about Palin's alleged affair with former NBA star Glen Rice that were met with laughter by the "Gridlock" show hosts Paul Howard, Seat Williams and Mitch Moss.
"One ESPN affiliate's on-air rant featuring their misogynist, animalistic "analysts" grunting and giggling through an entire x-rated celebration of violence against women didn't even draw a chirp from ESPN's wussified leaders," Palin wrote. "Look it up; I don't want to have to recount it. ESPN radio affiliate in Las Vegas got its kicks out of convicted rapist Mike Tyson describing the next rape he'd want to see. (Warning, graphic language throughout that Sept. 20, 2011 broadcast.)"
A portion of the interview can be heard on YouTube, where Tyson says of Palin and Rice, "Glen Rice is a wonderful man. He's a wonderful guy. You want her to be with somebody like (Dennis) Rodman getting up in there. Pushing her guts up in the back of her head.
"Glen Rice is a nice, mellow, docile man, non-threatening guy," Tyson said. "You want someone like Rodman — yeah baby! Let's get that donkey in here now. Just imagine Palin with a big old black stallion ripping. Yeehaw!"
Later in the interview, Tyson says of Palin, "She's not a bad person because she likes black people — at least in her.
"Sarah Palin … she met the 'wombshifter.'"
Palin went on to defend Schilling's tweet, which read, "Only 5-10% of Muslims are extremists. In 1940, only 7% of Germans were Nazis. How'd that go?"
"By denying the accuracy of Schilling's tweet, ESPN shows its weakness as it buys into the propaganda of ISIS and other terror organizations, helping mislead the public about the very real threat of terrorism," Palin wrote. "It shows once again that ESPN would rather concentrate on liberal global politics instead of report well on our beloved sports.
"From those of us who used to LOVE the network (to the point of addiction, some would confess!), I say to ESPN — you are awful in this. Stick to sports."