Seagears brings experience, leadership to young Rebels
October 9, 2015 - 11:29 am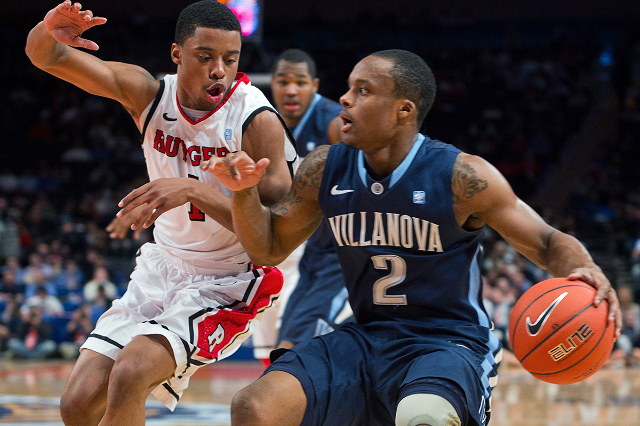 During his high school years, when Jerome Seagears visited Las Vegas for summer basketball tournaments, the thought of staying here for college crossed his mind. He never had that option, however.
A star in Silver Spring, Md., he was recruited mostly by East Coast schools and signed with Rutgers.
"I always had my eye on UNLV," Seagears said. "Who wouldn't want to play here? It's a great school, great program, great place. I probably should have come here right out of high school. But it worked its way out."
If the rest of his plan works out, Seagears will be the starting point guard when the Rebels open the season against Cal Poly on Nov. 13. The senior transfer is the favorite to win the job, although his coach insists it's up for grabs.
"Everyone is fighting for a starting role," Dave Rice said. "Jerome certainly comes in as a guy we're counting on heavily."
Rice is no different from most coaches in that he prefers an experienced point guard run his team. Seagears checks that box. He started 44 games in his first two seasons at Rutgers, where he put up some impressive numbers against Big East Conference competition.
As a freshman, he had seven assists and no turnovers against Villanova. As a sophomore, he scored 21 points in a game at Connecticut.
"Playing against great competition in the Big East — go down the line from Georgetown to UConn to Syracuse — every single night you've got to be prepared and mentally focused," Seagears said. "There are no days off."
It's that type of wisdom he brings to a relatively young team that is expected to contend for a Mountain West title and return to the NCAA Tournament after a two-year absence. Seagears' experience and leadership abilities give him an edge over two others on the depth chart.
Jalen Poyser, a 6-foot-4-inch freshman who was ranked as the top prospect in Canada last year, is an explosive athlete with a higher upside than the 6-1 Seagears. Daquan Cook, a 6-2 junior, is inexperienced and redshirted last season while recovering from knee surgery.
Patrick McCaw, a 6-7 sophomore, is not a true point guard. McCaw, the team's top returning scorer, did handle the point at times last season out of necessity and still will see time at that spot. In Rice's offense, multiple players will be pushing the ball in transition.
"(Jerome) definitely brings leadership to our team. He has played a lot of college ball in his career, and I think that's a big deal," McCaw said. "We've got a lot of guys who will lead and are on the same page."
Seagears can shoot, too. He hit 40.2 percent of his 3-pointers as a junior for the Scarlet Knights. But his playing time was reduced that season. After former coach Mike Rice was fired by Rutgers in April 2013, Seagears transferred to Auburn, where Ryan Miller was an assistant coach.
Yet, after about a month at Auburn, Seagears returned to Rutgers. He left again after the 2013-14 season. Miller, who had moved to UNLV, lured him to the West Coast. Seagears has a year in the program, practicing with the team and watching from the bench last season as a redshirt.
"We've got a great coaching staff," Seagears said. "First of all, they are good people before they are great coaches. They genuinely care about everybody. When I came on my visit, (Dave Rice) was a great person. His genuine personality really stuck with me.
"I have total confidence in myself. It's all up to Coach and if he wants me to lead the team."
NOTES — The annual Scarlet & Gray Scrimmage, which is free and open to the public, is set for 7 p.m. Thursday at the Thomas & Mack Center. … A new event — Runnin' Rebel Madness — will be at the Downtown Las Vegas Event Center on Oct. 22. The midnight madness-type show includes a dunk contest.
Contact reporter Matt Youmans at myoumans@reviewjournal.com or 702-387-2907. Follow him on Twitter: @mattyoumans247.