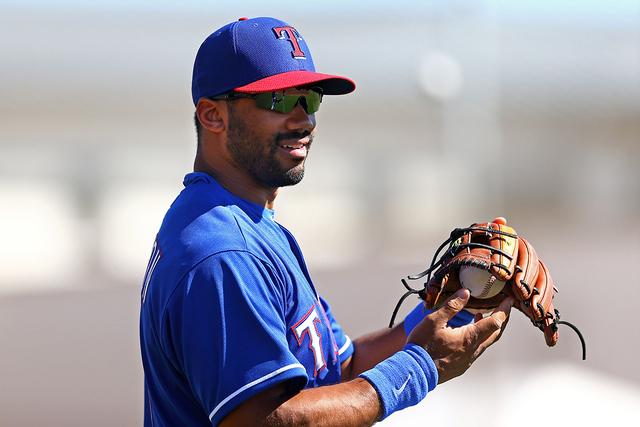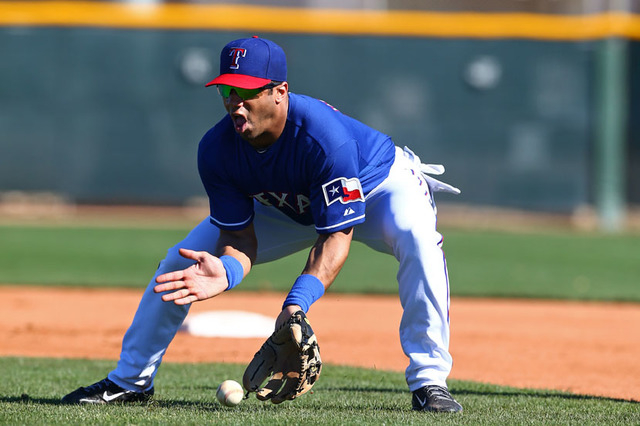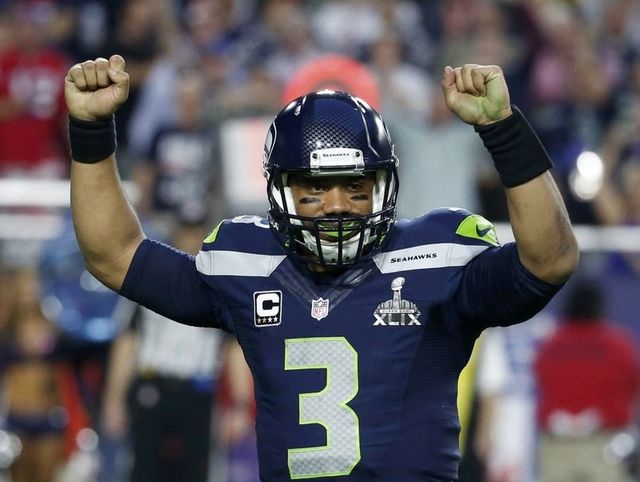 Seattle Seahawks quarterback Russell Wilson, who has discussed his ambition to one day become a two-sport star, clarified his comments and made it clear Wednesday that he has no plans to leave football for baseball.
Wilson, in an interview with HBO's "Real Sports" that first aired Tuesday night, said the Texas Rangers want him to give baseball an attempt beyond his one-day visits he has made to the past two spring trainings.
"I didn't say I was going to leave the NFL," Wilson said Wednesday on ESPN's "The Herd" radio show. "I love playing the game of football, to be one of 32 men (starting NFL quarterbacks) in the world who get to do what I do. It's a special thing and I've been able to play in two Super Bowls and I'm only 26 years old. That's been a blessing.
"But baseball was my first love since I was 3 years old. It's something that's meant a lot to me. It was my dad's dream for me to play two sports, so I've never killed the dream and probably never will. It's something that I think about all the time."
Whenever a professional athlete even hints that he might play a second sport, it attracts attention.
"You never want to kill the dream of playing two sports," Wilson told HBO's Bryant Gumbel during the interview.
Wilson suggested to Gumbel that he may "push the envelope a little bit one of these days" and play football and baseball.
"That's why the Texas Rangers got my rights," Wilson told Gumbel. "They want me to play. Jon Daniels, the GM, wants me to play. We were talking about it the other day."
However, Daniels said the Rangers have no plans to push Wilson into a pro baseball career.
"Russell has the competitiveness and work ethic to where he'd have a shot if he committed to baseball," Daniels said Saturday. "Obviously, he's got a pretty good thing going on with the Seahawks, and we're not going to get in the way of that. Playing quarterback is more intensive than the positions of other guys who have attempted to play both sports."
Wilson was a two-sport star at North Carolina State before transferring to Wisconsin for his final season of college football. He is a second baseman and played minor league baseball while still in college.
Wilson was drafted by the Baltimore Orioles out of high school and was drafted again in 2010 when he was taken by the Colorado Rockies in the fourth round. He was acquired by the Rangers in December 2013 during the Rule 5 draft.
"Let's be blunt," Gumbel said to Wilson. "You played minor league ball for a while. Correct me if I'm wrong. Numbers were .227 average, five homers, 26 RBI. If the numbers were better, would you (play baseball and football)?"
Wilson replied, "I wouldn't be worried about the statistics of it. I know I can play in the big leagues. With the work ethic and all that, I think I definitely could for sure. "
With two Super Bowl appearances in three seasons — winning one of them — Wilson and the Seahawks are discussing a new contract.
Seahawks general manager John Schneider knows the day is coming when the Seahawks and Wilson, a third-round pick in 2012, will have a new contract to announce. Wilson is scheduled to make $1.5 million in 2015, but the going rate for franchise quarterbacks is $20 million per season.
"There's a great correlation between baseball and football, especially in terms of playing quarterback," Wilson said Wednesday. "The mental focus you have to have with one play at a time and being in the moment. Baseball has helped me. I was always focused one at-bat at a time or one ground ball at a time. It really prepares you mentally.
"I have so much respect for baseball players and what it takes to play. It's not easy. Baseball has really helped me to be able to make certain throws, pitch the ball to Marshawn (Lynch) and do certain things and escape and make plays. That's how baseball has helped me."